The Team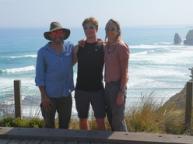 Meet Will: our new recruit!
Submitted by HedonisticHiking on 11 Dec 2022
Will Binder is Jackie's nephew and the newest member of the HH team. This summer he graduated from Sheffield University and is now free to become a fully-fledged member of the team in 2023. Having experienced Hedonistic Hiking on both sides of the world, and having family in both Europe and Australia, Will is uniquely positioned to take up the baton.
Read more