Barbara Bayliss: Hiking her way to history!
Submitted by HedonisticHiking on 13 Apr 2019
This year Barbara Bayliss will notch up an incredible 19 tours with Hedonistic Hiking.  As our most prolific hiker, she kindly agreed to be interviewed for our newsletter and here's what she had to say:
Could you define what it is that brings you back to Hedonistic Hiking each year?
I continue to return to Hedonistic for a combination of reasons. Jackie and Mick, together with their very competent tour managers, provide an all inclusive, very well organised holiday package, which takes all the stress out of travelling. I enjoy walking off the beaten track and discovering different regions and the unique history of those regions. A big part of the enjoyment for me is the fun you have with the other hikers, the friendships you make, the great food and wine you enjoy at lunchtime and over dinner each night, sharing travel and other stories with each other in a relaxed holiday atmosphere.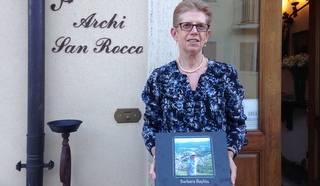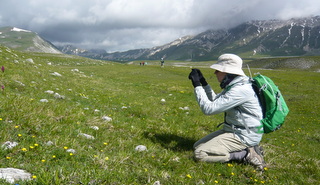 Have you stayed in touch with any of your fellow hikers from the different tours?
I have stayed in touch with a number of the hikers I have met over the years and I always know someone on my next hike. For example, a holiday I did last year, there were 9 others I had met on previous hikes and it was just so nice to catch up with them all again. We keep coming back!
Do you generally extend your trips to include other parts of Europe?
Some trips I just go to Italy for the hike and come home and others trips I combine the Hedonistic experience with other walks or visits to other countries.
Do you prefer to travel solo or with friends?
I like travelling both solo and with friends. I have actually done other walking trips in Europe with friends I have met through Hedonistic Hiking.
Could you choose a favourite part of Italy?
It is hard to choose a favourite part of Italy as I have been to so many wonderful places offering different experiences. I can't really select a favourite place but there are a few that do stand out. The unspoilt and wild Abruzzo, the Italian Alps and the cable ride up from Courmayeur and the absolutely amazing views at the Torino refuge where I felt I could nearly touch Mt Blanc come to mind. Others that stand out were the stunning autumn views from the top of Pollino National Park in Southern Italy and the uplifting experience of the walk up the Sesto Dolomites. But I also can't forget the week spent in Siena experiencing the Palio and associated festivities. It is hard to select some areas over others as each walk has brought me something different, whether it is the walking or the food or the wine.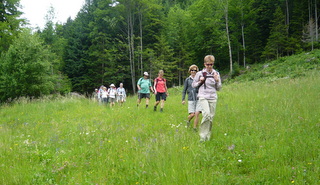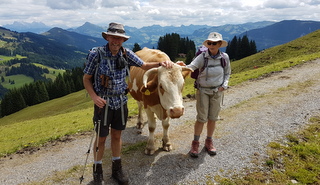 Is there a region for food and wine which really stands out for you?
No one region stands out for the food and wine but the food in the Piedmont was most enjoyable. Who could forget the seafood platters at dinner at the end of the Parma, Tuscany and Ligurian Sea walk? The breakfast at Bad Moos in the Dolomites, an all encompassing breakfast feast. Or just the flavoursome gelato I enjoyed one sunny afternoon in the medieval village of Santo Stefano in Abruzzo. Also the substantial and mouth watering lunches that the tour managers seem to effortlessly make with local produce that just appear around a corner or over a mountain on walking days.
I really don't do justice to the many and varied local wines that are served over dinner but have enjoyed many a glass of prosecco over the years. Always enjoyable! But the wonderful Bjana Brut from Brda, Slovenia stands out. The wine tasting on the Italian Alps tour at the Hotel Bellevue at Cogne in the Gran Paradiso National Park and the wines accompanying dinner at that hotel were truly outstanding.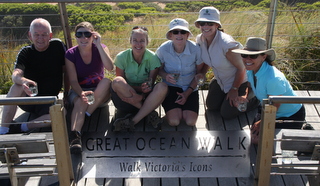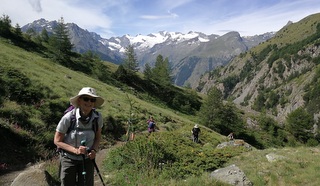 Do you have tips on keeping fit for the hikes?
For me to really enjoy the hiking, and in particular the hardest graded tours, it is a must that I do lots of training up and down hills for a number of months before the hike. I don't do particularly long day hikes and I don't use my walking poles when I am in training so when I do use them on the actual hike it makes it easier for me. I also combine my walking with other physical activities which undoubtedly helps to maintain a good level of fitness for any terrain.
Barbara is not alone in returning to hike with us each year.  In 2019 we have a record number of hikers celebrating their fifth and tenth tours with us, and if you would like to see who they are you can peruse our Rogues Gallery!