If you like the idea of making your journey part of the holiday, you may like to consider travelling by train. Forget about hanging around busy airports and joining endless queues and instead, delight in being whisked to your destination as the countryside unfolds before your eyes.
Rail travel takes you back to a golden age of travelling, allowing you to stretch out and enjoy front row seats as you gaze out across castles, villages and poppy-strewn landscapes set against a magical backdrop of snow-capped mountains.  Travelling by train also makes things easy if you want to extend your holiday. Snatch a couple of days in Paris en route to your final destination or add a short break in an Italian city or on the coast.
Choose from big-hitting art-filled cities such as Rome, Milan, Florence and Turin or charming smaller towns such as Parma, Verona and Arezzo and take advantage of stepping off your train straight into the city centre. As many of our tours include pick-ups and drop-offs at centrally located train stations as well as airports, joining the tour from your city centre location couldn't be more convenient.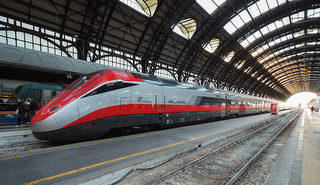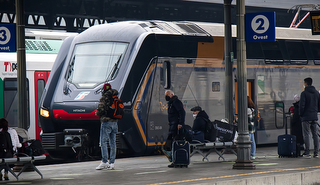 Why travel by train?
· A relaxed way to travel
Allow yourself the indulgence of having time to read, to catch up on podcasts and music or simply sit and daydream as the scenery flashes past. As well as having more personal space, there's the luxury of being able to get up to stretch your legs rather than being confined to your seat.
· Hassle-free travel
With rail travel, there are no excessively early check-ins or lengthy queues for security. Just jump on board safe in the knowledge that we'll meet you at your final destination.
· Extend your holiday
For guests from Australia or the US who choose to travel by train from the UK, your departure point is London's St Pancras International. Spend a few days in London or Paris, and see more of Italy and its neighbouring countries either before or after your Hedonistic Hiking tour.
· Shrink your carbon footprint
Live your life more sustainably by travelling by train which is more carbon efficient than plane travel.
· Luggage allowance
While we do ask our guests not to bring too much luggage due to our limited tour bus capacity, you certainly won't have to worry about that extra kilo or two of baggage allowance if you travel by train.
The journey
So exactly what's involved? Start at London's St Pancras International where you hop on Eurostar for a speedy 2hr30m journey to Paris Gard du Nord. From there, your transfer to other Paris stations will be dictated by your final destination. We take you through some of the options so you can see that planning a journey by train is far easier than you'd imagine!
St. Pancras International - London
Fancy a few days in London before your trip? Book an apartment or hotel in central London and squeeze in a couple of days of sightseeing, take in a show or exhibition, or just enjoy exploring the different corners of the city on foot. After that, it's just a matter of getting to St Pancras, with perhaps a celebratory glass of bubbly at Europe's longest champagne bar, ready for your journey!
Paris
Your Eurostar train will whisk you straight to Paris (Gard du Nord) where you may choose to spend a night or two. Get your culture fix at one of the city's galleries, wander along the Seine and start your gastronomic journey in one of the bistros or cafés on the Boulevard Saint-Germain.  For your onward journey, your departure station from Paris will depend on your final destination. As well as being the starting point for several of our hiking tours, Turin and Milan are principal hubs in Italy for onward journeys to other destinations in Italy.  These itineraries outline the best way of linking up by rail with our hiking tours.
TURIN                                                                       MILAN