Celebrating 20 Tours!
Submitted by HedonisticHiking on 2 Nov 2023
In 2023 Chris Bell completed an impressive 20 tours with Hedonistic Hiking.  First joining us in 2008, he has been a regular visitor to Italy ever since and many of our guests will remember hiking with him across the peninsula.  And he's not stopping at 20!  We are looking forward to seeing him next year in Sardinia.  We interviewed him this month to find out what it is that lures him back each time...
Could you define what it is that brings you back to Hedonistic Hiking?
The majority of travellers only get to observe the places they visit superficially. They don't experience them at the human level, interacting with the locals in their daily lives, understanding how they live and their passion for their environment. Jackie and Mick invest time and effort in identifying places and communities that welcome visitors as friends, wanting to share their way of life and their beautiful surroundings. There is always a genuine warmth in the interaction with HH guests that percolates into the group.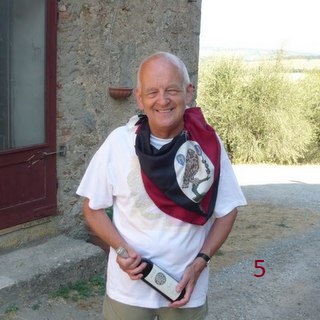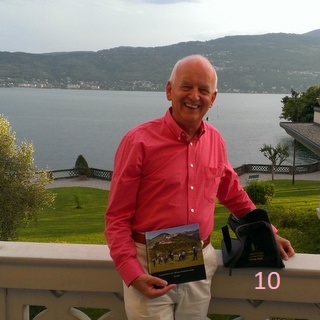 Many of our tours you have completed more than once.  Can you choose a favourite?
The stats speak for themselves. 3 Tuscany trips, 3 Palio trips and 3 Piedmont trips. I chose the Jewels of Piedmont tour because I love to hike Monviso, but the common factor in the Tuscany and Palio trips is Siena. I'm not a city fan but Siena is an exception. The Sienese are happy to see the tourists but always on their terms. Even James Bond had to fall in line. The Contrada structure of the city and how these fiercely independent folk protect their traditions in an ever-changing world contributes to few social problems and a safer feel than many other tourist cities.  So, anything that includes Siena, particularly if it involves horses.
Most memorable moment from the tours you have completed?
From the very first time I walked down into Siena's Piazza Il Campo, it has been the place I have happily revisited many times.  Jackie probably already had a Palio Tour on her to do list but walking with her across Il Campo and suggesting it would be a good idea was, in hindsight, memorable. Sitting in Il Campo, the silence of the thousands in anticipation of the start of the race exploding into a cacophony of sound as the rope drops, is an experience that never diminishes, no matter how many times you experience it. Being able to share in all the pre-race events is key to starting to understand the Palio and what it means to Sienese life. I just need Civetta to win and the memory will be complete!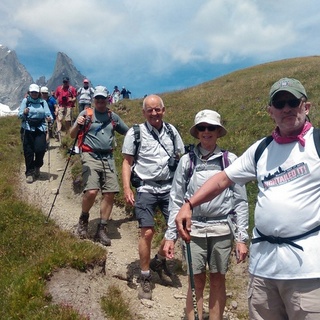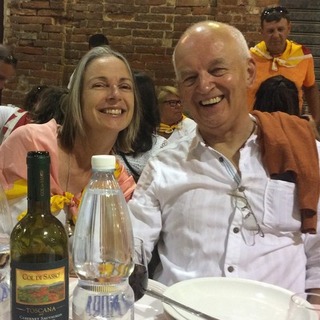 Have you stayed in touch with any of your fellow hikers from the different tours?
Yes, I have been fortunate to meet up with fellow hikers on their home patch. Sydney Harbourside cafe for an afternoon, staying near 90 mile beach in NZ, a remote lakeside cabin in Canada and in rural W Pennsylvania USA. All beautiful parts. I was able to introduce my American friends to the delights of walking in Dartmoor National Park and I have spent time with them in the USA. Living with locals gives a much more realistic view of how the world is.
Could you choose a favourite part of Italy in terms of landscape?
Monviso in Piedmont is a shared favorite with Jackie. On the Italian Alps trip we enjoyed stunning weather and it was up there with the best. However, the Val D'orcia and Crete Senesi, south of Siena, is where I first hiked in Italy in 2005.  Returning there last year on the Etruscan Trails trip it seemed untouched and as beautiful as ever. Tuscany's landscape is quintessential Italy so I'd have to go for that.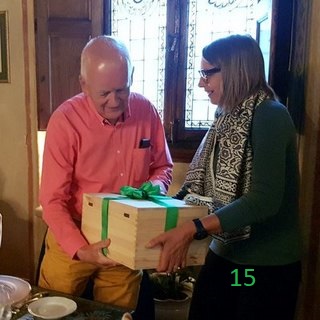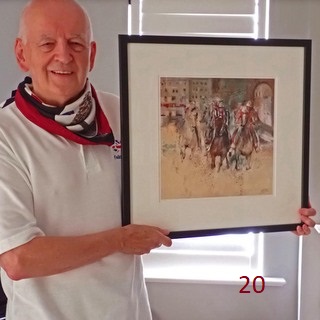 Is there a region for food and wine in Italy which really stands out for you?
We are always told Piedmont is the "go to" for the best food and it is excellent, but then there is the tiny village of Lamole in Tuscany which has to be my candidate for the best restaurant. Unpretentious, beautiful food and wine served by great local characters in a stunning setting.  The wonderful lunch in Lamole, amid a week of eating good simple Tuscan fare on the Tuscan Harvest tour, suits this country boy!
What are your ambitions for hiking in 2024?
Covid cancelled my booking for the initial Heart of Sardinia trip but I've just been lucky to get the last place for next year, meeting up with my American friends. I've also organised breaks for my hiking group next year in North Yorkshire and the Isle of Wight. There are an increasing number of 80 year olds, which only proves that hiking is good for your health and longevity!