Etruscan Trails in Central Italy
In the footsteps of an ancient civilization
This 8-night tour starts and finishes in the Eternal City and follows in the footsteps of the Etruscans - an ancient civilization which populated the centre of Italy long before the Romans. We visit UNESCO World Heritage tombs, walk along sunken Etruscan roads and explore the outstanding towns of Civita di Bagnoregio and Orvieto which were both important Etruscan settlements. Our hikes take us through the rolling landscape of central Italy, with its olive groves, cypresses and vineyards as well as to the tranquil waters of Lake Vico and Lake Bolsena. We finish in the Val d'Orcia, a strikingly beautiful valley in the southern part of Tuscany and home to some of Italy's most celebrated wines.
This tour starts and finishes in Rome, and our pick-up and drop-off point is Rome's Fiumicino airport. People might choose to extend their walking holiday in Italy by spending more time there or by visiting Milan, Venice, Florence or Siena. For more ideas on where to go visit our City Guide page. 
Cost: €3,295 per person
Single supplement: €325
Our tours are genuinely all-inclusive - learn more about what we offer.
What is included?
•    8 nights' accommodation in three wonderful hotels 
•    Two experienced and knowledgeable guides to look after your every need and bring this stunning area to life
•    All meals including excellent wines 
•    Gourmet picnic lunches each day and snacks en route
•    Support vehicle, enabling you to walk as much or as little as you please
•    Transport in air-conditioned minibus
•    All museum entries and cultural visits as per the itinerary
•    Comprehensive pre-trip information
Your Health and Safety
See our new protocols to ensure the safety and wellbeing of both our guests and HH staff.
Tour Highlights
Visit UNESCO World Heritage sites throughout the region
Taste the noble wines of Montepulciano and Montalcino
Follow sections of the historic Via Francigena pilgrim route to Rome
 
Walking/Terrain
There are 6 days of walking on the trip. We usually walk on strade bianche (gravel roads), woodland tracks and through farmland. This area of central Italy is relatively hilly, with some significant ups and downs, but not mountainous. The walking is fairly rugged in sections so sturdy walking boots, with good ankle support, are required. Walking poles would be an advantage, especially on steeper sections. There is van access at lunchtimes on all days of this tour so you can choose to walk a shorter day if required. 
Shortest/Longest Day: 9.8km/6 miles: 16.5km/10.2 miles
We have graded this hike a Level 3. Some of our tours are more challenging than others, so see how we grade our hikes to make sure you choose the right one for you. If you are interested in this tour, then you might also like to take a look at Medieval Umbria, Northern Tuscany and Ravenna or Parma, Tuscany and the Ligurian Sea
Accommodation
Relais Sans Soucis and Spa: A comfortable hotel right on the shore of Lake Vico with spa facilities
Hotel Palazzo Piccolomini: A beautifully-restored four-star hotel in the historic centre of Orvieto
Villa Cicolina: The 16th century country residence of a noble family, in the hills of Montepulciano
Tour Dates
3 - 11 May 2024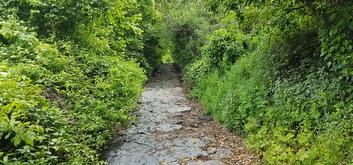 Find out more about Tuscany
Find out more about Umbria