Northern Tuscany and Ravenna
The Mugello, Medieval Villages and Mosaics
This 7 night itinerary starts and finishes in Bologna, the culinary capital of Emilia-Romagna. We drop down to the northern part of Tuscany to explore the unknown territory of the Mugello: a wide, green valley criss-crossed by the Sieve river, shaping a landscape filled with vines, chestnut woods and beech forests. Our hikes take us over lands which inspired great Renaissance artists and poets and we follow sections of the Gothic Line, the last major German defensive line in the Italian campaign of World War II. We travel towards the Adriatic coast to finish in the unrivalled city of Ravenna, once the capital of the Western Roman Empire, but still home to some of the world's most dazzling Byzantine mosaics. 
This tour starts and finishes in Bologna, and our pick-up and drop-off hotel is opposite the station. We can also drop guests at Bologna airport at the end of the tour. People might choose to extend their walking holiday in Italy by spending more time there or by visiting Milan, Parma, Florence or Rome.  For more ideas on where to go visit our City Guide page. 
Cost: €3,050 per person
Single supplement: €350
Our tours are genuinely all-inclusive - learn more about what we offer.
What's Included?
7 nights beautiful accommodation in three lovely hotels
Two experienced and knowledgeable guides to look after your every need and bring this stunning area to life
All meals including wine
Gourmet meals in a variety of superb local restaurants
Support vehicle, enabling you to walk as little or as much of the trail as you please
Transport to/from the start and end of the holiday
Comprehensive pre-trip information.
Luggage transported for you so all you need to carry is a small backpack with water etc.
Museum visits, food/wine tastings as per the itinerary
Your Health and Safety
See our new protocols to ensure the safety and wellbeing of both our guests and HH staff.
Tour Highlights
•    Private guided tour of UNESCO World Heritage sites of Ravenna
•    Fabulous tastings at wine and olive-oil estates, and the October chestnut festival
•    Outstanding hiking in lesser-known part of Tuscany
 
Walking/Terrain
There are 6 days of walking on the trip. We usually walk on strade bianche (gravel roads), woodland tracks and quiet tarmac roads.  The Mugello region is part of the Apennine mountain chain and we hike between altitudes of 400m and 1000m. The terrain is relatively hilly, with some significant ups and downs, but not mountainous. 
Shortest/Longest day: 5.2km/3.2 miles and 17km/10.7 miles
We have graded this hike a Level 3. Some of our tours are more challenging than others, so see how we grade our hikes to make sure you choose the right one for you. If you are interested in this tour, then you might also like to take a look at Parma Tuscany and the Ligurian Sea or Lucca, Volterra and Elba.
Accommodation
Villa Campestri:  Family-owned, olive oil resort with pool and excellent restaurant. Views of rolling countryside
Locanda Senio:  Albergo diffuso, scattered hotel in beautiful Mugello village on the Senio river
Palazzo Bezzi:   Very comfortable 4-star hotel close to the historic centre of Ravenna
Tour Dates
4 - 11 October 2023
17 - 24 October 2024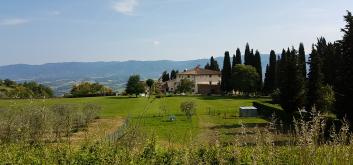 Find out more about Tuscany
Find out more about Emilia Romagna