From the Gennargentu Mountains to the Sea
The second largest island in the Mediterranean, Sardinia is perhaps best known for its azure coastline and clear waters.  However, the centre of the island reveals rugged mountains, Bronze-Age treasures and a cuisine which still follows the shepherds' traditions of centuries gone by. We start this tour in the evocative town of Cagliari, on the southern coast of Sardinia, before heading inland to the Gennargentu mountains with their sweeping views of the dramatic landscape. We move to the east of the island, an area often overlooked by visitors, to explore hidden villages, pristine coves and high mountain panoramas. The tour finishes at Olbia airport, on the north-east coast, before we continue on to discover the captivating island of Corsica. We expect some hikers will opt to book the two tours together and explore both islands on the same holiday. 
This tour starts in Cagliari and finishes in Olbia. Many hikers choose to extend their holidays by seeing more of Italy so with good connecting flights from Cagliari and Olbia the mainland is easy to visit. For more ideas on where to go visit our City Guide page. 
Cost: €3,195 per person
Single supplement: €325
Our tours are genuinely all-inclusive - learn more about what we offer.
What is included?
•    7 nights' accommodation in two wonderful hotels 
•    Two experienced and knowledgeable guides to look after your every need and bring this stunning area to life
•    All meals including excellent wines 
•    Gourmet picnic lunches each day and snacks en route
•    Support vehicle, enabling you to walk as much or as little as you please
•    Transport in air-conditioned minibus
•    All museum entries and cultural visits as per the itinerary
•    Comprehensive pre-trip information
Your Health and Safety
See our new protocols to ensure the safety and wellbeing of both our guests and HH staff.
Tour Highlights
Discover Sardinia's unique Bronze-Age sites
Hike to the highest points on the island with unbroken views to the Mediterranean Sea
Enjoy a traditional Sardinian lunch prepared by local shepherds
Walking/Terrain
There are 5 days of walking on the trip. We walk on strade bianche (dirt roads), mule tracks and some rocky mountain trails. There are some significant ascents and descents of up to 500 metres. The walking is quite rugged in places, so sturdy walking boots, with good ankle support, are essential. Walking poles are highly recommended, especially on steeper sections.  Whilst the climate is generally good at this time of year, we are walking in the mountains so need to be prepared for changes in conditions. 
Shortest/Longest Day: 4km/2.5 miles: 14.2km/8.8 miles
We have graded this hike a Level 3. Some of our tours are more challenging than others, so see how we grade our hikes to make sure you choose the right one for you. If you are interested in this tour, then you might also like to take a look at Etruscan Trails in Central Italy, Northern Tuscany and Ravenna or Parma, Tuscany and the Ligurian Sea
Accommodation
Sa Muvara: Nestled in the heart of the Gennargentu mountains, this family-run hotel has a tranquil setting with a wonderful restaurant, outdoor pool and small Wellness Centre.
Su Gologone: This rustic yet chic hotel has a stunning mountain setting and a serious reputation for fabulous authentic Sardinian cuisine.
 
Tour Dates
28 August 2024 - 4 September 2024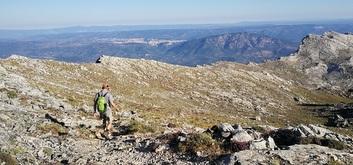 Find out more about Sardinia