Italy's Greatest Spectacle
The Palio horse race in Siena is one of the most spectacular festivals in Italy.  It takes place twice a year, on 2nd July and 16th August.  It is, however, much more than one race on the one day.  It is the apex of months of preparation and the Palio itself is a 4-day festival.  To watch it on TV or read about it in the paper, or even to stand in the square and experience the race itself is only scratching the surface of a fabulous tradition.  This exclusive tour brings you the "Quattro giorni del Palio"  and immerses you in the rituals and folklore of the Palio together with the signature food, wine, walking and attention to detail of Hedonistic Hiking.
The pick-up and drop-off points for this tour are Pisa Airport and Pisa Centrale train station. Why not consider extending your walking holiday in Italy by visiting Florence, Pisa or Rome?   For more ideas on where to go visit our City Guide page. 
"Third tour in Italy and another 3 events in Australia have all been superb. Jackie and Mick cover every aspect required to make your small group Hedonistic adventure one to remember. A perfect opportunity to travel with like minded people seeking a personalised and classy holiday with food, wine and walking (which can be optional depending on your personal capabilities). Highly recommended and we will be back. Grazie Mille!"    Rod and Lisa Tremayne
Cost: €3,350 per person
Single supplement: €375
Our tours are genuinely all-inclusive - learn more about what we offer.
What's Included?
Grandstand tickets for Historical Parade and Palio Horse Race – 16th August
Siena Contrada Museum Tour
Contrada Dinner - night before the race day
Horse Blessing - day of the race
All meals as per itinerary (dinner on Day 1 to Breakfast on Day 7)
Transfers and all transport ex. Pisa in air-conditioned minibus
Exclusive services of Hedonistic Hiking guide(s)
6 nights' accommodation at Palazzo Ravizza – a historic residence in the centre of Siena
Dinners in a variety of excellent restaurants matched with some of the top wines of the region
Hands-on cooking class with local chef
Your Health and Safety
See our new protocols to ensure the safety and wellbeing of both our guests and HH staff.
Tour Highlights
Grandstand seats for the race
Pre-race Contrada dinner in the streets of Siena
Private visit to a Contrada museum
Walking/Terrain
Terrain: Three half-day hikes in rolling countryside outside the city. A lot of city walking
Shortest/Longest Day: 6km/3.8miles: 9km/5.7miles
We have graded this hike a Level 1. Some of our tours are more challenging than others, so see how we grade our hikes to make sure you choose the right one for you. If you are interested in this tour, then you might also like to take a look at A Tuscan Harvest.
Accommodation
Palazzo Ravizza: A charming historic hotel in the heart of the city with fabulous views across the Sienese countryside
Tour Dates
12 - 18 August 2024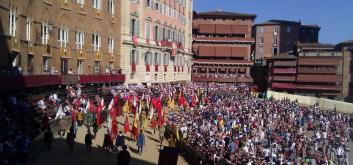 Find out more about Tuscany