Mick steps up to the plate
Submitted by HedonisticHiking on 7 Apr 2021
Our tours in Australia are in full swing and we have many more to look forward to between now and the beginning of June. One of the unique selling points of our hiking tours is the emphasis we place on local food and wine and on many of the Australian tours we stay in lodges or private houses where Mick turns from hiking leader by day to head chef by night.  A professionally-trained chef, he puts together dinner menus which showcase the best local produce and matches them with fantastic regional wines to complement the flavours.  Annabel in the UK office chatted with Mick to find out more ...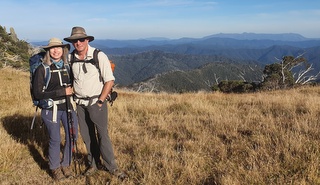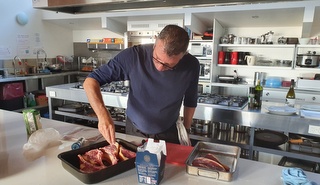 What first sparked your interest in cooking?
My cousin, who was my hero when I was growing up, was a Chef and he had travelled all over the world once he was qualified. I thought that would be a great lifestyle to have, and so started to follow in his footsteps from the age of 16.
Where did you do your training?
I trained in Canberra, partly in the Royal Canberra Hospital, and partly in a variety of different restaurants, which gave me a broad experience.  As I started to travel in Europe as a tour guide, my interest in food and wine just grew stronger.
How have all the years living in Italy influenced your cooking? 
I suppose the simplicity of Italian cooking has been a major influence.  Their recipes are often very straightforward but their use of top quality, fresh ingredients is integral to their cooking and the amazing flavours they achieve. They also take time with their favourite dishes and honour traditional recipes which have been handed down through the generations.  And they know the importance of sharing food with friends and family and understand that cooking for others is an expression of your care for them.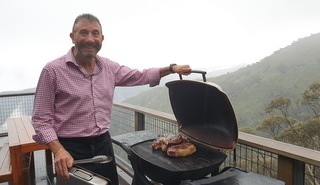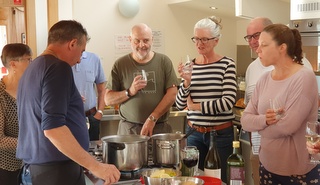 When you cook on the Australian tours, how do you plan the menus?     
We plan the meals with the places we are travelling to foremost in our minds. This allows us to show off the very best local produce of the areas where we are hiking. Also our evening meals have to be able to be produced in a limited time as the hours between finishing our hikes and eating dinner are sometimes few!  Jackie's philosophy for the picnic lunches is the same.  If there is a local cheese producer in the area for example, or a farmer's market where we can source ingredients, then we use it.
Can you give us some examples of menus you have recently produced?
These two menus we used recently when hiking up in Victoria's High Country, close to our home.
Spinach sformato with tomato sauce
Fresh trout with broccolini, leek, carrots
Stuffed peaches with cream
Mushroom risotto
Tagliata with rocket and roast potatoes
Fruit cake with berries and cream
We source our trout from nearby Harrietville Trout Farm and buy our beef from Italian butcher Pete Ricardi based in our home town of Bright. A sformato is an Italian savoury flan or a kind of firmer, less-fussy soufflé.  It is a starter we often eat on our Italian tours and can be made with many different vegetables as a base.
Risotto is something we've eaten so often in Italy and it is a dish I love to cook. As with the sformato there are so many different ingredients you can use to ring the changes and as long as you have good quality stock it delivers on flavour every time. Tagliata is the Italian style of serving grilled beef - in succulent slices with a simple rocket salad and shavings of parmesan.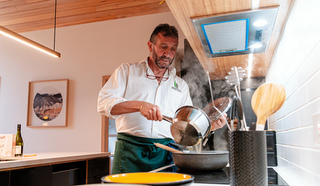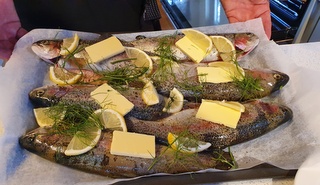 What would be your desert island dish?   And is there a wine choice to go with it?
          
It's got to be a well-made tiramisu!  My wine choice doesn't really go with tiramisu but it would have to be a big robust Chianti from the Carmignano area in Tuscany. 
Do you have any top tips for less confident chefs?
I think too many people overthink cooking and get worried about following every tiny aspect of a recipe which is, after all, someone else's taste. Cook for your own taste would be my best advice!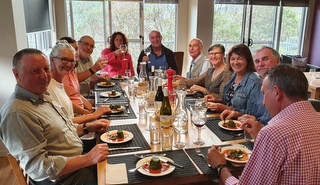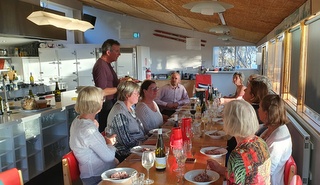 Alongside these fabulous evenings with Mick at the helm, we also eat in a selection of great restaurants en route, many of which have Chef's Hats and magnificent wine cellars. If you would like to experience our blend of food, wine and walking we still have a couple of spots free on our brand new Highlights of the Grampians Peaks Trail from May 7-13, and we have tours scheduled in October which still have available spots.  See all the tour dates here.