Italy's economic, if not political centre, Milan is the capital of business, high finance and high fashion, with a population of around 1.3 million.  As a fascist stronghold at the start of the Second World War the city was widely bombed by Allied raids, so much of the architecture is relatively contemporary in style.  It is not possible to mention Milan without reference to its love-affair with football - two of Italy's best teams have their home here and, of course, if you love designer shopping, then this is the city for you.  Find out more about this fashionable city.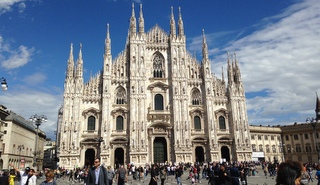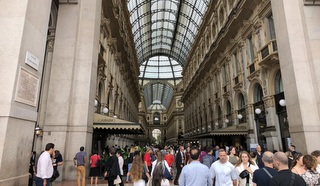 Which Hedonistic Hiking tours start in Milan?
The tour starts at the UNA HOTEL CUSANI which is 700 metres from Milano CADORNA train station (also known as Stazione Nord).
Itinerary
Stage 1: Depart St Pancras International. Eurostar services generally run every 30 minutes on most days during peak times, with a slightly reduced service on weekends and holidays. Journey time – around 2hr30m.
Stage 2: Arrive Paris Gard du Nord.
Stage 3: Transfer to Paris Gard du Lyon by taxi or metro. Although crossing Paris by metro takes around 30 minutes, we recommend allowing at least one hour between your arrival in Paris and onward journey from Paris Gard du Lyon.
.
Stage 4: For your onward train journey from Paris Gard du Lyon to Milan, you can choose between the TGV and the Frecciarossa. The journey time is around 7 hours, with the Frecciarossa being a little newer and with better on-board service than the TGV. For more information on train timetables and choosing which train to take, we recommend visiting the excellent website The Man in Seat 61.
Stage 5: Arrive in Milan Porta Garibaldi (TGV) or Milan Central (Frecciarossa)
Almost all of our tours have pick-up points at major train stations making it super-easy for you to join the group.
Average journey time from Milan to Pisa is 3hrs 30 mins.  Meet here for:
Lucca, Volterra and the Island of Elba 
The Palio of Siena 
A Tuscan Harvest
Average journey time from Milan to Rome Termini station is 3 hrs 20 mins. Use the rail link between Termini and Rome Fiumicino airport and meet here for:
Etruscan Trails in Central Italy 
The Wilds of Abruzzo 
Average journey time from Milan to Bologna is 1 hr 30 mins.  Meet here for:
Northern Tuscany and Ravenna
Average journey time from Milan to Parma is 1 hour. Meet here for:
Parma, Tuscany and the Ligurian Sea
Average journey time from Milan to Turin is 1 hour. Meet here for:
The Best of the Italian Alps
The Jewels of Piedmont