See all city guides
Many people choose to extend their walking tour in Italy by visiting Milan. This could be easily done if you have booked Hedonistic Hiking's The Jewels of Piedmont, The Best of the Italian Alps, The Italian Lakes or Slovenia and Friuli.
Italy's economic if not political centre, Milan is the capital of business, high finance and high fashion, with a population of around 1.3 million.  As a fascist stronghold at the start of the Second World War the city was badly bombed by Allied raids, so much of the architecture is relatively contemporary in style.  It is not possible to mention Milan without reference to its love-affair with football - two of Italy's best teams have their home here and, of course, if you love designer shopping, then this is the city for you.
Highlights
The Duomo
The city's vast Gothic cathedral is one of the largest in Europe.   It can seat 40,000 people which was the population of the city at the time it was commissioned in 1386.    The roof is constructed with a spell-binding array of statues and spires and the interior jewelled with stained-glass windows.    You can take steps or a lift up to roof to see the detail more closely, along with views over the rooftops of Milan.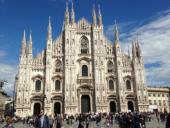 Leonardo Da Vinci's Painting of The Last Supper
This world-famous fresco is to be found on the wall of the refectory which joins the church of Santa Maria delle Grazie. Started in 1495 the iconic painting now has lost much of its colour, but remains one of the most visited artworks in Italy. It is therefore essential to book your visit well in advance. This link gives more information.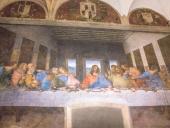 La Scala
Milan's famous Opera House has a lavish, scarlet, many-tiered interior which can be visited provided there are no performances in progress from 09.30 - 12.30 or 1.30 to 5.30.     If you would like to experience a performance, you can contact the box office online at http://www.teatroallascala.org, but do so well in advance of your trip.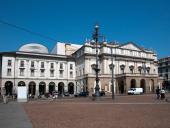 The Brera Gallery
Situated in the heart of the Brera district at Via Brera 28 this gallery houses a formidable collection of religious art, collected from monasteries and churches across Italy under the period of Napoleonic rule. Key works on display are by Mantegna, Tintoretto, Piero della Francesca and Raphael. The museum is closed on Mondays.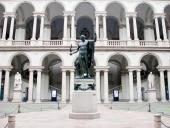 Eataly
Eataly is the now famous "supermarket" dedicated to the very best of traditional Italian food and wine. In Milan you can visit the store in the basement of the Coin department store on Piazza 5 Giornate, more or less due east from the Duomo look for Corso 22 Marzo. Well worth a visit!
Shopping Tips
The big brand stores (of which there are a serious quantity in Milan!) tend to be concentrated in an area of the city known as the Quadrilatero d'Oro (literally the Golden Square). Here you will find top names such as Prada, Armani, D&G, Versace, Gucci and Valentino. There are four inter-connecting streets forming the square: Via della Spiga, Via Manzoni, Via Sant'Andrea and Via Montenapoleone.
Another historic shopping spot is the Galleria Vittorio Emanuele II which is the huge  glass-roofed arcade close to the Duomo. Even if you are not keen to buy anything this gallery, opened in 1867, is an architectural marvel and one of the oldest shopping malls in the world.
Local Guide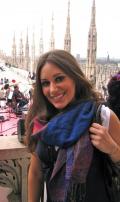 Alice Salvagnin runs private guided tours in Milan and is an experienced guide in the city who comes highly recommended.  She completed a degree in Tourism (IULM University of Communication of Milan) in 2005 and went on to gain a Specialist Degree in the Management of Heritage and Culture (Cattolica University of Milan) in 2008. She collaborates every 6 months with Poleschi Auction House managing relations with foreign customers in the art world and speaks English and French fluently.
Alice will lead our visit to the hidden artisic gems of Milan on our Italian Lakes tour but could be contacted by anyone with time in Milan looking for a private guide to the city. See here for her email details or visit her website.
Where to stay
As with all big cities, Milan has a vast number of hotels and your budget will make a difference to where you might stay. A useful website www.hotelsinmilan.it grades them by star rating - but remember too that Milan is a huge centre for international fairs and exhibitions, so hotels get busy and we advise you to book well ahead. Some of the hotels listed below are known to Hedonistic Hiking and some are recommendations from other people who have extended their walking tour in Italy in Milan.
Una Hotel Cusani
This centrally located hotel close to the Cadorna Station (also known as Stazione Nord) is highly recommended and the pick-up point for our Italian Lakes tour.  We would recommend it for anyone arriving into Milan the night before this tour starts.
The Westin Palace
This large modern hotel is well situated close to the Metro line at Piazza della Repubblica and offers all mod cons including business centre, spa facilities and state of the art gym.
Antica Locanda Solferino
This is a small hotel with only 11 rooms but is big on charm - very helpful staff and each room individually decorated.     Has a faithful following of customers, so contact them well in advance of your stay.
Antica Locanda Leonardo
Housed in a 19th century building with an attractive internal courtyard, this boutique hotel is situated on the west side of town, two steps from the Chiesa Santa Maria delle Grazie.   It is family run and the rooms are full of character.
Hotel Carlyle
Situated a short walk from the Porta Garibaldi, so convenient if you're arriving from Malpensa or the Italo train, this hotel is very comfortable and within easy reach of the Brera Gallery, Eataly and a great selection of shops and bars.
The Sheraton
Very large and ultra-modern, this hotel is located inside Terminal 1 of Malpensa airport but with good transport links into the centre of town.   Swimming pool, lots of dining options and very convenient if you have a late arrival or early departure.
Idea Hotel
Modern, value hotel but close to Malpensa airport with a good free shuttle service to and from the terminal.   
Where to eat
€€€ Savini (II)
For a real treat, this long established restaurant is something of an institution in the city. Sophisticated atmosphere, excellent service and a great reputation. Galleria Vittorio Emanuele II  Tel  +39 02 7200 3433
€€€ Bice
Another favourite of the local high flyers, Bice is a high profile restaurant serving impeccable food. Via Borgospesso 12 Tel +39 02 7600 2572
€€ Ristorante Charleston
In the corner of Piazza del Liberty this lively restaurant is open every day and serves a good selection including pizzas from the wood-fired oven.  Tel +39 02 798 631
€€ La Ranarita
An excellent pizza and pasta restaurant in the Brera district of Milan which comes highly recommmended by Hedonistic Hikers in September 2012. Via Fatebenefratelli 2   Tel +39 02 805 5872
€€ Osteria Al Fuoco di Brace
This is a very typical trattoria and a personal favourite situated on Via Marghera 16-18. The nearest Metro stop is Wagner on the west side of town.
€€ Osteria Stendhal
This was a recommendation from the Hotel Carlyle but an eatery which we really enjoyed for local specialities and great seasonal dishes. The staff were very friendly too!  Via Ancona Tel + 39 02 657 2059
€ Peck
Since 1883 this fabulous delicatessen has been an absolute treasure-trove of Italian delicacies:  cheese, chocolate,  ice-cream,  truffles - everything and anything you can think of.    It has a small restaurant near the shop.   Via Spadari 7-9  Tel +39 02 802 3161
€ Sapori Solari
On the west side of town, Sapori Solari is another deli with a small seating area which specialises in cured meats and local hand-crafted cheeses of optimum quality.    Via Solari 48   Tel +39 347 755 9993
€ Pasticceria Gattullo 
For those with a sweet tooth, this place is perfect:  brioches, pastries, hand-made confectionary of every sort and an excellent aperitivo buffet too.    Piazzale di Porta Lodovica 2  Tel  +39 02 58310497
For an interesting dining experience in Milan take a look at this site and think about trying a home restaurant. Those with the Verified Host badge have been visited personally by the BonAppetour team and been given their seal of approval.
Don't forget that Milan is the city for an aperitivo - nearly every bar will serve drinks from around 6 pm with an astonishing array of antipasti, cured meats, grissini and even pasta, so you can eat for the price of the drink!  Head for the Corso Como or the backstreets of the Brera district.
What to order
Milan, and the whole region of Lombardy, is well known for polenta, ground maize meal mixed with water, which can be dressed with cheese for example and eaten alone, or served as an accompaniment to meat or fish.    Risotto alla milanese is rice flavoured with saffron and bone-marrow stock and costoletta alla milanese is a flattened breaded veal steak.  Panetone, the sweet bread-cake, is also a speciality from the region.     Don't forget some of Italy's finest cheeses come from here too: gorgonzola, mascarpone and taleggio to name but a few.
The best known wine growing areas in Lombardy are Oltrepo Pavese, Franciacorta, Lugana and Valtellina
Transport
Malpensa airport is used by most European and all International flights, while Linate is used by a small number of other European carriers and domestic flights.    The Malpensa Express is a rail link connecting the airport at Malpensa with Stazione Cadorna (also known as Stazione Nord) in the centre of town.  It costs €13 per person and leaves every 30 minutes, taking approximately 40 minutes journey time. From 2017 you can swipe your credit card at the barrier for a contactless transaction and do not need to queue for a ticket. There is now also a direct train service from Malpensa airport to Milano Centrale.  It takes about 50mins.  There is also a regular shuttle bus running from Malpensa airport to Milano Centrale.  A taxi from the airport to the centre will cost a minimum of €75 and the journey time is very dependent on the traffic.
There are also buses connecting Malpensa airport with Turin centre. 
The major train station in Milan is Stazione Centrale from which you can reach almost all major cities in Italy - Venice, Genoa, Turin, Florence, Rome and so on.
Milan has a very efficient Metro service.
For all train information visit www.trenitalia.com which has an English version.
Train travel in Italy is inexpensive and comfortable.    Major cities are served by non-stop fast trains known as the Eurostar. 
If you are making plans for wider Europe then www.raileurope-world.com is a useful site.  Another highly recommended train travel website is Seat 61.
Italo
NTV (Nuovo Trasporto Viaggiatori) is a new private company which started operating it's Italo high-speed trains on the Milan-Florence-Rome-Naples route in April 2012, in competition with State-owned operator Trenitalia.  NTV have added new routes subsequently and are Europe's first private high-speed train operator, with a real emphasis on customer service. Travellers should be aware that the city stations used are not always the same as those used by Trenitalia.
GoOpti is a car transfer service which can been booked in advance and has come recommended by many Hedonistic Hikers. It connects airports and major cities in the north of Italy with eachother and fixed destinations in Austria, Croatia, Germany, Hungary, Slovakia and Slovenia. See the website for more details. Another useful car transfer website which has been recommended by HH guests is mydaytrip which can arrange private cars to and from most European cities.
See all city guides