Three Favourite Mountains
Submitted by HedonisticHiking on 6 Jun 2020
It is still difficult to make plans to go overseas with so much uncertainty about the future of travel, but this hasn't stopped us from dreaming about where we would like to be. Our feeling, along with many others it seems, is that wild destinations off the beaten track are going to be an obvious choice for those who venture back out there and, luckily, these are already our favourite spots in the world. 
At Hedonistic Hiking we always like to aim high, and mountains are a natural home for us with their stunning vistas, silent beauty and sense of achievement after making those ascents!  Whilst of course we do not aim for the summits on our group tours, these striking peaks often form the backdrop for our walks and we've been putting together memories of some of our favourites!
Monviso in north west Italy is the highest peak in the Cottian Alps, close to the French border, and undoubtedly Jackie's favourite mountain in the whole country. It stands at 3,841 m and is instantly recognisable from its pyramid shape soaring above the lower peaks which surround it.  It's a majestic mountain and, at the foot of Monviso at the Pian del Re, rises the famous Po River which is the longest in Italy. The water originates from the high glaciers and many lakes on the mountain's lower slopes.  In 2018 Jackie and fellow HH team member Tansy decided to scale the peak to celebrate significant birthdays and took 14 hours of walking, climbing with crampons and finally scrambling to reach the summit.  After a tough descent they rewarded themselves with wine and an excellent dinner, in true Hedonistic Hiking style! Our Jewels of Piedmont and Mountains of Piedmont tours both take us to the area of Monviso, so maybe next year you could see it for yourself?  You can also see Monviso on a clear day from our Best of the Italian Alps tour and France and the Maritime Alps.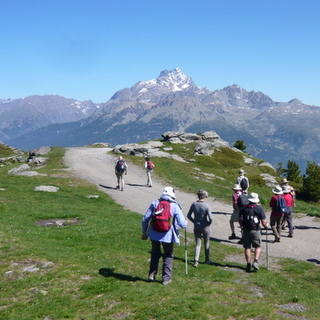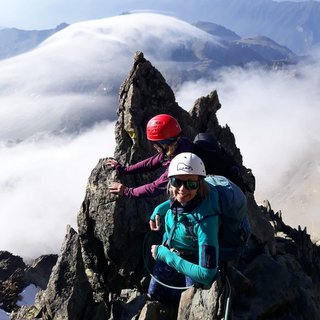 Mick's favourite is Mount Buffalo, close to home in Victoria, Australia. It was one of the first National Parks in the region, established in 1898, and today covers 31,000 hectares, encompassing the entire granite plateau and the majority of the forested hills below. The mountain is home to a number of unique plants found no-where else in the world and gives shelter to lyrebirds, wombats and possums amongst many other species.  Today there are some 90 kms of walking tracks on Mount Buffalo and opportunities for cycling, fishing, swimming, hang-gliding and skiing. The unbroken views from the highest point at 1,723 m known as The Horn, the cool climate and the fantastic flora and fauna make it Mick's perfect escape.  A number of our experiences in north east Victoria include hikes on Mount Buffalo - take a look at our range of Day Hikes and Sunset Dinners, and our new High Country & Bright tour.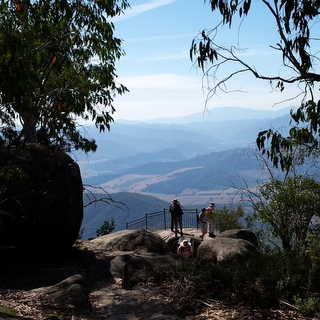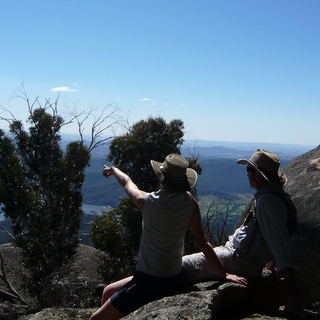 The choice for our third favourite mountain was arrived at mutually, and it is the Corno Grande in the Gran Sasso National Park in Italy's wild Abruzzo region. At 2,912 m it is the highest peak in the Appenine range which curves down the spine of Italy.  On our Wilds of Abruzzo tour we set out across the Campo Imperatore - a wild alpine plateau with stunning views across to the peak. People refer to this area as Little Tibet, and it is almost impossible to imagine that you are just a couple of hours from Rome.  In spring the plateau is carpeted with wild orchids and blue gentian flowers and we often see herds of wild horses. This is an expansive landscape, hauntingly beautiful and one which remains in the memory for a long time.  In the summer of 2013 we climbed together to the peak of the Corno Grande, a hike which took around 5 hours from a starting point of 2,100 m and afforded spectacular views across the Appenine range.