The Mountains of Piedmont
Protestants, Pilgrims and Alpine Panoramas
On this tour we explore four stunning alpine valleys to the west of the regal city of Turin. Val Susa was an important medieval pilgrimage route and is dotted with churches and abbeys. Amongst them is the awe-inspiring Sacra di San Michele, a magnificent monastery perched high on a rocky spur with unbroken views of the valley below. Val Pellice was a haven for the hounded Valdese Protestants whilst the Po and Varaita valleys were both important trading routes into France and beyond. This tour offers superb mountain hiking and fantastic alpine flowers and wildlife, interwoven with the intriguing history of the region. We stay in two delightful family-owned hotels and enjoy the celebrated cuisine of Piedmont, which is known around the world for its excellent ingredients and world-class wines. 
This tour starts and finishes in Turin, and our pick-up and drop-off hotel is the Hotel Concord on Via Lagrange, close to the train station. We can also drop guests at Turin airport at the end of the tour. People might choose to extend their walking holiday in Italy by spending more time there or by visiting Milan, Venice, Florence or Rome.   For more ideas on where to go visit our City Guide page. 
As we are a small company and lead our tours personally, it is not possible to schedule all itineraries every year. The next departure for this tour is planned for 2024.
Cost: €2,995 per person
Single supplement: €275
Our tours are genuinely all-inclusive - learn more about what we offer.
What's Included?
8 nights beautiful accommodation in two lovely hotels
Two experienced and knowledgeable guides to look after your every need and bring this stunning area to life
All meals including wine
Gourmet meals in a variety of superb local restaurants
Support vehicle, enabling you to walk as little or as much of the trail as you please
Transport to/from the start and end of the holiday
Comprehensive pre-trip information.
Luggage transported for you so all you need to carry is a small backpack with water etc.
Museum visits, food/wine tastings as per the itinerary
Your Health and Safety
See our new protocols to ensure the safety and wellbeing of both our guests and HH staff.
Tour Highlights
Visit the magnificent Sacre di San Michele
Invigorating alpine hiking
Superb Piemontese cuisine and wines
Walking/Terrain
Mountain hiking on well-graded alpine trails, rocky in places. Daily distances may appear shorter than some other tours but there is a significant amount of ascent and descent on most days (500m to 700m) so a very sound level of fitness is required.
Shortest/Longest Day:
5.5km/3.5miles: 15.5km/10 miles
We have graded this hike a Level 5. Some of our tours are more challenging than others, so see how we grade our hikes to make sure you choose the right one for you. If you are interested in this tour, then you might also like to take a look at The Best of the Italian Alps and Austria and the Dolomites.
Accommodation
Il Mulino di Mattie: Surrounded by the mountains of the Alpi Cozie Natural Park, this cosy hotel has a welcoming, traditional restaurant
Antico Podere Propano: Very comfortable hotel in a former farm on the edge of the medieval town of Saluzzo, rooms set around a peaceful courtyard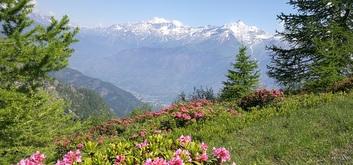 Find out more about Piedmont