France and the Maritime Alps
Over the Alps from Provence to Piedmont
This fabulous itinerary takes us from the South of France to the North of Italy. The tour starts in Nice with a visit to the opulent Belle Epoque Villa Ephrussi de Rothschild and its magnificent gardens at Cap Ferrat. We then head inland to explore the stunning Mercantour National Park, a short distance from the Cote d'Azur. We cross the border between France and Italy to hike in the Maritime Alps, and stay in the beautiful Stura Valley in the fortified town of Vinadio.  We finish in the elegant Piedmontese city of Cuneo, where we try our hand at cooking local specialities.  The mountain hiking has dramatic and spectacular views of snow-capped peaks, lakes and streams. There are carpets of wild flowers in June and we encounter many animals along the way from ibex to marmots, chamois to golden eagles.  We discover the rich history of this region on foot, with its remote churches, imposing castles and attractive historic villages. 
The tour starts in Nice and our meeting point is the Hotel NH Nice at 2-4 Parvis de l'Europe.  We finish in Turin and drop guests at Hotel Concord, Via Lagrange, near Porta Nuova train station.  Many people choose to extend their walking holiday by visiting other parts of Italy or taking time to explore Nice and Provence.  For more details visit our City Guide page. 
Cost: €3,195 per person
Single supplement: €300
Our tours are genuinely all-inclusive - learn more about what we offer.
What's Included?
8 nights accommodation in three different hotels
2 experienced and knowledgeable guides to look after your every need and bring this stunning area to life
All meals with wines, with the exception of dinner of Night 6 which is at your leisure
Gourmet picnics each day with snacks en route
Cooking class in the regional capital of Cuneo
Support vehicle, so you can walk as much or as little of the trail as you please
Transport in two air conditioned minibuses
Comprehensive pre-trip information
Museum visits and tastings as per the itinerary
Your Health and Safety
See our new protocols to ensure the safety and wellbeing of both our guests and HH staff.
Tour Highlights
Fascinating cross-border culture of France and Italy
Visit Villa Ephrussi de Rothschild and Vicoforte, both architectural masterpieces
Fun cooking class in Cuneo
Walking/Terrain
Terrain: Mountain hiking on well graded alpine trails, rocky in places. Although daily distances are relatively short, there is a significant amount of ascent and descent on most days (500m to 800m) so a very sound level of fitness is required.  We hike at altitudes between 1,400m and 2,500m.
Shortest/Longest Day: 10km - 15km
We have graded this hike a Level 5. Some of our tours are more challenging than others, so see how we grade our hikes to make sure you choose the right one for you. If you are interested in this tour then you might also like to take a look at Austria and the Dolomites, The Best of the Italian Alps or Southern Italy
Accommodation
La Bonne Auberge: A charming hotel, recently renovated, in a lively village in the Mercantour National Park
Hotel Ligure: A welcoming family-run hotel with a wonderful restaurant in a small town in the Val Stura 
Palazzo Lovera: A four star Renaissance palazzo in the historic centre of Cuneo.
Tour Dates
15 - 23 June 2024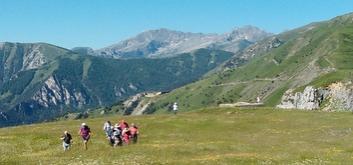 Find out more about Piedmont