Sample Menu - France & Italy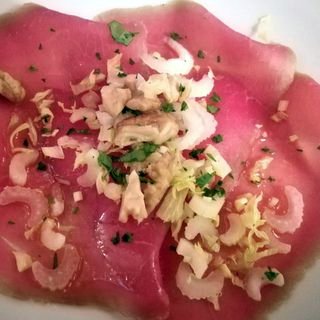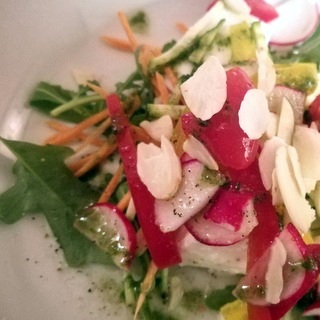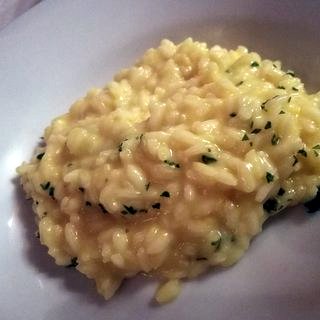 The final night of this tour we eat in a small restaurant in the heart of Cuneo in Italy's Piedmont region, at the Osteria dei Morri, in Piazza Virginio. It is a family-run restaurant, with Franco front of house, serving high quality Piemontese ingredients matched with excellent wines from the region.  As with many fine Italian restaurants it is unassuming from the outside but its vaulted ceilings make it welcoming and cosy.   As it is the final night of our tour we enjoy a gastronomic dinner which includes many tastes of the mouthwatering produce from the region.
Aperitif:
 
Wine choice: Riserva Elena, Rocche dei Manzoni
A sparkling wine made with a blend of Pinot Nero and Chardonnay grapes, from the Rocche dei Manzoni winery based in Monforte d'Alba, Piedmont
Antipasto:
Carpaccio di carne marinata con sedano e noci  Thinly-sliced beef marinated with celery and walnuts
Insalata di mozzarella di bufala piemontese  Piemontese buffalo-milk mozzarella salad 
Flan di zucchine e pomodori pachino Zucchini and tomato flan
Wine choice: Vite Colte -Tra Donne Sole 
A blend of Piemontese Chardonnay and Sauvignon Blanc grapes from the Vite Colte vineyards, a community of 180 winegrowers working together on 300 hectares of land
Primo:
Risotto con peperoni gialli e erba cipollina Risotto flavoured with yellow peppers and chives
Wine Choice: Papà Celso Dolcetto
Made with 100% Dolcetto red grapes on vines which are over 60 years old, this elegant, harmonious wine pairs well with pasta and rice dishes.
Secondo:
Tagliata di manzo locale e rucola Sliced beef served with rocket
Wine Choice: Barolo di Domenico Clerico  
This excellent Barolo is made with 100% nebbiolo grapes, and is aged for 16 months in barriques, and a further two years in the bottle.
Dolce:
A trio of desserts
Tortino di pere e crema inglese Pear cake with a light custard
Fragole con gelato Strawberries with ice-cream
Bunet al cioccolato A chocolaty custard pudding with caramel, a speciality from Piedmont
Wine Choice: Michele Chiarlo Moscato D'Asti
Piedmont's sweet white Moscato grapes make delicous dessert wines, with straw-yellow colours, floral aromas and a fragrant taste.
On all our tours we offer a variety of dining experiences, from small characteristic osterias to restaurants of renown and, on occasion, award-winning establishments with big reputations. We work hard to plan menus which celebrate the best local and seasonal ingredients and which showcase the traditions of the regions where we are hiking. We are often quite literally walking through the menu each day as we pass vineyards, orchards, waving wheat fields or fishing ports, and our time spent with cheesemakers or truffle hunters truly helps to bring the menus to life. We also seek to balance the evenings so that dinners with four or more courses are interspersed with lighter meals, and we always take into the account the amount of walking completed on a given day. It goes without saying that all courses are matched with excellent regional wines and we like to share a little of our local culinary knowledge before the start of each meal.