Three of the Best Music Festivals in Italy
Submitted by HedonisticHiking on 5 Oct 2021
The Verdi Festival - Parma
Each year in October the small city of Parma marks the anniversary of the birth of one of it's most famous sons, composer Giuseppe Verdi.  A series of performances of selections of his work are organised at the town's Teatro Regio, and the Verdi Festival has become an important annual event in the musical calendar of Italy.   Verdi came from humble origins, born in the nearby village of Le Roncole, but went on to become one of the most celebrated Italian composers of the 19th century.
His most famous operas include La Traviata, Rigoletto, Il Trovatore, Aida and Nabucco.  During the festival each year Parma runs various events to honour the life of "Il Maestro" such as talks by artists and writers, and screenings of films and documentaries about the man and his work.  The Portici del Grano, the porticoed town hall, becomes a key venue hosting concerts, performances and live projections from the opera house.  
Parma is a beautiful city to visit, and not just for its musical festival.  It has given the world two of its greatest culinary inventions, Parma ham and Parmesan cheese and, strolling through its elegant streets and piazzas, you have the perfect opportunity to admire the shop windows displaying mouth-watering local produce. It can be easily reached by train from Bologna or Milan and is well worth a visit if you have not been before.   Our Parma, Tuscany and the Ligurian Sea tour does not directly coincide with the festival but as it starts in the city we always recommend taking time to explore it. At the time of writing the official Verdi Festival website is still showing the 2021 programme but you can follow their news here.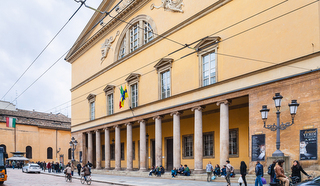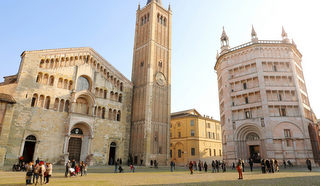 The Puccini Festival - Torre del Lago
The Puccini Festival in Torre del Lago takes place every summer during the months of July and August and since it's inception in 1930 has become increasingly prestigious, attracting tens of thousands of spectators from all over the world. Torre del Lago is near Viareggio, close to the Mediterranean on the Tuscan coast.  Born in the nearby city of Lucca, Puccini moved in his 30s to a villa out at Torre del Lago on the shores of Lake Massaciuccoli, then a tranquil spot where he found peace and isolation. This is the site today of the modern 3,400 seater open-air amphitheatre which is where the Puccini festival takes place.
Some of Puccini's greatest works include Manon Lescaut, La Bohème, Tosca, and Madama Butterfly. Puccini died in 1924 leaving his final opera Turandot unfinished.   The gorgeous walled city of Lucca has a small museum in the house where he was born and, on our Lucca, Volterra and Elba tour which stays in the town, we have the chance to hear a selection of his best-loved arias at an evening concert in the church of San Giovanni.  Lucca is easily accessible from Pisa by train or bus and, like Parma, is a little gem of a city to explore on foot.
At the time of writing the Festival website has not been updated for 2022 but you can keep an eye on it here.  Ticket prices range from €30 to €170.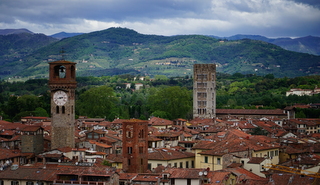 The Opera Festival - Verona
The first Opera Festival in Verona took place in 1913, to commemorate the centenary of the birth of Giuseppe Verdi and every year since (except for two short breaks during the two World Wars) the Roman amphitheatre has been transformed into the world's largest open-air opera theatre.  
The original amphitheatre dates back to AD 30 and could seat more than 30,000 spectators in ancient times. The round facade of the building was originally covered in white and pink limestone from Valpolicella until a major earthquake in 1117 almost completely destroyed the structure's outer ring. It remains however a unique space for performances and owing to the structure's outstanding acoustics and evocative atmosphere, musical experiences here are truly unforgettable.
The programme of events for 2022 is already published and can be seen via this link , running from mid-June through to early September.  Productions of Aida, Nabucco, Carmen and La Traviata are scheduled with ticket prices ranging from €26 to € 300, but if you are starting to make plans for being in Italy next year, this might be something for your bucket list. Our July Austria and the Dolomites tour finishes in Verona and many hikers extend their stays in this charming city in order to experience one of these unmissable Nights at the Opera!