See all city guides
Many people booking our new Austria and the Dolomites tour may like to take some time exploring Verona at the end of the holiday.
Known throughout the English-speaking world as the setting for Shakespeare's Romeo and Juliet, the city of Verona has much to offer the 21st century visitor. Aside from its fame as La Citta dell'Amore (City of Love) its compact and beautiful centre is a pleasure to explore on foot.  It has a world-class opera festival, a pink marble Roman arena, gardens, museums and elegant shopping streets. It lies in the heart of fabulous wine-growing denominations such as Vapolicella and Soave and is within easy reach of stunning Lake Garda.
Highlights
Casa di Giulietta
Whilst Juliet herself was clearly a character of fiction, Giulietta's house, just off Via Mazzini, has become a legendary draw for star-crossed lovers from all over the world, who come to see the famous balcony and touch the bronze statue of Juliet which stands beneath it, in the hopes of bringing better luck in the future.  In fact it is not even a real balcony but a converted sarcophagus although this does not seem to deter the true romantics!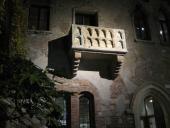 The Roman Arena and Opera Festival
The Roman Arena was built in the 1st century AD and is the third largest in Italy, behind the amphitheatres in Rome and Capua. It has seating for 30,000 and its eliptical shape gives wonderful acoustics to the opera performances which run each year from June to August. You can visit the Arena during the daytime but closing times vary if an evening performance is scheduled. The first performance was held in 1913 to celebrate the centenary of the birth of Giuseppe Verdi and, with the exception of a couple of years during the World Wars, they have continued annually ever since. Tickets are not difficult to order on-line and there is a range of pricing, which means that it does not have to be prohibitively expensive. For full details visit: http://www.arena.it/arena/en.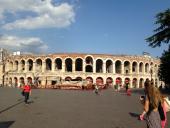 Castelvecchio
Castelvecchio and its bridge which spans the River Adige known as Ponte Scaligero were built in the mid 14th century. Severely damaged by both Napoleon's troops and WWII bombings, the building was cleverly re-invented in the 1960s to become the city's art museum and today houses jewellery, medieval artefacts and paintings by Bellini, Pisanello and Veronese to name but a few. It is closed on Monday mornings.
For those planning a few days in the city it is well worth purchasing the Veronacard, which is an all-inclusive city pass providing free entry to 16 of Verona's main attractions and reduced entry fees into five others. They are valid for either 24 hours or (slightly better value) 48 hours and can be purchased at the major sites, or in local tobacconists.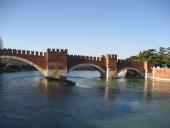 Where to stay
There are a large number of options for sleeping in and around Verona and perhaps a good place to start is the central accommodation website
Escalus Suites
Just 50 meters on foot from the Arena, the entrance to Escalus Luxury Suites is on the fascinating Vicolo Tre Marchetti, located in a period palazzo in the old town center of Verona, with 4-star services but contemporary and modern interiors
Hotel Accademia
The Accademia Hotel is in the center of Verona, well placed on the via Mazzini in the heart of the exclusive shopping area of Verona. It has 95 rooms behind its historial facade.
Hotel Aurora
A three star hotel with a charming terrace overlooking the Piazza delle Erbe. The hotel has a buffet breakfast and bar.
Where to eat
There are a huge number of reasonably priced trattorias and osterias in Verona, with plenty centred around Piazza Bra and Piazze delle Erbe. However,if you are looking for something a little special then try:
€€€ Ristorante Il Desco
Fine dining with Michelin star awarded in 2015. Serious cooking with a wine list to match. In July and August closed Sundays but open Monday evenings. Via Dietro San Sebastiano, 5/7, +39 045 595358
€€ Ristorante 12 Apostoli
The restaurant is one of the oldest and most charismatic in the city, serving very traditional dishes. The chef usually comes out of the kitchen to greet every diner. Closed Sunday evenings and Mondays. Corticella San Marco 3, +39 045 596999
€€ TeodoricoRe
Pizza and grill with a terrace with amazing views over the roof tops of the city. Closed on Tuesdays. 1 Piazzale Castel San Pietro +39 045 8349903
€€ Al Pompiere
Close to the Casa di Giulietta this is an easy and busy trattoria with a lengthy list of speciality meats and good pasta and ristotto. Closed Sunday evening. Vicolo Regina d'Ungheria 5, +39 045 803 0537
What to order
One of the most typical dishes of Verona is risotto, not least because the area grows one of the best creamy rices known as Vialone Nano. Usually it is served with red radicchio or "al tastasal" when the sauce is made with sausage meat. Another well known dish here is "bollito misto" - a selection of boiled meats - but don't be surprised if you see horse meat on the menu as the city has a long tradition of serving it. The best known recipe is perhaps the "pastisada di caval" which is a slow cooked dish made with red wine, spices and vegetables.  A typical Veronese cake known as the "Pandoro" is usually eaten at Christmas time but all year you will be able to find "Baci di Giulietta" biscuits - named of course after the Shakespearean character.
The area around Verona is famed for its Valpolicella and Bardolino red wines and its Soave and Bianco di Custoza whites and there are plenty of opportunities to taste in the city's many bars, restaurants and enotecas.
Transport
Verona-Villafranca airport sits about 12 km outside the city and serves destinations across Italy and Europe and increasingly a couple of long-haul services to airports such as Dubai and Bangkok. There is a shuttle service between Verona Porta Nuova train station and Verona airport which operates daily, every 20 minutes or so, until 11 pm. The journey takes 15 minutes. Tickets for this can be purchased online.
Good connections from Porta Nuova train station could connect you to easily to Venice, Padua or Milan.
For all train information visit www.trenitalia.com which has an English version. Train travel in Italy is inexpensive and comfortable.    Major cities are served by non-stop fast trains known as the Eurostar. 
If you are making plans for wider Europe then www.raileurope-world.com is a useful site.  Another highly recommended train travel website is Seat 61.
Italo
NTV (Nuovo Trasporto Viaggiatori) is a new private company which started operating it's Italo high-speed trains on the Milan-Florence-Rome-Naples route in April 2012, in competition with State-owned operator Trenitalia.  NTV have added new routes subsequently and are Europe's first private high-speed train operator, with a real emphasis on customer service. Travellers should be aware that the city stations used are not always the same as those used by Trenitalia.
GoOpti is a car transfer service which can been booked in advance and has come recommended by many Hedonistic Hikers. It connects airports and major cities in the north of Italy with eachother and fixed destinations in Austria, Croatia, Germany, Hungary, Slovakia and Slovenia. See the website for more details.  Another useful car transfer website which has been recommended by HH guests is mydaytrip which can arrange private cars to and from most European cities.
See all city guides