Austria and the Dolomites
Splendours of the Austrian and Italian Tyrol
This tour starts in Innsbruck and explores the delightful Tyrol landscape of Austria and Italy. We hike in the beautiful Defereggen valley in the Hohe Tauern National Park with spectacular views of Austria's highest peak, the Grossglockner (3798m). We cross the border from Austria into Italy on foot to hike in the UNESCO World Heritage mountain scenery of the Dolomites and discover the region's captivating Tyrolean hospitality and culture. We have a guided tour of the fascinating museum in Bolzano, which is dedicated to the 5,300 year old Otzi frozen man, before finishing in Verona with its impressive Roman arena and world-famous opera festival.
Our pick-up hotel for this tour is the Hotel Innsbruck on Innrain 3.  At the end of the tour we drop guests either at Verona airport or Verona train station.
Cost: €3,350 per person
Single supplement: €350
Our tours are genuinely all-inclusive - learn more about what we offer.
What's Included?
8 nights beautiful accommodation in three fabulous hotels. 
Two experienced and knowledgeable guides to look after your every need and bring this stunning area to life.
All meals including wine
Dinners in a variety of superb local restaurants
Support vehicle, enabling you to walk as little or as much of the trail as you please
Transport to/from the start and end of the holiday
Comprehensive pre-trip information.
Luggage transported for you so all you need to carry is a small backpack with water etc.
Museum visits, food/wine tastings as per the itinerary
Anyone keen to experience Verona's world-famous opera festival should book tickets early.  For more details on this please visit https://www.arena.it/en/arena-di-verona/calendar
Your Health and Safety
See our new protocols to ensure the safety and wellbeing of both our guests and HH staff.
Tour Highlights
•    UNESCO World Heritage landscape of the Dolomites
•    Spectacular alpine hiking
•    Fascinating Tyrolean culture in Italy and Austria
Walking/Terrain
Mountain hiking on well-graded alpine trails, rocky in places. Significant ascents and descents every day,  from 500m - 800m, and 1000m on the final day. A sound level of fitness is required.
Shortest/Longest Day: 11km/19.5km
We have graded this hike a Level 5. Some of our tours are more challenging than others, so see how we grade our hikes to make sure you choose the right one for you. If you are interested in this tour, then you might also like to take a look at France and the Maritime Alps, The Best of the Italian Alps and Southern Italy
Accommodation
Sport Resort Hohe Salve:  A resort hotel with extensive spa and fitness facilities in the charming town of Hopfgarten
Macher's Landhotel:  Comfortable family owned hotel with excellent restaurant in the Hohe Tauern National Park. Sauna and steam room
Bad Moos:  Four star hotel with pool, extensive spa facilities and stunning mountain views of the Dolomites
Tour Dates
6 - 14 July 2024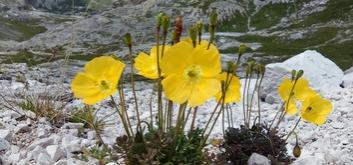 Find out more about the South Tyrol