Sample Menu - Austria and the Dolomites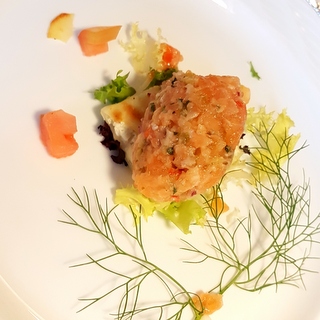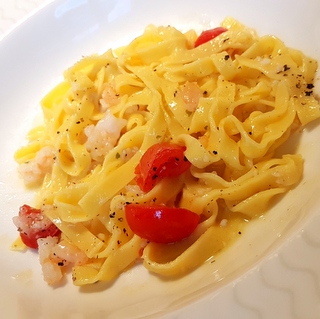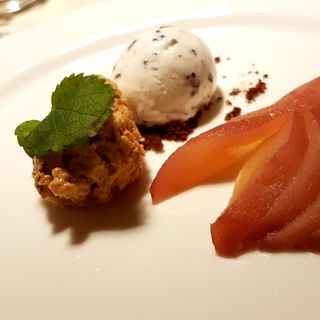 The influences of the cooking in the South Tyrol come from both sides of the Austrian/Italian border.  Our hotel, the Bad Moos in Sesto, sits right at the entrance to the Tre Cime Nature Park and is surrounded by the UNESCO world heritage mountain landscape of the Dolomites.  Here, one of the chef's chief delights is to cook with the local wild herbs, so many of the dishes include for example Dandelion, Wild Peppermint or Lady's Mantle.  This menu we enjoyed with our group in July 2018.
Antipasto:
Tartar di Salmone con rösti di patate alle erbe e insalatine   Salmon Tartare with a potato "rösti" of local herbs and salad
Primo:
Tagliatelle di Kamut con ragù di gamberoni e aglio brasato al rosmarino    Tagliatelle made with kamut flour with a prawn, garlic and rosemary sauce
Wine Choice: Cantina Terlan - Vorberg Pinot Bianco Riserva 2015
Founded in 1893, the Cantina Terlano winery is now one of the leading wine growers' cooperatives in South Tyrol, with just under 150 members working a total area of 170 hectares.  This white is a complex wine with rich minerality, which pairs excellently with seafood dishes.
Secondo:
Sottospalla di vitello con porcini, patate al forno e fagiolini in mantella di speck  Veal with porcini mushrooms, oven-roasted potatoes and green beans wrapped in speck
Wine Choice: Laimburg - Sass Roà - Cabernet Sauvignon Riserva
Laimburg manages about 50 hectares of vineyards across the South Tyrol region with vines planted at altitudes ranging from 200-750 metres above sea level depending on the grape variety. Laimburg Research Centre is working to identify the ideal microclimate for each varietal.  This 100% Cabernet Sauvignon is called Sass Roà - the name deriving from the Ladin langauge meaning: Glowing red stone set into the mountains' pale rock
Wine Choice: Kornell - Kressfeld Merlot Riserva 2013
The Kornell vineyards lie just to the north west of Bolzano, an area of the Alto Adige which has been cultivating vines for more than 2,000 years. This delicious Merlot has a dark, ruby red colour, ripe aromas of plums and raspberries and a full, long finish. 
Dolce:
Pera Williams al vino rosso con mousse di mandorle e gelato alla stracciatella   Pear cooked in red wine, almond mousse and stracciatella ice cream
On all our tours we offer a variety of dining experiences, from small characteristic osterias to restaurants of renown and, on occasion, award-winning establishments with big reputations. We work hard to plan menus which celebrate the best local and seasonal ingredients and which showcase the traditions of the regions where we are hiking. We are often quite literally walking through the menu each day as we pass vineyards, orchards, waving wheat fields or fishing ports, and our time spent with cheesemakers or truffle hunters truly helps to bring the menus to life. We also seek to balance the evenings so that dinners with four or more courses are interspersed with lighter meals, and we always take into the account the amount of walking completed on a given day. It goes without saying that all courses are matched with excellent regional wines and we like to share a little of our local culinary knowledge before the start of each meal.