See all city guides
Situated on the Western side of the region Emilia-Romagna, Parma is a prosperous and picturesque city which has given the world two of its greatest culinary inventions:  Parma ham and Parmesan cheese.    It is closely associated with the composer Giuseppe Verdi and has a busy calendar of musical, operatic and cultural events throughout the year. It is a compact city, easily navigable on foot, and strolling through its elegant streets and piazzas gives you the perfect opportunity to admire through the shop windows its bountiful displays of local produce.
Highlights
The Duomo
The city's cathedral is perhaps best known for the frescoed dome by Antonio Correggio. The Assumption of the Virgin, as it is named, was executed in the 1520s and the artist led the way in his use of illusionist perspective, creating a remarkable visual upward spiral.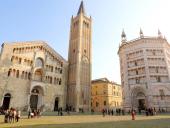 The Baptistry
If you are joining our Parma, Tuscany and the Ligurian Sea tour, then you will visit the Baptistry with the group.    It is an eight sided, pink marble masterpiece, designed by Antelami and started in 1196.   Open 9.00 - 12.30 and 3.00 - 6.45.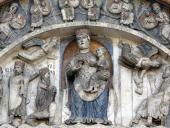 Teatro Regio di Parma
This ornate theatre, famous across Italy for its top level performances, can be visited with a guide from Tuesday to Saturday (assuming there are no rehearsals or auditions) at 10.30, 11.00, 11.30 or 12.00 for €7.00.   Tel +39 0521-039393.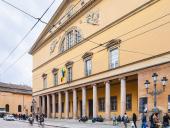 Palazzo della Pilotta
Situated on the Piazza della Pace and originally built for the Farnese family, this huge palace houses some of Parma's most important museums, including the Galleria Nazionale, which displays work by Correggio, Fra Angelico and Canaletto to name but a few.    Open Tuesday to Sunday 08.30 - 13.30.
For more details on the history of Parma, see the Blog.   Please be advised that many shops in Parma are closed on Thursday afternoons.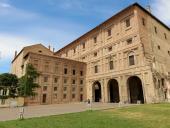 Where to stay
Some of the hotels listed below are known to Hedonistic Hiking, and others are recommendations from people who have extended their walking tour in Italy in Parma.
NH Parma Hotel
This is the meeting point for our Parma, Tuscany and Ligurian Sea tour and is less than one minute from the train station on Viale Paolo Borsellino
Century Hotel
This is a modern renovation, conveniently close to the station, with secure parking.
Hotel Palace Maria Luigia
Easy walking distance into the heart of Parma, this 4 star hotel offers all mod cons, a fitness club and a good restaurant.
Hotel Torino
An unpretentious 3 star but comfortable and brilliantly located right in the centre of town.
Palazzo dalla Rosa Prati 
Right in the Piazza with the Baptistry and the Duomo, this has 7 elegant and luxurious suites.
Where to eat
€€ Ristorante La Forchetta
A restaurant which respects the culinary traditions of the city and it's excellent ingredients.  Borgo San Biagio 6.  Tel +39 0521 208812.  
€€ Il Trovatore
Another reliably good restaurant, very convenient if you are staying at the Century Hotel or the Hotel Palace Maria Luigia.          Via Affò 2   Tel +39 0521.23.69.05
€€ Trattoria del Tribunale
Top quality local ingredients are used in the typical dishes of this trattoria.   Home-made pasta and excellent cured meats on offer.  Vicolo Politi 5  Tel +39 0521 285527
€€ Trattoria Corrieri
Owned by the same team as the Gallo D'Oro, this restaurant also offers top quality local food and wines.  Situated in Via Conservatorio.  Tel +39 0521 234426
€€ Parma Trattoria Ai Due Platani
A little way outside the city but worth the journey.  Classic Emilian dishes but with a contemporary twist.
Via Budellungo 104a Coloreto    Tel +39 0521 645626    Closed Monday for dinner and Tuesday
€€ La Greppia
Authentic and unusual regional recipes made from the best local ingredients. This is where we have lunch on the first day of our Parma tour.
Via Garibaldi 39.   Tel +39 0521 233686    Closed Monday and Tuesday
What to order
You cannot miss the fine selection of cured hams and salamis in Parma.  Look out not only for the prosciutto but also for culatello which is cured pork filet.   Parmesan cheeseis another must - either grated on pasta or eaten as a table cheese.   Stuffed pasta like tortellini are popular, sometimes served in a delicious "brodo" or thin stock-like soup.    Two other specialities of Emilia Romagna are mortadella from Bologna, and balsamic vinegar from Modena.
We have been recommended a local company who run gastronomic days giving the chance to learn about parmesan, prosciutto and balsamic vinegars amongst other things.  See www.foodnwalktours.com
Try some chilled sparkling red Lambrusco with ham and cured meats.   The Colli di Parma region is well-known for it Sauvignon Blanc whites, and another good regional white is made from the Ortrugo grape.
Transport
Parma does have its own airport, but with tiny selection of international flights, but is easily accessible by train from both Milan and Bologna which do have major airports.    Changing trains at either of these stations would give you a wide access to all other major Italian cities.
For all train information visit www.trenitalia.com which has an English version.
Train travel in Italy is inexpensive and comfortable.    Major cities are served by non-stop fast trains known as the Eurostar.
If you are making plans for wider Europe then www.raileurope.com is a useful site.  Another highly recommended train travel website is Seat 61.
Italo
NTV (Nuovo Trasporto Viaggiatori) is a new private company which started operating it's Italo high-speed trains on the Milan-Florence-Rome-Naples route in April 2012, in competition with State-owned operator Trenitalia.  NTV have added new routes subsequently and are Europe's first private high-speed train operator, with a real emphasis on customer service. Travellers should be aware that the city stations used are not always the same as those used by Trenitalia.
Another useful car transfer website which has been recommended by HH guests is mydaytrip which can arrange private cars to and from most European cities.
 
See all city guides