Our Winemakers
Submitted by admin on 27 Jan 2013
Ahead of our unmissable dinner in the King Valley on Saturday 2nd March, we thought it would be fun to write a brief profile on each of the winemakers attending.   Here's what you need to know ...
Renzo Marinai - Chianti Classico, Tuscany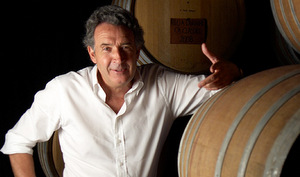 Although Renzo lives close to Florence, his heart belongs to the Chianti Classico area which is a second home to him, especially given the hours, days and months he spends there each year looking after the winery and his vines. His father grew wheat and milled flour on the land which Renzo has now turned into premium vineyards.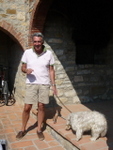 He describes Chianti Classico as "a little handkerchief" in the vast wine growing area that is Chianti, and he is totally committed to the land, being passionate about his vines, his wheat and olive trees. Renzo's azienda is wholly dedicated to organic produce and to protecting the environment and, to this end, he has concentrated on producing fewer grapes of higher quality  - at present making between 30 - 35,000 bottles each year.  If you ever visit the cellar you'll hear Mozart playing and Renzo will tell you squarely: "This is not for your pleasure, its for the pleasure of the wines."  He truly believes that his wine responds to the sound waves of Mozart's music.  His other great passion in life is his faithful dog Gino - they go absolutely everywhere together - and we wouldn't be surprised if he comes to Australia with Renzo!
Renzo says: "I've only managed to taste Australian wine a few times but it has always been enjoyable.  I hope during my tour of Australia to increase my understanding of the industry there."  So, could he name the best wine he ever tasted?   Yes, except that he hasn't tasted it yet!!  He has very high hopes for his own Kadar 2009/2010 which is an extraordinary blend of 6 indigenous grapes, making a uniquely intense and elegant red for pairing with game and roasted meat.
Michael Dal Zotto - King Valley, Victoria

Michael Dal Zotto was born in the King Valley and, following in his father's and grandfather's footsteps, is now the third generation of Dal Zottos involved in the business of winemaking.  For the Dal Zottos this is truly a family affair - everyone's involved on some level - either at the Cellar Door, in the Trattoria, in PR and Marketing and there is a real feeling that everyone's in it together.  They have also become our adopted family here in Australia, and they always make Mick and I feel part of the team!  Their Italian heritage led them to a fascination for Italian grapes and varieties like Sangiovese, Nebbiolo and Prosecco have all found a new home here in Victoria.
"The King Valley has an amazing micro-climate which makes wine growing here so exciting" explains Michael.  "It has allowed us to successfully experiment with lots of different varieties, including so many native Italian grapes."   
Today Dal Zotto produces around 220,000 bottles a year and the latest grape in the portfolio is a newly grafted Garganega, a variety most associated with the Verona area of the Veneto region. Michael confesses that, if he could grow wine in Italy, he would head for the Veneto region first, where is father came from, and then to Piedmont.  One of the greatest wines he ever tasted was a Barolo from Piedmont, and it was this which inspired him to come back and start planting his own nebbiolo vines at home.
Marko Primosic - Collio, Friuli Venezia Giulia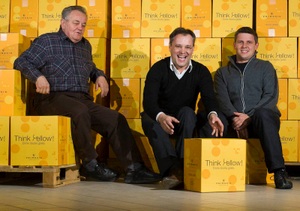 Marko is at least the seventh generation of his family to be involved in winemaking.  We asked if the family had always been in the Friuli region, and he replied: "Always in Collio, not always in Friuli".   This is a reflection of the centuries of cultural and political changes affecting this little corner of Italy lying so close to present-day Slovenia - the border has moved around and Slavic, Latin and Germanic influences have all left their mark.  The hills of Collio are sandwiched between the Julian Alps and the Adriatic Sea which gives a unique micro-climate to this prestigious wine growing area. The Primosic winery makes around 300,000 bottles each year of almost all white wines, with the Ribolla Gialla grape leading the way, which could almost now be described as the signature wine for the region.
Marko led the funky marketing movement promoting Ribolla Gialla with the slogan "Think Yellow Drink Ribolla Gialla" and used to drive around Collio in a yellow porsche with this logo emblazoned on the bonnet.   His little Vespa is bright yellow too!
How does Marko feel about Australian wines?  "I don't know enough about them yet, and am more aware at the moment of the large industrialised brands than the smaller artisan producers", he explains.  And what about the best wine he ever tasted?   "There is no such thing as the 'best wine'.  There are many bottles which have given me immense pleasure - like a 1971 Merlot made by my father which we opened in 2012; a 1968 Vega Sicilia which we drank in Vienna in 2006 - I could go on and on!  But I'd have to tell you too the names of all the friends with whom I shared them, because they are just as much a part of the pleasure for me as the wine!"
Italy v Australia - let the competition begin ....