Street Food
Submitted by admin on 17 Aug 2013
The Night Before The Palio
Last night we went with our Hedonistic Hiking group to witness the unique events of the evening before the famous Palio horse race in Siena.  The build up to the Palio is of equal importance to the race itself and by tradition all the different contrade (the 17 geographical regions of the city) host a dinner in their streets for all the members of their community plus one or two extra guests, in our case from Australia and England!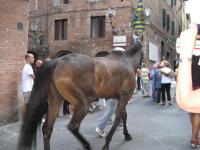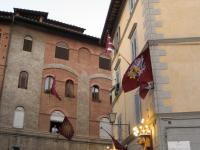 Anticipation on this night is at fever pitch, kicked off by the important practice race in the piazza at 7.30pm known as the Prova Generale.  Each of the riders taking part the next day has the chance to run the three laps to get their horses accustomed to the incredible noise in the Campo and the feel of the hard clay track beneath their hooves.  The city is full of the colourful Contrada flags and scarves, and from every side you hear chanting and drumming. 
When the trial race was finished we made our way to the Contrada of La Torre, whose emblem is a tower supported by an elephant, and joined the best part of 2,000 local residents for a seated dinner under the stars.  The sheer scale of these dinners is unbelievable and the food keeps coming from kitchens and tunnels concealed in the ancient walls of the city's medieval streets. Hard to imagine that 16 other dinners like this one are going on all over the city at the same time.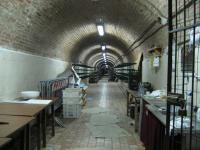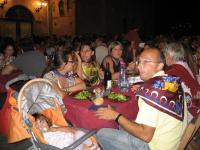 The jockey sits at a top table with the Contrada captains and dignitaries, rallying speeches are made which are relayed on big screens up and down the streets and Contrada songs belted out througout the evening.  And everyone is there - from tiny babies to the most senior members of the community.
We had a mixed plate of local salamis, artichokes and foccaccia, ravioli with a rich ragu, roasted chickens with potatoes and salad and a huge millefoglie washed down with the Contrada's own label Chianti. The long trestle tables which stretch as far as the eye can see are waited on by young volunteers from the Contrada who help to serve and clear the plates.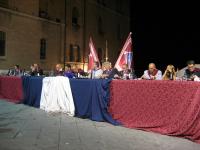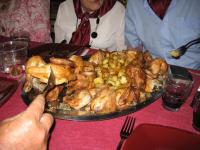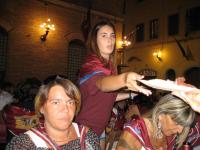 Whether or not you are a fan of the horse racing, you cannot fail to be impressed by the organisational effort which goes in to these dinners, by the sense of community which is so evident on the night and by the fervent passion for this ancient festival which is at the very heart of Sienese culture.  As one our Aussie guests put it: "I don't care if Footscray never make it into the Grand Final again now I've seen the Palio!"  (Apparently you need to understand Aussie Rules to get this!)
We only have eight spots on our Palio tour so if you are interested in coming to see this great spectacle, then get in touch early for 2014!