Hiking in France and Italy
Submitted by admin on 3 Nov 2015
Our brand new tour for next year explores two stunning National Parks which are home to a unique European cultural and natural heritage. On the French side is the Mercantour National Park and on the Italian side is the Maritime Alps National Park. There are some 100,000 hectares of protected natural environment which connect the Alps with the Mediterranean sea following the present day border between France and Italy. The two areas of National Park were first twinned in 1987 and then in 1998 they signed a charter of cooperation in a bid to strengthen their cross-border identity. In June 2013, the Parks approved the creation of the Gruppo Europeo di Cooperazione Territoriale creating, in effect, the first genuinely "European" Park.

The territories of these two parks have been closely linked for millennia and the 36,000 rock engravings which can be seen in the Valleys of Wonders and Fontanable are evidence of man's occupation dating back to the Copper and Bronze Ages. Centuries later trade routes developed between Nice and Cuneo and gradually a network of roads, similar to the ancient Salt Roads, was established to connect the two cities. The people shared cultural traditions and similar Occitan dialects.

In 1855, the entire area of the Argentera-Mercantour massif was part of the Kingdom of Sardinia, ruled by the House of Savoy. When the then king, Vittorio Emanuele II, also called "The Hunter King", saw this land for the first time he was immediately enthralled. In the ensuing years he obtained exclusive hunting and fishing rights and, in 1859, created his official Royal Hunting Reserve.
Italy was finally unified in 1861 and in the subsequent years plans were drawn up to protect the borders of the new Kingdom. Frantic construction projects and renovations of fortifications through these mountain passes were undertaken to protect routes into the Po valley. Although some of these forts are now in ruins, they still bear witness to the ingenuity and technical skill of their designers and builders and remain one of the most striking features of the landscape.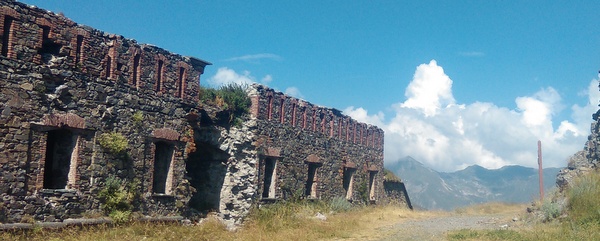 Numerous endemic plants such as rare lilies and orchids are found in this area. The parks are also home to chamois, ibex, deer, wild boars and also wolves, foxes, stoats are marmots. More than 150 species of birds have been recorded, including many prestigious raptors like the golden eagle and the bearded vulture with a magnificent wingspan of 2.8 meters. The wildlife is of course oblivious to national borders but, now that the two parks work as one, the park rangers can protect and preserve these rare species more effectively than ever before.
We have two departures of our new France & Italy tour, the first in June from 26th - 4th July and the second in September, from 5th - 13th.  We have just a few spaces available so please get in touch soon if you are interested in exploring this area of extraordinary natural beauty and fascinating history.