The Gulf of Poets
Submitted by admin on 21 Sep 2013
At the end of our tour of Parma, Tuscany and the Cinque Terre we arrive at the charming coastal town of Lerici which sits on the famous Gulf of Poets to the south of La Spezia.   Lerici is a gorgeous collection of tall terracotta and ochre houses, palm trees, piazzas and an imposing castle high above the port which bears witness to centuries of conflict between the great naval powers of Pisa and Genoa.  Today it houses a museum but the climb to the top is worth it for the views across the bay.  Our hotel here is literally built on the sand and has its own private beach and jetty.
In the early 1820s this area became a favourite haunt of the Romantic poets Byron and Shelley, both of whom travelled extensively in Italy and spent time in rented villas close to the Bay of Lerici.  In Portovenere, on the other side of the bay, you can see the rocky point from which Byron would dive and swim in the Ligurian sea.   In 1822, at the age of only 29, Shelley was drowned in a boating accident making his way from Livorno to the Bay of Lerici and his body finally found on the beach in Viareggio.  It was these poets' love of this area which earned the bay its nickname "Golfo dei Poeti".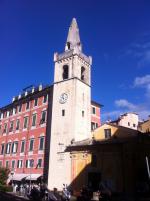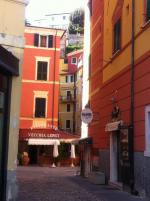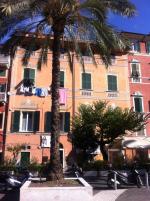 Today Lerici is a sophisticated resort for many Italian holiday makers as well as foreign travellers and is a secluded retreat from the bustling Cinque Terre villlages just along the coast which attract so many tourists each year.   It has wonderful seafood restaurants, sandy beaches and a natural harbour for the many sail and speed boats moored in its waters.  The local ferry across to Portovenere takes less than half an hour from the quay in Lerici.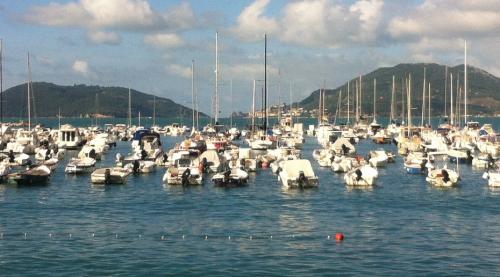 Sunset over the little bay at the end of our 2013 tour was enough to bring out the poet in many of our Hedonistic Hikers, who regaled us after dinner with their sonnets, songs and limericks over a glass or three of limoncello.   To give you an example:
Well you can keep your fancy cruising,
And you can stick your cissy cycling.
The only thing that rings my bell
Is Hedonistic Hiking
These fine words form the opening stanza of a long poem written by Mr Larry Viner.   Regrettably much of the rest of the verse is unpublishable in this context but you get the idea ....!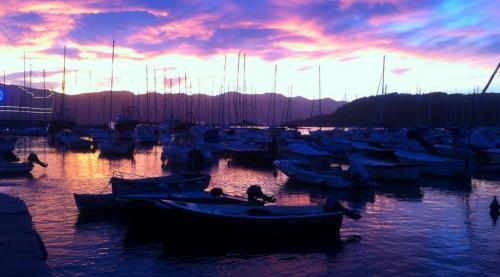 After hiking in the high and wooded hills of Emilia Romagna and the Lunigiana region of Tuscany it is always wonderful to arrive at the coast and dip those feet in the sea!