Christmas in Verona
Submitted by admin on 11 Dec 2012
For those of you who haven't met me, I work for Hedonistic Hiking as the UK Office and Marketing Manager and, last weekend, I was lucky enough to spend a couple of days in Verona soaking up some Christmas atmosphere!  The city looked wonderful with all its  decorations and lights and I have to admit to indulging in one or two of the local festive culinary specialties!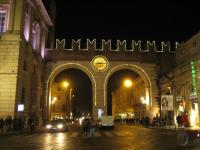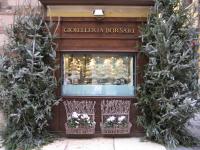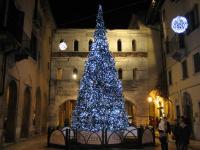 The illuminations at Porta Nuova, a beautifully decorated jeweller's window and the tree at the famous Roman Porta Borsari.
Verona is a fabulous city to explore for a few days, situated more or less half way between Milan and Venice, just to the 
eastern side of Lake Garda.  The streets of its historic centre are paved with beautiful pink marble and the Piazza delle 
Erbe is one of the most striking in all of Italy.
In 300 BC Verona was a key Roman trading city and the vast Arena right in the centre bears witness to this ancient 
history.  In the summer months from June to August the Arena hosts some 50 opera performances involving the world's top 
names and you can find out more about the programme of events at www.arena.it.   Back in 2003 I saw a production of Aida there which was stunning.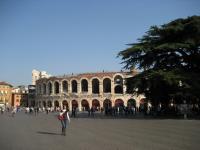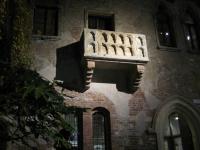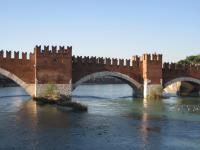 The Roman Arena, the balcony at the Casa di Giulietta and the bridge from Castelvecchio crossing the Adige River.
One of the most important associations for the city was Shakespeare's choice of Verona as the setting for Romeo and 
Juliet. Whilst Juliet herself is clearly a character of fiction, Giulietta's house, just off Via Mazzini, has become a legendary draw for 
star-crossed lovers from all over the world who come to see the famous balcony and touch the bronze statue of Juliet 
which stands beneath it, in the hopes of bringing better luck in the future!
Sitting on the banks of the Adige river which curls around the centre of Verona is the Castelvecchio - a 14th century 
fortress now home to the city's museum, showcasing paintings by Bellini and Veronese, jewellery collections and medieval 
artefacts.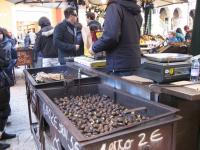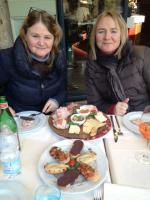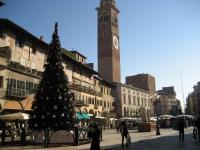 Chestnuts roasting in the Piazza delle Erbe and me (right) and my sister tucking in!
The stunning Piazza delle Erbe is home to many cafes, bars and restaurants and at Christmas time chestnuts are 
roasted in the open air and the enormous Christmas tree stands framed infront of the beautiful Palazzo Maffei. The "centro storico" is compact and almost entirely pedestrianised and therefore a pleasure to peruse on foot.  Verona has a fine selection of shops selling luxury leather goods and high fashion along with jewellers, perfumeries and some exquisite stationers.  We all set off with a small suitcase each but returned with an enormous extra bag to carry all the booty from the fabulous shoe shops there!
The area around Verona is famed for its Valpolicella and Bardolino red wines and its Soave and Bianco di Custoza whites and there are plenty of opportunities to taste in the city's many bars and enotecas.   And at this time of year the market stalls and delicatessens are bursting with torrone, the local nougat, toasted nuts, panetone and a speciality Christmas cake of Verona which is known as "Il Natalino".   All in the name of research I did my best to sample as many of these as possible, and came home with some dried funghi porcini and two large slabs of Gorgonzola and Parmesan cheese.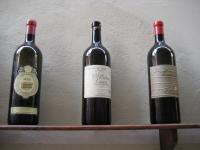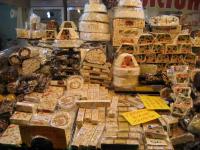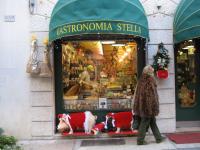 Magnums on display outside the Cantina del Zovo, market stalls selling torrone and one of Verona's most celebrated grocers, the Gastronomia Stella, complete with Christmas decorations!
Whilst I am sometimes envious of Jackie and Mick enjoying all that Australian sunshine in December, I discovered that Italy can be wonderful too in the winter and full of festive spirit!   Verona would make a great stop either before or after any of our tours in Northern Italy, so if you are planning Slovenia and Friuli for 2013, or The Jewels of Piedmont, or The Italian Alps then think about taking some time to visit this musical and architectural gem.   Merry Christmas to all from Annabel!