A Tale of Two Countries
Submitted by admin on 22 Mar 2012
Welcome to Hedonistic Hiking's first Blog.   In the coming months we have many stories, recipes, facts and opinions to share with our friends and we hope you will always find something here to whet your appetite for food, wine and walking in both Italy and Australia.  
Our home in Victoria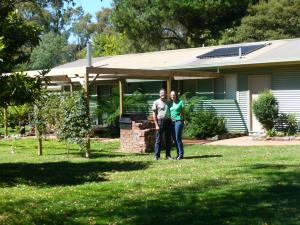 Although I am English and Mick is Australian, we first met when we were working as tour guides in Italy, a country which I'd fallen in love with at first sight.  When we married a few years later there was a question mark over where we would live - I wasn't sure I wanted to be 12,000 miles from home.   Fast forward ten years and one of the questions we most often get asked is how we manage our lifestyle living between Italy and Australia - do we feel restless - how do we keep up our friendships - do we miss our families?
The answer I think lies in the fact that we discovered a little corner of Italy here in north east Victoria.    One of the very first visits we made as a couple back in 2001 brought us to the King Valley.   We stayed in Bright and camped on Mount Buffalo and we were both taken by the strong Italian heritage which runs through this area.    We quickly struck up friendships with Italian wine-growers in the region, like the lovely Dal Zotto family with whom we remain great friends, and we could see how many of the local restaurants were championing authentic Italian cooking.  Anyone who loves Italy knows how easy it is to feel part of its family - how the Italians find a way to enjoy themselves, to share their passion for food, wine and all the good things in life - and I soon came to realise that I could feel completely at home away from home. It wasn't long before we were ready to invest in some real estate!
Our home in Tuscany
There are of course a few major differences to life in the two countries.  Australians are famously laid-back and I've always felt they have a more "live and let live" philosophy.  No one cares too much how you are dressed or if you've had your hair done that day!  Italians, on the other hand, still maintain "la bella figura" - an outward show of correctness and a need to make a good impression. Both countries have a healthy amount of rules and regulations, the biggest difference being the way these are regarded.  Beppe Severgnini, an Italian journalist and author of the aptly named La Bella Figura, amusingly observes: "In Italy rules are not obeyed as they are elsewhere.  We think it's an insult to our intelligence to comply with a regulation.   Obedience is boring.   We want to think about it.   We want to decide whether a particular law applies to our specific case.  In that place, at that time."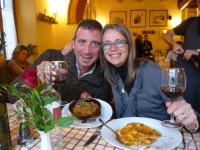 The truth is that we consider ourselves extremely fortunate to be able to call both countries home.  We have wonderful friends in each place and modern technology makes keeping in touch simple.  Our families are dotted between the two hemispheres but it's always fun when we visit each other.  Our unique lifestyle allows us to follow the sun and to celebrate the very best of nature's bounty and beauty on both sides of the world.
Jackie Parsons - March 2012