Bush Tucker
Submitted by admin on 5 Feb 2014
Dina and I (Annabel) have worked alongside Mick and Jackie in Italy for many seasons and are accustomed to the high standards which they maintain on their tours. But, this weekend, we were their guests on a two day camping trip high in Victoria's Alpine National Park close to Mount Cobbler and I have to say that we were not disappointed!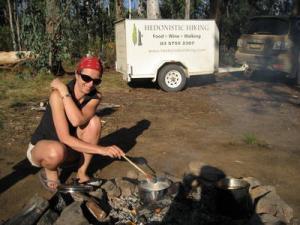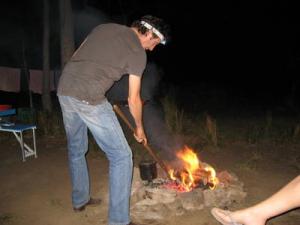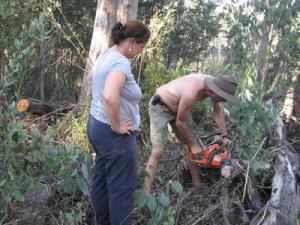 Mick and Jackie camp like true professionals. The brand new HH Nissan Patrol (the latest model!) and its trailer were full to the roof with the gear, food and wine to last us the 48 hours that we were going to be in the bush. And they don't do things by halves. Here's an idea of our menus, all prepared on the campfire, in an amazing selection of pots and pans which came with us.
Porridge with cranberries and meusli with fresh milk
Eggy bread made with fresh sourdough loaf
Lemon and herb chicken with creamy mashed potatoes
Crêpes Suzette with the final flourish of caramelised sauce flambéed over the hot embers
Italian snags with fresh mixed salad, aubergine dip, a cheese board and homemade chutney
Hiking snacks included nuts, fruit and luscious slices of chilled water melon
Gin and tonic was served in a glass with ice and a twist of lemon
Peppermint or billy tea and Italian coffee were made to order 
All the delicious wines were sourced from the Dal Zotto winery close to the National Park in the King Valley and there was a ready supply of cold stubbies from the esky, along with a stubby holder for each of us to keep it cool.
Literally nothing had been forgotten! Mick's trailer also housed a chain-saw for the provision of firewood, camping gas in case of rain, door mats for the entrance of each tent, sleeping mats, pillows, all the bedding, a washing line with pegs, fire tools, hats for all of us, sunscreen, water bottles, day packs, a GPS, torches, folding chairs, and a dining table!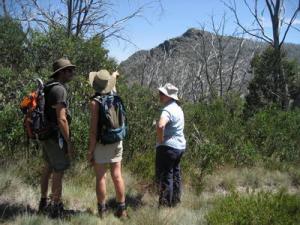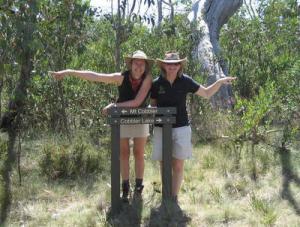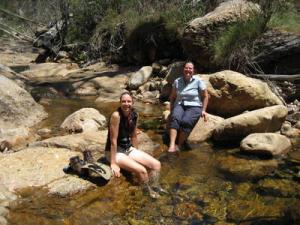 Our campsite right by the edge of Lake Cobbler meant we could dip in the clear water to cool off whenever the temperatures got too much and we had the place completely to ourselves. We did an 11 km hike on a section of the Lake Cobbler trail and paddled in the cool stream at the end of the walk. Far from civilisation we didn't have any phone calls, texts or emails and it was a true break from the real world.
I think Dina and I both came away with a new appreciation of what it is to be a Hedonistic Hiker and I for one would go again any time! But only with Hedonistic Hiking of course!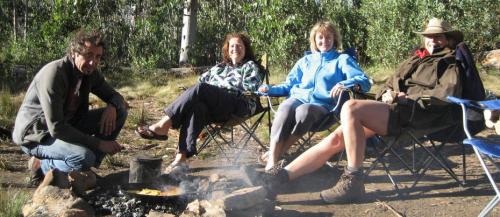 Our Victorian Alps and Vineyards weekend from 11-13 April includes a 13.5 km hike from Lake Cobbler up to the top of Mount Cobbler and explores the Italian wine heritage of the beautiful King Valley.