Spring Planting
Submitted by admin on 20 Apr 2012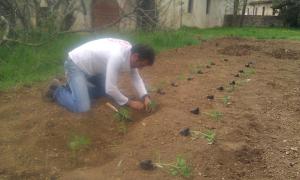 One of the first things we do when we get back to Italy in April is to plant our salad and vegetables so that we, and our Hedonistic Hikers, can enjoy our own fresh produce over the summer.  On many of our tours later in the season we use our home-grown salads and veg.  Our home in Tuscany is part of a larger working farm and we are able to use a small plot of land behind the main villa. We buy the small seedlings from our local weekly market in Colle di Val d'Elsa and this year so far we have put in artichokes, zucchine, lettuce, onions, radicchio rosso and three different varieties of tomatoes.  You can see Mick hard at work!                               
Until two weeks ago Tuscany and much of Italy had been very short of rain and many of the farmers and wine-growers were beginning to worry. However, since the start of April there has been plenty of rainfall and everything is bursting into life - vineyards, wheatfields, cherry trees, and the beautiful scarlet poppies which are so ubiquitous at this time of year.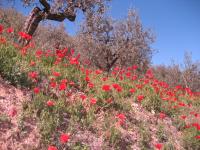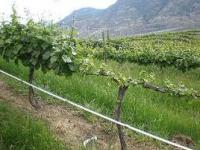 Last week, while we were waiting for our own plants to come up, we went foraging in the hedgerows and made a delicious nettle gnocchi from wild nettles we collected near our home.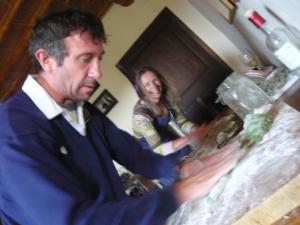 Ingredients for the gnocchi
600g/1lb5oz peeled floury potatoes 
150g/5½oz nettle leaves
120g/4¼oz matured pecorino cheese, grated
2 free-range egg yolks salt and freshly ground black pepper
120g/4¼oz plain flour a little semolina or rice flour, to coat
Ingredients for the sauce 
Olive oil
3 tbsp butter
2 tbsp chopped fresh sage leaves
2 garlic cloves, finely chopped
2 tbsp walnut halves, sliced
For the gnocchi, chop the potatoes into even-sized pieces, then steam until tender. Mash the potatoes or pass them through a sieve. Cook the nettles in boiling water for five minutes, then cool them under cold running water. Squeeze out all of the water and chop the nettles very finely in a food processor, then stir them into the potato mash. Add 80g/2¾oz of the cheese and both the egg yolks, and season well with salt and freshly ground black pepper. Add most of the plain flour and quickly work it into the potato.
If the dough feels like it is not too sticky to roll out, nick off a small piece, roll it into a ball and drop it into boiling water to test. If it floats to the top and holds its shape firmly do not add any more flour to the dough. If it breaks apart add a little more flour and test again. Cut the dough into three or four pieces and roll each into a long tubular shape, about the thickness of your finger, and cut off pieces 2.5cm/1in long. Roll each one into an oblong. As you go, keep the gnocchi on a tray, sprinkled in a little flour (semolina or rice flour are best as they will not be absorbed into the dough).
To cook the gnocchi, drop batches into a large saucepan of boiling water, taking care not to overcrowd the pan or the gnocchi will stick. The gnocchi are done when they float to the top. Remove the cooked gnocchi with a slotted spoon and toss in a little olive oil. For the sauce, melt the butter in a pan with one tablespoon of olive oil, and fry the sage, garlic and walnuts for 1-2 minutes, then stir in the gnocchi. Share out the gnocchi and sauce between four plates, and sprinkle over the remaining cheese. Serve immediately or place under a hot grill for a minute to melt the cheese.
Today we start our Culinary Tour of Northern Italy in conjunction with World Expeditions - 12 days of exploring the freshest and finest food in Emiglia Romagna, Tuscany and Piedmont - we'll keep you posted!