Seven of Italy's sweetest Christmas treats
Submitted by HedonisticHiking on 6 Dec 2019
You can be sure of great food in Italy at any time of year but visit at Christmas and the offering becomes decidedly sweeter. As in other parts of the world, dried fruit and spices feature in many of the sweet treats, with nuts, honey and the addition of chocolate in some.  Many towns and regions have their own special cake or delicacy. These are often thought of as holiday 'breads', hence the appearance of 'pane' or 'pan' in many of their names, but few of them are actually breads. Read on to help you distinguish between your pandoro and pandolce.



Panettone
Possibly the best known of all Italy's Christmas sweet offerings, panettone has happily found its way into many of our Christmas traditions. The dome-shaped yeasty sweet bread has a thin, dark crust, encasing a soft spongy inside packed with candied fruit and raisins. Originating from Milan, where traditional bakeries dedicate days to fermenting, proofing, baking and resting, panettoni are now increasingly produced by factories across Italy.
The Genoese version is pandolce, which tends to be denser and filled with spices, candied fruit and pine nuts.
Pandoro
First made in Verona, pandoro is now as popular as panettone and is found throughout Italy. Unlike panettone, however, the egg-rich butter-based 'golden bread' has no candied fruit. Sometimes flavoured with vanilla or citrus zest, pandoro is characterised by an eight point star shape and dusted with icing sugar to evoke snowy Alpine peaks.
 Panforte
Far denser and completely flat, panforte has been around for centuries. Apparently its robust nature made it a popular choice with crusaders! Long associated with Siena, the solid Christmas dessert is made with honey, nuts, chocolate, spices and dried fruit.
An alternative version is panpepato which comes from Ferrara. Where it differs is its use of black pepper, sometimes with cinnamon, coriander and nutmeg, blended with the traditional mix of almonds, pine nuts, hazelnuts, walnuts and citrus zest.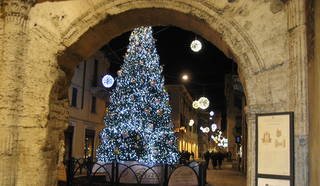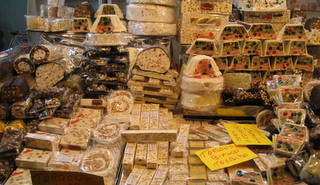 Torrone
If torrone-munching results in a broken tooth or two, blame Italy's Greek, Roman, Arab and Spanish invaders. Torrone varies from one region to another, from chewy blocks of nougat to hard as rock nut brittle but, on the whole, is made from whole toasted nuts swathed in a mixture of egg whites, sugar and honey. Unsurprisingly, the Piedmont version substitutes the almonds with its world-renowned toasted hazelnuts, of the local Nocciola Piemonte IGP variety.
Struffoli
Head to the south of Italy and you'll find Neapolitan tables heaped with pretty platters of struffoli. Crunchy on the outside and soft inside, these small fried dough balls are smothered in warmed honey before being decorated with coloured sprinkles ('diavolilli'). As with many Italian desserts, they have a religious history. Although they originated from Greece, they used to be offered to noble families by nuns at Christmas as a thank-you for the charity and piety shown during the year.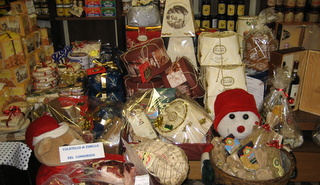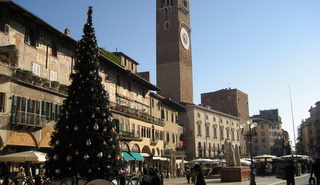 Parrozzo
Parrozzo dates back to the coarser pane rozzo bread which was made with corn and cooked in a wood oven. When Pescara-based Luigi D'Amico decided to upgrade it to cake status in 1920, it was transformed into an egg and almond-rich cake, flavoured with citrus zest and coated in dark chocolate glaze. The eggs reproduced the original yellow colour, and the chocolate glaze the original appearance of slight burning of bread in a wood oven. Although served as a Christmas dessert, the cake is served in the Abruzzo year round.
Ricciarelli
If you're looking for something a little lighter and daintier, watch out for diamond-shaped ricciarelli biscuits from Siena. Made with almond paste and whisked egg whites, the dense, chewy biscuits have a gently crispy exterior. Rolled into small balls from a sticky dough, they're easier to make than macaroons and also distinguished by their cracked surface which allows the squidgy interior to break through the sprinkling of powdery icing sugar. Perfect at any time of day - with a cappuccino in the morning or a glass of sweet Vin Santo after dinner!