Pasta Perfection
Submitted by HedonisticHiking on 9 Aug 2021
Most people of course associate the Italian kitchen with pasta but what you learn as you travel around Italy is that each region has a very different approach to pasta, making the most of traditionally available ingredients and keeping to time-honoured recipes handed down through the generations.  There are myriad variations of flours, techniques and sauces which reflect the unique character of the individual landscapes.  Exploring the whole peninsula as we do on our tours means we get to enjoy the full range of perfect pasta dishes.  Not only do we dine in some wonderful restaurants but many of our tours have cooking classes too  so we can hone our own pasta-making skills!  Here are a few examples of some of our favourites:
Piedmont - Agnolotti del Plin
These tiny pasta parcels are a traditional dish from Piedmont. "Plin" translates into "pinch" and it refers to the characteristic gesture in which the dough is pinched with fingers to enclose the filling between one agnolotto and the next. The pasta itself is made with a rich egg dough and the filling for each parcel is made with a mix of roasted meats: pork, beef and rabbit. Legend has it that the chef who invented the dish was using up left-over meats from a big celebration which he ground with added vegetables, and today angolotti are almost always filled with meat. As for the sauce, the locals would use simple meat juices or melted butter and sage, as a complex "sugo" would detract from the delicate flavours of the filling. Our Jewels of Piedmont tour has Agnolotti del Plin on the menu, and in addition, new for next year we have introduced a fun cooking class with our friend Raffaella who teaches us some of the secrets of the Piemontese kitchen.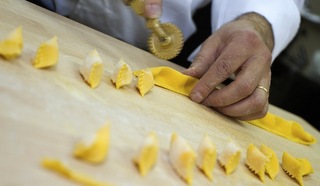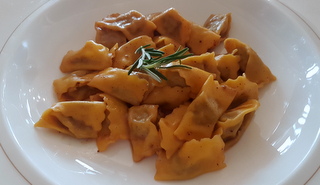 Liguria - Trofie al Pesto
If there is any fresh herb which triggers memories of high summer in Italy then it has to be basil. Although it is grown throughout the Italian peninsula it's associations are perhaps strongest with the coastal region of Liguria. The most traditional way to enjoy pesto in Liguria is with a pasta known as Trofie, a tiny hand-made twist of dough tossed in the famous green sauce and added to boiled pototoes and sliced green beans. The basic recipe for pesto calls for fresh garlic, toasted pinenuts, the local sweet basil leaves, sea salt, olive oil and freshly grated parmesan or pecorino cheese, depending on your point of view.  With a generous sprinkling of extra parmesan on top this is an unbelievably tasty and satisfying dish.  Our Parma, Tuscany and the Ligurian Sea finishes in the stunning coastal town of Lerici where we indulge in generous helpings of Trofie as well as the fabulous local seafood.
Tuscany - Pici all'aglione or con le briciole
Pici is an ancient type of pasta originating from Siena in Tuscany. It looks like long thick spaghetti and was traditionally made with just flour, water and salt. After the dough has been rolled out, strips are cut which are then rolled using the palm of the hand on the table into very long strands. As a result they are never perfectly uniform in their dimensions, but they were never meant to be! Two of the best ways to enjoy pici are  all'aglione, with a sauce made with lots of garlic, tomato, olive oil and peperoncino, or con le briciole which is a dish made with stale breadcrumbs fried in garlic and olive oil and finished with a good sprinkling of parmesan or pecorino cheese. This is a pasta which pairs well with many sauces because the blandness of the pasta allows the strong flavors of the sauce to dominate.  Our Tuscan Harvest and Palio of Siena tours both visit our gorgeous home town of Siena, and both have wonderful cooking classes where we learn to make pasta with a local chef.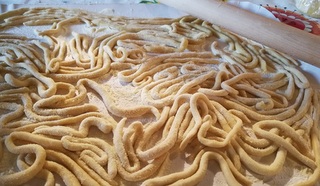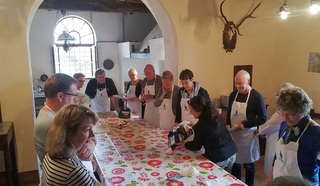 Emilia Romagna - Tortellini in Brodo
Our Northern Tuscany and Ravenna tour crosses the borders between northern Tuscany and Emilia Romagna and starts and finishes in the gastronomic capital of Bologna. This is a city which is whole-heartedly in love with food. A pasta dish which is ubiquitous on menus here is Tortellini in Brodo. The pasta itself is made only with eggs and flour and the filling is a blend of minced pork loin, prosciutto and mortadella bound together with eggs, Pamesan cheese and a grating of nutmeg. The little triangular parcels, once filled, are expertly twisted around the index finger to form the classic tortellino shape. Tortellini were traditionally cooked and served in a delicate, clear capon broth, but today many recipes allow a good beef or chicken stock for this dish. It remains a firm favourite at Christmas time in Bologna.
Abruzzo - Maccheroni alla chitarra
One of the highlights of our Wilds of Abruzzo tour is the cooking class in the Albergo Sextantio, high in the Gran Sasso National Park. To make this traditional delicacy a special piece of equipment is required: a wooden frame strung with fine, parallel, metal wires giving it the name chitarra, meaning guitar. The pasta itself is made with eggs and flour but then it must be rolled more or less to fit the rectangular instrument. The dough is pushed through the wires using the rolling pin until it produces even, thin strands of pasta. The locals would eat this typically with a lamb ragu including tomatoes, peperoncino or sweet peppers, but as you get closer to Rome you might also find it served with cacio e pepe, salty pecorino romano cheese and black pepper.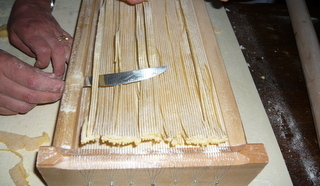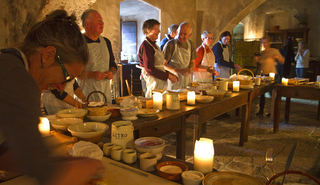 Basilicata - Scialatielli
This speciality from the south of Italy is a rustic hand-made pasta, thicker and shorter than a spaghetti or fettucine. The dough is unusual in that it is made with flour, eggs, grated pecorino cheese and a splash of milk. Having been rested and rolled out, it is folded and cut with a knife to make long strands, which usually have a rectangular cross-section. Along the coasts of Campania and Basilicata this pasta will often be served with seafood. However, whilst staying in the Pollino National Park on our Southern Italy tour, we have eaten a version made with the unique red aubergines of Rotonda, known as the Melanzana Rossa, which is a rare treat. Originating in Africa, these vegetables look a bit like tomatoes being both round and bright red, but they have a robust and exotic flavour.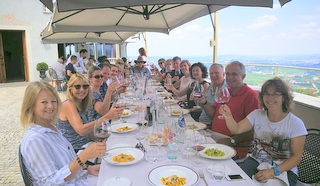 The variations are truly endless and we have to hope that the hard-working grandmothers of Italy continue to share their skills with the younger generations.  Pasta is a simple food  with humble origins, but has become a favourite the world over with its many delicious incarnations.