Basilicata: The land where time stood still
This tour explores the undiscovered region of Basilicata in the instep of the foot of Italy. Much of the region is completely untouched by the modern world and time seemingly stands still. We start in the pretty town of Maratea on the west coast before heading inland to the pristine Pollino National Park. Here we stay in the charming small town of Rotonda for three nights, surrounded by its magnificent scenery and fascinating history. The final stop of the tour is the unique Unesco World Heritage city of Matera which, in 2019, was the European Capital of Culture.  We stay in an Albergo diffuso, or "scattered hotel", with rooms carefully converted from the town's original cave dwellings, each with its own individual features and atmosphere. Our final walk explores the compelling history of this matchless city and the surrounding countryside.
This tour starts and finishes in Naples, and our meeting point is the Renaissance Hotel Naples. At the end we can return guests to the same hotel or Naples train station or Naples airport. People might choose to extend their walking holiday in Italy by seeing more of Naples, or visiting Florence, Rome or Pompei and the Amalfi coast.   For more ideas on where to go visit our City Guide page.  For further information on the history of Matera, see the Blog.  
"Mick Parsons' guiding, together with his thorough knowledge of all things Italian, made for a relaxed and enjoyable atmosphere. I would highly recommend this 9 day hiking holiday in Southern Italy to anyone who wants to do a challenging walk, but who also who enjoys fine dining and wine."  Barbara Bayliss
Cost: €3,195 per person
Single supplement: €350
Our tours are genuinely all-inclusive - learn more about what we offer.
What's Included?
8 nights' accommodation in 3 delightful hotels
2 experienced and knowledgeable guides to look after your every need and bring this stunning area to life
All meals including wine
Gourmet picnic lunches each day and snacks en route
Dinner in a variety of superb restaurants
Museum visits and wine/food tastings as per itinerary
Support vehicle, enabling you to walk as little or as much of the trail as you please
Transport to/from Naples in air-conditioned minibus
Comprehensive pre-trip information
Luggage transported for you so all you need to carry is a small backpack with water etc.
Your Health and Safety
See our new protocols to ensure the safety and wellbeing of both our guests and HH staff.
Tour Highlights
Sleep in a cave in the Unesco World Heritage city of Matera
Hike in the spectacular and untouched Pollino National Park
Discover spellbinding wonders of this ancient land
Walking/Terrain
Terrain: We walk on mule tracks, forest paths and rugged mountain trails as well as hiking in open pastures. There are some significant ascents and descents on this tour, with some up to 700m.
Shortest/Longest Day: 8km/4.9 miles: 16.5km/10.2 miles
We have graded this hike a Level 4.  Some of our tours are more challenging than others, so see how we grade our hikes to make sure you choose the right one for you. If you are interested in this tour, then you might also like to take a look at The Wilds of Abruzzo,  Slovenia & Friuli, or The Italian Lakes
Accommodation
Locanda delle Donne Monache: 4-star hotel in former convent in old town of Maratea with a swimming pool
Il Borgo Ospitale: A "scattered hotel" spread across different buildings in Rotonda, in the heart of the Pollino National Park
Le Grotte della Cività: Sister hotel to the stunning Sextantio hotel where we stay on our Abruzzo tour, this hotel's rooms are converted from Matera's original cave dwellings
Tour Dates
7 - 15 October 2024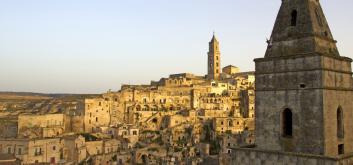 Find out more about Basilicata