Stunning Peaks and Silent Valleys
Lying just a short distance east of Rome the region of Abruzzo is wild, unspoilt and hauntingly beautiful. Our tour here explores all three of its national parks, which abound with wild flowers, chamois, deer, wolves and the rarely seen Marsican bear.  We stay in remote villages, perched high on hilltops, surrounded by the majestic peaks of the Apennine mountains. Much of the region feels untouched by modern life and we explore some of its oldest culinary traditions.  In Spring it is carpeted with wild flowers before autumn paints the landscape red and gold and the ancient beech forests are at their most stunning. The Abruzzese people are extremely warm and hospitable which makes hiking in this part of Italy a truly unforgettable experience.
This tour starts and finishes in Rome and our pick-up and drop-off point is Rome's Fiumicino airport. Why not extend your walking holiday in Italy by seeing more of the Eternal City, or visiting Florence, Siena, Milan or Venice?  For more ideas on where to go visit our City Guide page.
"I can't recommend Hedonistic Hiking enough. If you love walking in mountain regions, visiting gorgeous medieval villages, staying in comfortable albergos, eating spectacular food from the region and drinking delicious wine, this is the trip for you!"  Anita Tesoriero
Cost: €3,025 per person
Single supplement: €275
Our tours are genuinely all-inclusive - learn more about what we offer.
What's Included?
8 nights fabulous accommodation (3 different hotels)
Two experienced and knowledgeable guides to look after your every need and bring this stunning area to life
All meals including wine
Gourmet picnic lunches each day and snacks en route
Dinner in a variety of superb restaurants
Support vehicle, enabling you to walk as little or as much of the trail as you please
Transport to/from Rome Fiumicino in air-conditioned minibus
Comprehensive pre-trip information
Luggage transported for you so all you need to carry is a small backpack with water etc.
Museum visits and tastings as per itinerary
Tour Highlights
Staying in the unique environment of Sextantio Albergo Diffuso
Hiking in a region where time has stood still
Cooking class of traditional Abruzzese specialities
Walking/Terrain
Terrain: Hiking at altitudes between 1100m and 1800m. Mountain trails, woodland and farm tracks. Significant ascents/descents, especially on days 5 and 8
Shortest/Longest Day: 10.5km/6.6 miles:17.5km/11miles
We have graded this hike a Level 4. Some of our tours are more challenging than others, so see how we grade our hikes to make sure you choose the right one for you. If you are interested in this tour, then you might also like to take a look at The Italian Lakes, Southern Italy or Slovenia and Friuli
Accommodation
Sextantio: Amazing concept hotel with rooms scattered through the unspoilt medieval village of Santo Stefano
Hotel San Rocco: Comfortable family-run hotel in the delightful Baroque village of Pescocostanzo
Villa Quintilliani: Liberty-style villa on the edge of the lively town of Pescasséroli
Tour Dates
5 - 13 October 2021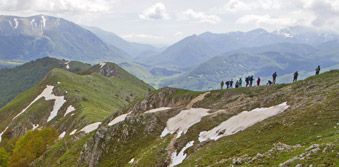 Find out more about Abruzzo