Sample Menu - Wilds of Abruzzo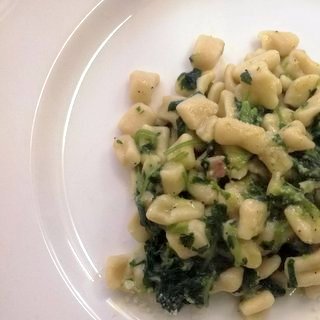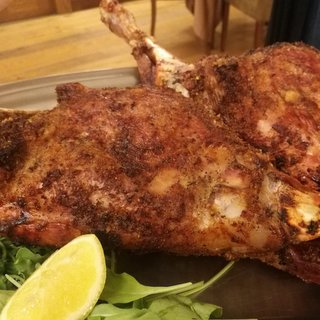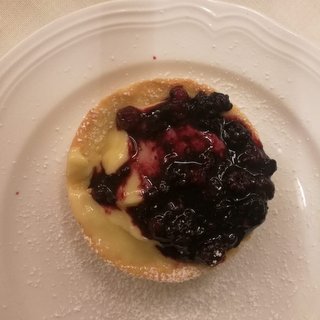 The final night of our tour in Abruzzo sees us dining on many of the region's unique dishes.  These high mountains prove harsh terrain for the cultivation of crops and the population have made the best, over the centuries, of the ingredients which they have. We eat in the hotel, but the dinner is cooked by Laura whom we first met in 2013 when she still ran her own restaurant in the town. Now she comes to the hotel to cook this meal just for our groups, ably assisted by Grazia, Monica and Monica's mother Ida, and it is a very special evening to be a part of.  It is the nonnas (grandmothers) after all who have kept Italy's traditional recipes alive and are passing on the skills to the next generation.
Aperitif:
Wine Choice: Cantina Tollo - Passerina Spumante Brut
Passerina is a rare white grape from the Abruzzo region which can be made into dry still and sparkling wines.
Antipasto:
Pasta fritta con prosciutto    A light fried ball of dough served piping hot with a sliver of prosciutto ham
Primo:
Caratelli con gli orapi    A hand-made curl of pasta served with wild spinach which is harvested from the high mountain pastures
Wine Choice: Cantina Tollo - Terre di Chieti - Pecorino
Percorino grapes, which share their name with the Italian word for a sheep's cheese, were almost extinct until their rediscovery in the mid 1980s.  The wines have steadily grown in popularity since and cultivation of Pecorino in Abruzzo is on the increase.
Secondo:
Coscio d' agnello al forno con Patate Maritate  Roasted lamb with a traditional potato dish - thin slices layered with scamorza cheese, rosemary, oil and breadcrumbs
Wine Choice:  Cantina Tollo -  Rosso - 409
In Abruzzo, red wine means only one grape variety - Montepulciano d'Abruzzo.  This ruby red wine is grown at 409 metres above sea level and is soft and full-flavoured.
Dolce:
Torta con frutti di bosco    A tiny tart filled with fruits from the forest.
On all our tours we offer a variety of dining experiences, from small characteristic osterias to restaurants of renown and, on occasion, award-winning establishments with big reputations. We work hard to plan menus which celebrate the best local and seasonal ingredients and which showcase the traditions of the regions where we are hiking. We are often quite literally walking through the menu each day as we pass vineyards, orchards, waving wheat fields or fishing ports, and our time spent with cheesemakers or truffle hunters truly helps to bring the menus to life. We also seek to balance the evenings so that dinners with four or more courses are interspersed with lighter meals, and we always take into the account the amount of walking completed on a given day. It goes without saying that all courses are matched with excellent regional wines and we like to share a little of our local culinary knowledge before the start of each meal.