Parma, Tuscany and the Ligurian Sea
Prosciutto and Parmesan, Pilgrims and Poets
This tour starts in Parma, one of the gastronomic capitals of Emilia-Romagna, and home to some of Italy's most iconic gourmet specialities.  We stay near the Slow Food town of Borgotaro, as it celebrates its annual mushroom fair, and we tour a local parmesan factory to see how this iconic cheese is made.  We hike one of the most beautiful sections of the ancient pilgrim route to Rome, known as the Via Francigena, and discover Tuscany's untouched Lunigiana region.  We continue towards the crystal clear waters of the blue Ligurian Sea  and the famous "Gulf of Poets" which was immortalised by Lord Byron and the Romantic poets.  The final day is free to explore the quaint coastal town of Lerici or take a boat trip across the bay to Portovenere and the charming villages of the Cinque Terre.
We start in Parma and and our meeting point is the NH Hotel next to the train station. At the end of the tour we return guests to Pisa airport. Parma is a wonderful city and we would always recommend a day or two to explore before the start of the tour. Many people choose to extend their walking holiday in Italy by visiting Florence, Siena, Bologna, Rome or the Cinque Terre.   Full more ideas on where to go see our City Guide page.   For a brief outline of the history of Parma, see the Blog.  Parma is the Italian Capital of Culture in 2020/2021.
"Jackie is a wonderful guide, and her organisational skills, attention to detail, knowledge, professionalism and friendliness made it the best organised holiday we have ever been on. We can't recommend Hedonistic Hiking highly enough."  D.B, Sydney
Cost: €3,050 per person
Single supplement: €300
Our tours are genuinely all-inclusive - learn more about what we offer.
What's Included?
7 nights beautiful accommodation (3 different hotels)
Two experienced and knowledgeable guides to look after your every need and bring this stunning area to life
All meals including wine.
Gourmet picnic lunches each day and snacks en route
Dinner in a variety of superb restaurants.
Support vehicle, enabling you to walk as little or as much of the trail as you please
Transport to/from Parma (start) and Pisa (end) in air-conditioned minibus
Comprehensive pre-trip information.
Luggage transported for you so all you need to carry is a small backpack with water etc.
Museum visits and tastings as per itinerary
Your Health and Safety
See our new protocols to ensure the safety and wellbeing of both our guests and HH staff.
Tour Highlights
Visit a parmesan cheese producer and learn what it takes to make a wheel of the famous cheese
Hike one of the prettiest sections of the Via Francigena pilgrim trail, complete with medieval stone bridges
Lazy day on the coast with boat trip to Portovenere or the Cinque Terre
Walking/Terrain
Terrain: Hilly terrain with some long days interspersed with easier days. Paved pilgrim trails, woodland and farm tracks
Shortest/Longest Day: 5.4km/3.4miles: 23km/14.3 miles
We have graded this hike a Level 3. Some of our tours are more challenging than others, so see how we grade our hikes to make sure you choose the right one for you. If you are interested in this tour, then you might also like to take a look at Medieval Umbria, Northern Tuscany and Ravenna or Lucca, Volterra and the Island of Elba
Accommodation
Borgo Casale: Boutique hotel nestled in the Romagnola hills, tastefully converted from a 15th century village
Costa d'Orsola Agriturismo: Cosy country hotel near Pontremoli with breathtaking views of the Apennines and Apuan Alps. Swimming pool
Piccolo Hotel del Lido: Spectacular four star hotel situated on its own private beach in the lovely town of Lerici
Tour Dates
20 - 27 September 2024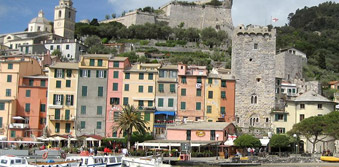 Find out more about Emilia Romagna
Find out more about Tuscany