Sample Menu - Parma, Tuscany and the Ligurian Sea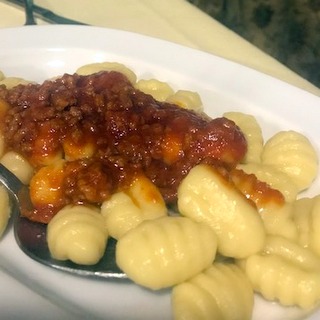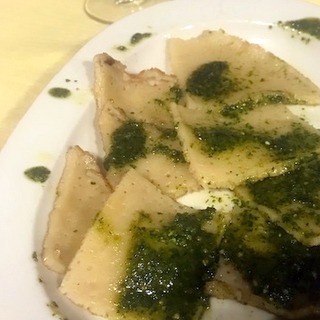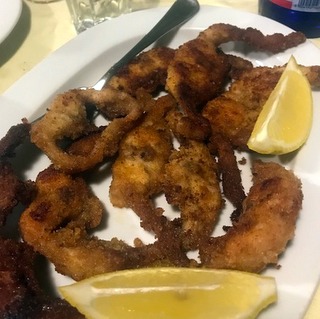 One of our very favourite places to eat on the Parma, Tuscany and Ligurian Sea tour is the Osteria della Bietola in Pontremoli.  Hidden in a tiny alleyway with scarcely a sign to help you find it, this Osteria has been run by Giuliana and her daughter Giovanna since before we can remember.  It is a tiny place with a vaulted ceiling and all the cooking is done in a narrow galley kitchen alongside the seating area. But this little kitchen produces big punchy flavours and it's hard to stop yourself from devouring every last morsel.  It is typically Tuscan food, hearty and delicious, and served with huge smiles from the two ladies. We only come to Pontremoli once a year, but we always receive the warmest of welcomes.
Primi:
Gnocchi di patate al ragu   Giuliana's home-made potato gnocchi come with a rich beef ragu and are fantasic with a generous sprinkling of Parmesan cheese.
Testaroli al pesto   Unique to the Lunigiana region, testaroli are large discs of pancake batter, roughly chopped into triangles and served with the mouth-watering basil pesto for which the area is famous.
Secondo:
Coniglio alla cacciatore e coniglio fritto con spinaci in padella   Rabbit prepared as a hunter's stew in wine, olive oil and herbs and also deep-fried and crispy, served with spinach
Dolce:
Panna Cotta  A classic Italian dessert translating literally as "cooked cream".  Giuliana offers it with different sauces from melted chocolate to velvety fruits of the forest.
Wine Choices:
Poggio A'Monti - DOCG Chianti - Vino Biologico   This winery is situated near Certaldo in the province of Florence and makes only organic wines.  Tuscan Chianti is made with the region's native Sangiovese grapes.
Le Chiantigiane - Loggia del Sole - Orvieto   For the white wine we dip over the border into Umbria to enjoy bottles of the well-loved Orvieto!    This fresh and easy-drinking white is made with a blend of five different white grapes - Malvasia, Grechetto, Canaiolo Blanco, Trebbiano Toscano and Verdello.
On all our tours we offer a variety of dining experiences, from small characteristic osterias to restaurants of renown and, on occasion, award-winning establishments with big reputations. We work hard to plan menus which celebrate the best local and seasonal ingredients and which showcase the traditions of the regions where we are hiking. We are often quite literally walking through the menu each day as we pass vineyards, orchards, waving wheat fields or fishing ports, and our time spent with cheesemakers or truffle hunters truly helps to bring the menus to life. We also seek to balance the evenings so that dinners with four or more courses are interspersed with lighter meals, and we always take into the account the amount of walking completed on a given day. It goes without saying that all courses are matched with excellent regional wines and we like to share a little of our local culinary knowledge before the start of each meal.