A Celebration of Slow Food
Piedmont is the birthplace of the global "Slow Food" movement and our tour here celebrates much of this region's world-class produce.  We taste the superlative wines of Barolo and Barbaresco, hunt for the legendary white truffle of Alba in the autumn, enjoy creamy risottos made from the local arborio rice and learn about hand-crafted artisan cheeses.   The walking takes us on gentle trails through the immaculate vineyards of the area as well as on more mountainous tracks, past glassy alpine lakes and tiny hamlets suspended in time.   We visit palaces, castles and monasteries and explore the pivotal history of this prosperous region. Piedmont is recognised throughout Europe for its culinary expertise and we have the chance to dine in some of its most prestigious restaurants.
Read review (Naked Hungry Traveller: November 2010)
Slow Food is a non-profit, eco-gastronomic member-supported organization that was founded in 1989 to counteract fast food and fast life, the disappearance of local food traditions and people's dwindling interest in the food they eat, where it comes from, how it tastes and how our food choices affect the rest of the world. Read article on Slow Food from The Independent (10 December 2009)
This tour starts and finishes in Turin and the pick-up and drop-off point is at the Hotel Concord on Via Lagrange, close to the main train station. We can also arrange collection and drop-offs at Turin airport. Many people choose to extend their walking holiday in Italy by spending more time in Turin or by visiting Milan, Venice, Florence or Rome.  For more ideas on where to go visit our City Guide page.  
"Such a great week spent walking, eating, and drinking with old friends and new friends. Jackie, you were wonderful as always. You have a way of anticipating our needs before we're even aware of them ourselves! I'm sure we will join you again."  Toni Shaffer
Cost: €2,895 per person
Single supplement: €275
Our tours are genuinely all-inclusive - learn more about what we offer
What's Included?
7 nights beautiful accommodation (2 different hotels)
Two experienced and knowledgeable guides to look after your every need and bring this stunning area to life.
Gourmet meals including wine in a variety of superb restaurants, including several award winning establishments.
Support vehicle, enabling you to walk as little or as much of the trail as you please
Transport to/from Turin station or airport at the start and end of the holiday
Comprehensive pre-trip information.
Luggage transported for you so all you need to carry is a small backpack
Museum visits, food/wine tastings as per the itinerary
Tour Highlights
Outstanding food and world-class wine
Truffle hunting with a local expert
Stunning hikes with backdrop of snow-capped mountains
Walking/Terrain
Terrain: Rolling hills, farm tracks through woods and vineyards. Rugged mountain trail on day 4
Shortest/Longest Day: 6.5km/4.1miles:10.5km/6.6miles
We have graded this hike a Level 2. Some of our tours are more challenging than others, so see how we grade our hikes to make sure you choose the right one for you. If you are interested in this tour, then you might also like to take a look at Parma, Tuscany and the Ligurian Sea or A Tuscan Harvest
Accommodation
Antico Podere Propano: Very comfortable hotel in a former farm on the edge of the medieval town of Saluzzo, rooms set around a peaceful courtyard
Corte Gondina: Delighful boutique hotel in village of La Morra with pretty garden and pool
Tour Dates
23 - 30 October 2020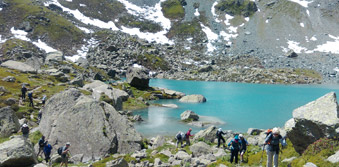 Find out more about Piedmont