Sample Menu - Jewels of Piedmont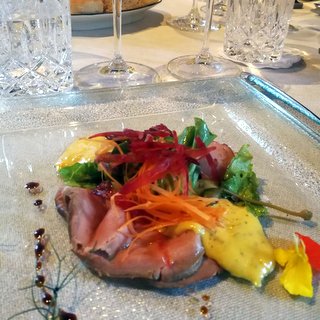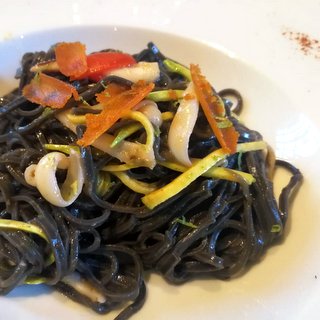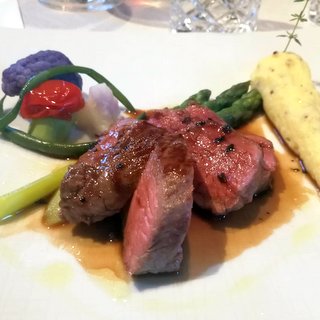 Piedmont is the birthplace of the global Slow Food movement.  The region has world-class produce and wines to match, and it is an area recognised throughout Europe for its culinary expertise. This particular restaurant, Castello di Grinzane Cavour, is situated in the castle which was once the home of Camillo Benso, Count of Cavour -  a leading statesman in bringing about Italian Unification and subsequently the first Prime Minister of Italy.  The chef, Marc Lanteri, was born in the French Alps and trained in both France and Italy so his cooking is a fusion of styles and influences from both sides of the border. His wife is a sommelier by profession and matches the seasonal dishes with wines from the extensive cellar.  We eat here on the final night of our Jewels of Piedmont tour.
Antipasto:
Vitello Tonnato  Thinly sliced roasted veal with a traditional sauce of tuna and capers
Wine Choice - Metodo Classico Piemontese Rivetto "Kaskal"
A sparkling wine made from nebbiolo grapes which pairs excellently with the veal, from Piedmont winemaker Enrico Rivetto.
Primo:
Tajarin al Nero  Ink pasta with cuttlefish, zucchine, tuna roe and lime zest
Wine Choice - Timorasso Cascina Baricchi 
This winery lies just to the east of the town of Alba. This white it made with 100% Timorasso grapes, which is an ancient variety historically found in the hills between Piedmont and Aosta.  Today it is enjoying something of a revival.
Secondo:
Scamone di Fassona  Piedmont beef, tarragon jus and asparagus tips
Wine Choice - Barbaresco Punset "Basarin" Riserva
Basarin is one of three Barbaresco vineyards owned by the Punset winery which has been owned by the Marcarino family for decades. In the 1980s, Marina, Renzo's daughter, took over and converted the property into a completely organic operation.  This wine is made with 100% nebbiolo grapes.
Dolce:
Clafoutis all'albicocca  Apricot flan with lavender cookies
Wine Choice - Moscato d'Asti Ca' D'Gal Lumine
Moscato d'Asti is a sparkling white wine produced mainly in the province of Asti. The wine is sweet, low in alcohol, and made from the Moscato bianco grape.  This Moscato is from a single vineyard called Lumine.
On all our tours we offer a variety of dining experiences, from small characteristic osterias to restaurants of renown and, on occasion, award-winning establishments with big reputations. We work hard to plan menus which celebrate the best local and seasonal ingredients and which showcase the traditions of the regions where we are hiking. We are often quite literally walking through the menu each day as we pass vineyards, orchards, waving wheat fields or fishing ports, and our time spent with cheesemakers or truffle hunters truly helps to bring the menus to life. We also seek to balance the evenings so that dinners with four or more courses are interspersed with lighter meals, and we always take into the account the amount of walking completed on a given day. It goes without saying that all courses are matched with excellent regional wines and we like to share a little of our local culinary knowledge before the start of each meal.