Walking to Wineries
Submitted by HedonisticHiking on 10 Nov 2021
Anyone who has hiked with us before, in Europe or Australia, will know how interested we are in wine.  Of course our meals on tour are always matched with wines showcasing a great selection of regional grape varieties but occasionally our routes enable us to make a stop at a vineyard and meet the locals whose passion helps to create these wonderful wines.
Our Jewels of Piedmont tour takes us to the UNESCO World Heritage listed landscape of Le Langhe - an area of outstanding natural beauty and a living testimony to winegrowing and winemaking traditions dating back centuries.  The area is famous above all for its Nebbiolo, Barbera, and Dolcetto red grapes, and produces the internationally-renowned wines of Barolo and Barbaresco.  On the penultimate day of the tour we hike through vineyards to the tiny village of Barolo and make a stop at G.D Vajra for a visit to their cellars and a tasting. This is a highly respected family-run business, headed up by Aldo and Milena Vajra, supported by their three children Giuseppe, Francesca and Isidoro.  Aldo developed a passion for winemaking at the tender age of 15 after a summer on his grandparents farm, and today the whole family share his love of the land and dedication to his craft.  Our tasting here is always a high point on the tour and meeting the team behind these delicious wines and understanding their philosophy really brings the wine to life. Barolo was once called "the wine of kings and the king of wines", having a structure well-suited to ageing, a complex bouquet and soft tannins.  In 2021 the small village of Barolo was voted Italy's Citta del Vino.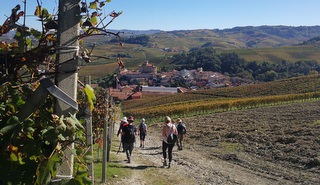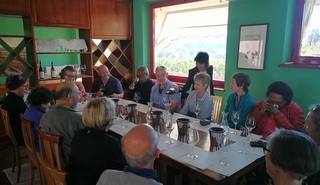 When we hike over the border from Slovenia to Italy on our Slovenia and Friuli tour, we find ourselves in the Collio hills which lie on the border between the two countries.  This is a region famous for its white grapes, Friulano, Picolit and Ribolla Gialla being some of the most important local varieties. This area has been at the centre of fierce fighting over the centuries, never more so than during World War 1, and disputes over the border continued right up until 1991 when Slovenia became an independent country.  Keeping the art of winemaking alive in these circumstance was a heroic activity, but today the peaceful vineyards of Collio are the acknowledged homeland of some of the great Italian whites. We visit two wineries on this tour, the first Primosic on the Italian side of the border, and then Bjana on the Slovene side. Father Silvan and sons Marko and Boris are continuing a long family tradition of wine making and always give us a warm welcome at the Primosic headquarters, giving us a tour of their cellar as well as a chance to taste.  When we move on to the Bjana  family estate in the heart of the Goriška Brda winegrowing district of Slovenia we learn about their award-winning sparkling wines from Miran Sirk and his lovely family. Three grape varieties are used to make Bjana sparkling wines. Two of these varieties are typical of the wine region of Champagne (Chardonnay and Pinot Noir), the other is the local Ribolla Gialla, and the wines are made using the traditional Champagne method.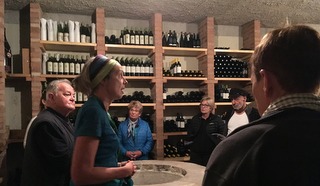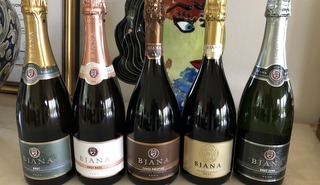 Niccolo and Valentina Simonelli are at the helm of the Bichi Borghesi wine estate in the tiny village of Scorgiano, close to our home near Siena in Tuscany. Over the years they have become great friends and we always take our Tuscan Harvest groups to visit their beautiful estate and taste the wines made with the famous red Tuscan grape Sangiovese. There are 8 zones of Chianti, of which Chianti Colli Senesi is one, (meaning the Sienese hills) and the Tenuta Bichi Borghesi belongs in this denomination. The family has owned and run the estate for over 400 years and, along with their wonderful wine, they produce oil from the 500 or so olive trees on the farm.  Along with the Sangiovese grapes they grow Canaiolo, Colorino, Malvasia and Trebbiano grapes, all of which are harvested by hand in the autumn months. They are warm hosts and always keen to share their passion for wine with our hiking groups.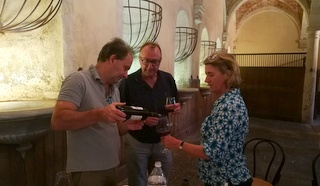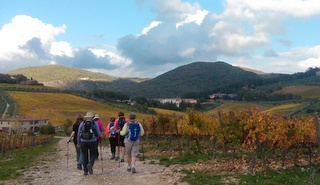 Many of our hikes take us through vineyards in the various regions where we walk. There is nothing better than tasting a wine made from grapes which you have seen being cultivated during the day, and matching it with an excellent local dish. We cannot wait to get going again in 2022, to see our food and wine friends and to get back to some fantastic walking too!