Lakes and Mountains, Waterfalls and Wine
Slovenia, often referred to as "The Sunny Side of the Alps",  is a tiny, beautiful, green country on Italy's north eastern border.  After meeting in its capital city we travel to tranquil Lake Bohinj and hike in the stunning Julian Alps.  We visit Kobarid on the dazzling turquoise Soca river, a town of great significance during World War 1 and immortalised by Ernest Hemingway in his novel "A Farewell to Arms."  Here we stay in a delightful family-run hotel with an award-winning restaurant. We make the border crossing between Slovenia and Italy on foot to arrive in the Italian region of Friuli, where we explore the excellent vineyards of the Collio hills and the Unesco World Heritage sites of Cividale and Aquileia.
This tour starts in Ljubljana and finishes in Venice.  Our meeting point on the first day is the central train station in Ljubljana and at the end we return guests to Venice airport. Why not consider extending your walking holiday in Slovenia and Italy by spending more time there or travelling to Milan, Turin, Trieste or Florence?   For more ideas on where to go visit our City Guide page.  Read the diary of a Hedonistic Hiker on this tour in 2014.
"I really enjoyed the 9 days I spent with you, Isabelle and the rest of the group.  As I had no idea what to expect and did not know anyone I had been a little apprehensive.  But everyone was so friendly and welcoming I enjoyed every moment of the trip from meeting you all in Ljubljana to saying goodbye in Venice."  Gina Dark
Cost: €3,195 per person
Single supplement: €300
Our tours are genuinely all-inclusive - learn more about what we offer.
What's Included?
8 nights accommodation in three hotels (3 and 4 star)
2 experienced and knowledgeable guides to look after your every need and bring this stunning area to life
All meals including excellent local wines
Gourmet picnics each day with snacks en route
Dinner in a variety of superb restaurants
Support vehicle, so you can walk as much or as little of the trail as you please
Transport in air conditioned minibus
Comprehensive pre-trip information
Museum visits and tastings as per the itinerary
Your Health and Safety
See our new protocols to ensure the safety and wellbeing of both our guests and HH staff.
Tour Highlights
Crystal clear lakes and turquoise rivers
Climb Mount Matajur to cross Italian-Slovene border on foot
Taste the celebrated wines of the Collio region
Walking/Terrain
Terrain: Farm tracks and mountain trails. Ascend/descend 300-400m on most days, with an 800m ascent on Day 6. The mountain trails are rocky in places with short sections of exposed terrain on Day 3
Shortest/Longest Day: 4.6km/2.8miles: 10.5km/6.6miles
We have graded this hike a Level 4. Some of our tours are more challenging than others, so see how we grade our hikes to make sure you choose the right one for you. If you are interested in this tour, then you might also like to take a look at The Italian Lakes, Southern Italy or The Wilds of Abruzzo
Accommodation
Hotel Jezero: Comfortable lakeside hotel with wonderful views of Lake Bohinj
Hotel Hvala: Family run hotel with outstanding restaurant in Kobarid (Caporetto)
Castello di Spessa: An historic castle hotel set in the vineyards of the Collio wine region
Tour Dates
4 - 12 June 2024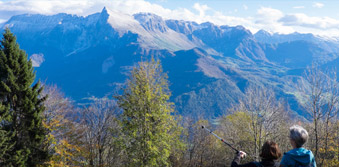 Find out more about Friuli-Venezia Giulia