Looking on the Bright side
Submitted by HedonisticHiking on 6 Jan 2022
Bright is one of the most charming country towns in Victoria's High Country and is the gateway to the snow villages up at Falls Creek, Hotham and Dinner Plain.  It sits on the banks of the beautiful Ovens River and has a rich gold-rush history.  It's also home to some fabulous restaurants and cafés, a host of wellness and outdoor activities, enticing local produce markets and some truly wonderful winemakers. Just to the west of Bright lies the magnificent Mount Buffalo National Park, with its distinctive granite formations and unique flora and fauna.  We have three events coming up which all start in or near Bright so we are encouraging as many hikers as possible to wend their way to our beautiful corner of Victoria and make the most of it.  The first is our Sunset Dinner on Mount Buffalo on Saturday 19th February, which is a half day hike on the mountain followed by an unforgettable al fresco dinner on it's highest point.  Our Alpine Walking Weekend runs from March 4-7 and is based up at Hotham, but a visit to Bright before or after the weekend would be a fun addition to the itinerary.  Our Hiking the Victorian Alps tour, 9-14 March, starts and finishes in Bright and includes some enjoyably challenging hikes up on the Bogong High Plains and the Razorback Ridge.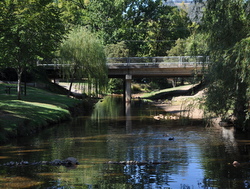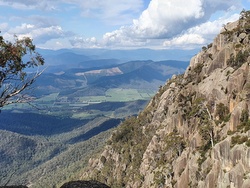 Places to Stay
There are many wonderful options for overnight accommodation in and around Bright and below are some of our personal favourites.  
On Gavan Street right on the edge of town is the Bright Colonial Inn Motel run by Kate and Joe Tracy.  18 ground floor units set in attractive gardens with a small swimming pool.  This accommodation offers great value and is perfect for solo travellers too.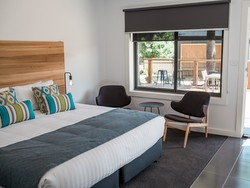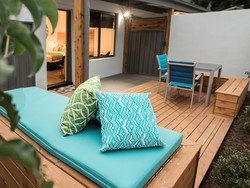 This is a stylishly-appointed three bedroom house with a well-equipped kitchen, great outdoor eating area, parking and a garden which leads down to the Ovens River for a refreshing dip on a warm day.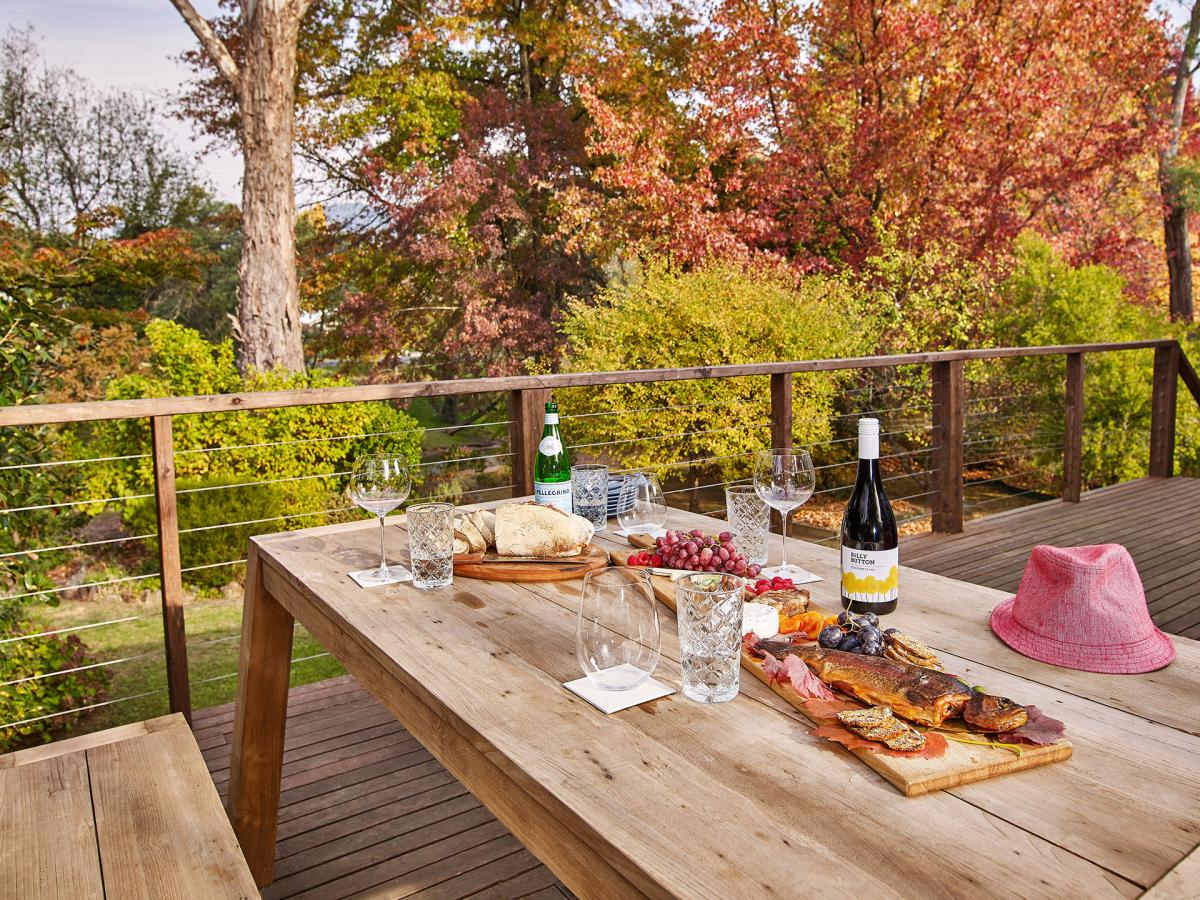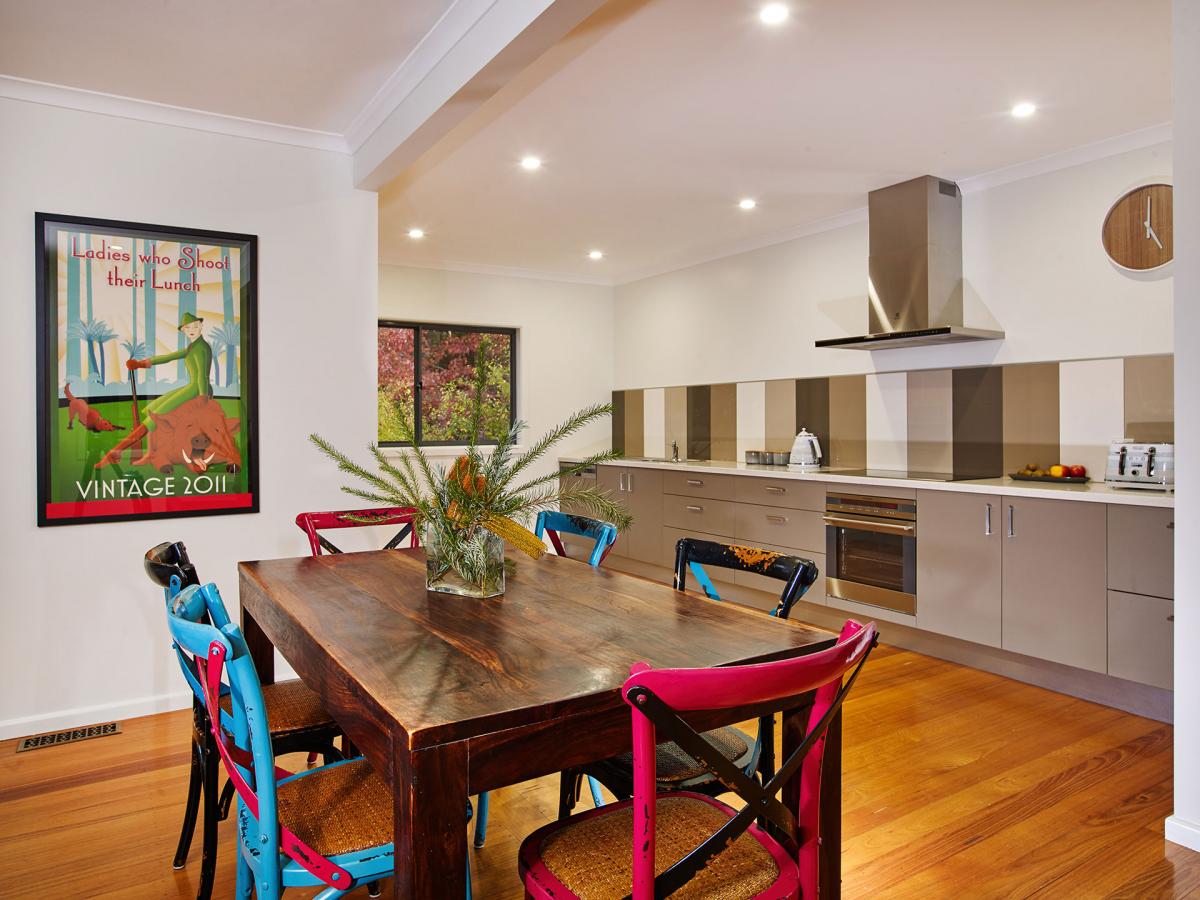 Nestled on the banks of the Oven's river in the village of Porepunkah, this new, architecturally designed, 3 bedroom property offers a tranquil setting within easy reach of Bright.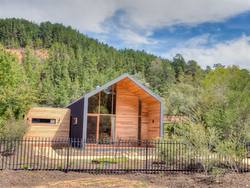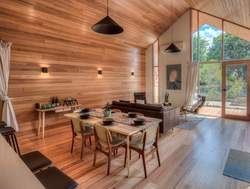 Situated in the heart of Bright's food, wine and distillery district, these brand new designer town houses offer the ultimate in luxury comforts married with individual collections of fine Australian art prints by celebrated contemporary artists.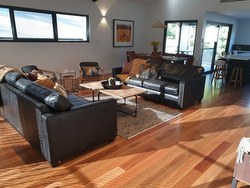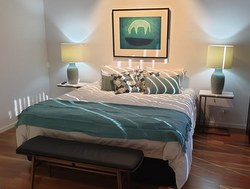 Alpine Valley Getaways offers a wide range of ideas for accommodation in the areas in and around Bright.  They have an excellent website promoting many small businesses offering experiences and activities in the region and you can create your own PLAYLIST, planning your getaway from the comfort of home.  From their site it is easy to contact the providers you are interested in.  You can also visit the accommodation listings on Bright's own visitor website.         
Places to Eat and Drink
Restaurants and Cafés 
Elm Dining - new management team in Sept 2021 and we've heard great reviews. The only fine dining restaurant in Bright.
The Yard Bright for share plates, quick bites, cocktails and wine - fun and upbeat new addition to Bright
Tomahawks and Hometown for great favourites of ours.  No booking policy but worth trying, the first for a bar and eatery and the second for pizza! 
Dr Mauve Bar and Lounge for Asian share plates and cocktails
Templar Lodge in Tawonga for excellent local, contemporary cuisine in the comfortable surrounds of an old Masonic lodge. Worth the drive or a taxi fare!
Sixpence Coffee for coffee, pastries, egg and bacon rolls and freshly baked bread
Ginger Baker for breakfast/lunch or dinner – a lovely location by the river
Food, Wine, Friends– café for breakfast and lunch
Morses Creek bakery – delicious sourdough bread and fresh cakes and sandwiches. Coffee too!
Reed and Co – see below
Gumtree Pies – Mick's favourite pie shop!
 
Check individual websites for details and booking.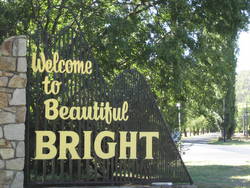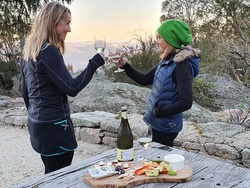 Breweries & Cellar Doors 
Billy Button Cellar Door – for wine, cheese and artisan gins, and you can taste before you buy!
Ringer Reef Winery – sip on a glass of wine and feast on a platter of local produce whilst enjoying the best view of Mount Buffalo 
Reed & Co Distillery – for cocktails, gin and relaxed dining with local food and wine 
Bright Brewery – award winning beers on tap, casual dining including burgers and pizza
Happy Valley Hotel in Ovens - recently renovated but keeping an old style pub atmosphere
We are lucky to have a wonderful selection of places on our doorstep. In many locations the producers themselves will be there to greet you. Each offers something a little different and most are right in the centre of Bright.
Local Markets
Bright: Make It, Bake It, Grow It - 3rd Saturday in month
Myrtleford Farmers' Market - 4th Saturday in month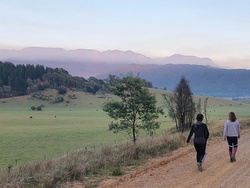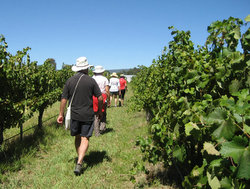 Why not take a look at the Visit Bright website for all the information you might need for a stay here.   If you'd like to join any of our upcoming events in Bright then get in touch now to book!