Voyage to the centre of the Victorian Alps
Submitted by HedonisticHiking on 11 Oct 2022
For those of you in Australia next March looking for a little alpine adventure, then look no further than our Hiking the Victorian Alps long weekend from the 8th - 13th March. This is a Level 5 itinerary, but peppered as always with fabulous food, wine and creature comforts at the end of each day. Mick acts as hiking guide and private chef on some evenings, and we eat in popular local restaurants on others.  We hike in and around the stunning ski villages of Falls Creek and Mount Hotham and unearth the history of this magnificent region. If you love the idea of the Victorian Alps but have a little less time available, then take a look at our Level 3 Alpine Walking Weekend which runs from March 3-6, is based in Mount Hotham and has 2 full days of hiking, and 3 nights away.
For an idea of the full programme of Hiking the Victorian Alps take a look below:
Day 1:  March 8th
We meet at the Visitor Information Centre in Bright at 10am. A pretty drive takes us over the Tawonga Gap – with stunning views of Victoria's highest mountain, Mount Bogong - through Mount Beauty to Falls Creek Alpine Village (2hrs). After a picnic lunch we enjoy an easy hike which takes us past the historic Wallaces Hut, built by cattle grazers in 1889.  After the hike we settle in to our cosy accommodation before we gather for a welcome drink and a delicious home-cooked dinner in our private lodge, served with award winning local wines. (10.5km)
Day 2:  March 9th
After breakfast we head out onto the Bogong High Plains. We start our hike on the shore of Rocky Valley Dam. The trail climbs gently, with lovely views to the dam and Mount Nelse before heading across the snow plains to a couple of remote huts where we have our picnic which is hiked in for you by your two guides. On a clear day we can see Mount Kosciuszko, 180km to the distance. In the afternoon we follow an easy aqueduct trail which brings us to the end of the hike. Time to relax before pre-dinner drinks and a delicious and well-deserved dinner. (19km)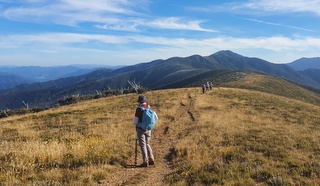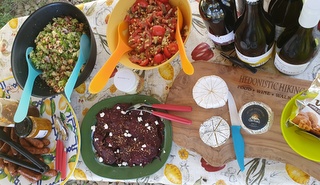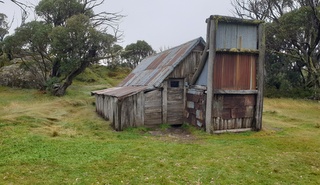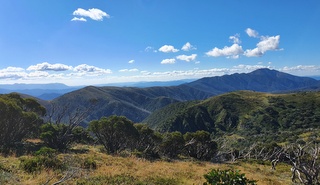 Day 3: March 10th
We leave Falls Creek after breakfast and a short drive takes us to the start of our hike. It is a challenging hike with no vehicle access at any point on the route. We start by visiting pretty Cope Hut and then we follow the iconic Falls to Hotham Alpine Crossing trail which takes us across the flower-filled Bogong High Plains with panoramic views to Mount Feathertop and beyond. We descend on a stepped trail to cross the Cobungra River by charming Dibbins Hut where we enjoy our picnic. After lunch we climb steadily to reach Derricks Hut. From here the gradient eases and we soon arrive at Mount Hotham where our hike ends. A short drive takes us to our accommodation. We stay in a spacious private lodge for the next three nights. Dinner this evening at a lively local restaurant.  (23km)
Day 4: March 11th 
Today we have a more leisurely hike which follows the historic Cobungra ditch trail, discovering the fascinating history of this water race. The gradient is gentle and we have wonderful views over the mountains. We enjoy our gourmet picnic near a former gold mine. In the afternoon we continue our hike on an easy trail to arrive back in Hotham. (12km + 6km) Dinner this evening is prepared in the lodge by us and the menu is matched to wonderful local wines.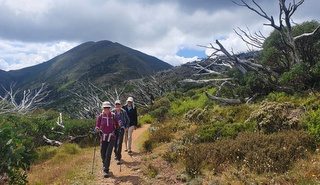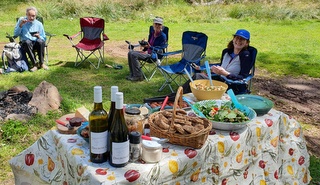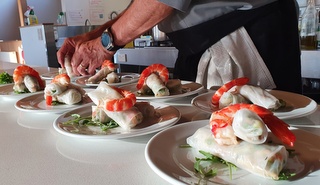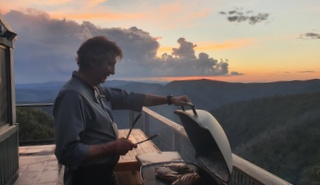 Day 5: March 12th 
After a delicious breakfast we drive to the start of our walk near Mount Hotham from where we walk the breathtaking Razorback Ridge climbing steadily towards Mount Feathertop, the second highest mountain in Victoria at 1922m.  Enjoy stunning unbroken views across the High Country. After our picnic lunch we return by the same route. (19km). Final fabulous dinner in Mount Hotham.
Day 6: March 13th
After breakfast we depart Mount Hotham and drive back to Bright for 11.00am.