Three Quirky Railways
Submitted by HedonisticHiking on 30 Aug 2022
Following on from our Blog last month about how easy and fast train travel is in Europe, and how much better for the environment, this month we take a look at three of Italy's most interesting scenic railways, and show how you could extend our Italian walking holidays to enjoy these experiences.
Sardinia - Trenino Verde
They call this a journey into the soul of Sardinia. The Trenino Verde (Little Green Train) is one of the most unforgettable experiences that Sardinia has to offer. Run during the summer months, these cute little vintage green coaches travel on narrow guage lines across some of the most inaccessible parts of the island. There are four different routes which you can take, travelling past cliffs, wild valleys, deep gorges, superb bridges and rich forests where you might spot mouflon, wild boars, foxes and other native species.  D H Lawrence travelled on the Trenino Verde in the 1920's, writing afterwards: "It's a strange railway. It shoots up hills and down into valleys and races around sudden curves with the greatest nonchalance…."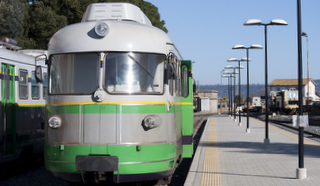 You might want a car to get you to the beginning of some of the routes because they explore remote areas of the island and do not start and finish in its major cities. If you are in Cagliari however, a metro runs from the station on Piazza Repubblica where you can connect with trains up to Mandas, which is the starting point for one of the routes. Each route can be taken as a round-trip day excursion, and offers different inclusions such as tasting stops, a ceramics workshop, a ferry ride on a local lake or visits to local museums.
In 2022 work was carried out on sections of the narrow gauge line so some of the routes were slightly altered. For full details for 2023 visit the official website.  Our Heart of Sardina tour starts in Cagliari so you could easily build in a couple of days to explore the island by train before the tour begins.
Liguria - The Cinque Terre
The Cinque Terre (or Five Lands) are a collection of pastel-coloured villages on Italy's Ligurian coast which cling to life between the steep cliffs and the beautiful waters of the Ligurian sea. The five villages are, from north to south, Monterosso al Mare, Vernazza, Corniglia, Manarola and Riomaggiore, and all five have UNESCO World Heritage status.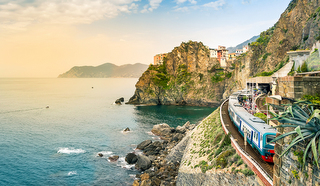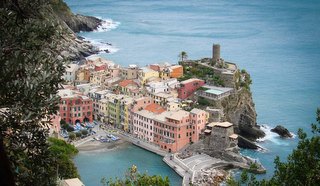 The steep terrain of this area means that travel by road is challenging at best but a railway line, built at the end of the 19th century, cuts through the cliffs and stops at each of the villages, making this by far the best way to visit. In fact, the journey time from one village to the next by train is not more than two or three minutes, and the whole journey from Levanto to the north down to La Spezia lying south of the Cinque Terre takes around 30 minutes.  Many people choose to hike on the well-marked trails of the Cinque Terre National Park, and use the train to journey back and forth to their accommodation at the end of the walks.  You can find out more about hiking here from their website. 
Our Parma, Tuscany and Ligurian Sea tour finishes in the coastal town of Lerici which is just a short hop to La Spezia, so many hikers choose to extend their trip and visit the Cinque Terre, using the train to help them discover these charming ports.
Tuscany - Dante's Train 
The writer Dante Aligheri was one of Italy's greatest literary figures and 2021 marked the 700th anniversary of his death.  He was born and lived in Florence but was banished from the city after a tumultuous time of political struggles and finally settled and died in Ravenna. In 2021 an evocative train journey linking Florence to Ravenna was introduced to commemorate his life. The train is made up of historic coaches with full wooden interiors, made at the beginning of the 20th century, which offer a real sense of travel in a bygone age. Known as the Dante Train it proved so popular that it continued into 2022 and there are plans for it to run again in 2023. Every Saturday and Sunday, during the summer and autumn months, the train leaves Florence's Santa Maria Novella station and makes intermediate stops at Borgo San Lorenzo, Marradi, Brisighella and Faenza, all of which were significant places in Dante's life.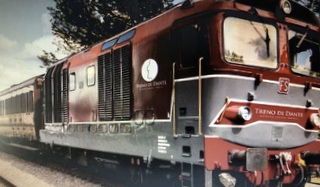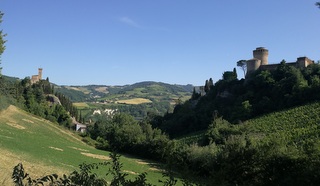 The track passes through the beautiful countryside of Northern Tuscany and Emilia-Romagna and the return journey to Ravenna can be made in one day, giving around 4 hours to see some of Ravenna's exquisite mosaics and works of art. The UNESCO organisation has given eight of the Early Christian monuments of Ravenna World Heritage Site status, so it is well worth a visit if you have not been before.
Hikers who join our Northern Tuscany and Ravenna tour will see much of this landscape on foot, as well as enjoying a private guided visit of Ravenna's artisic jewels, but anyone finishing one of our Tuscan-based tours in 2023 could easily reach Florence and add a day to experience this wonderful journey.   For full information visit the Dante Train website.