Sample Menu - The Mountains of Piedmont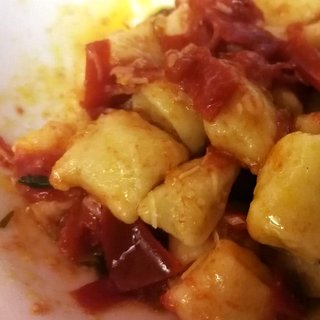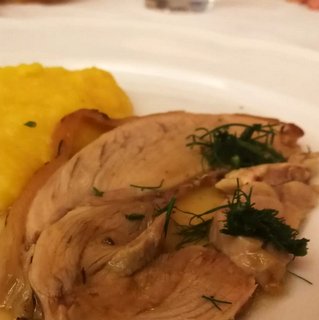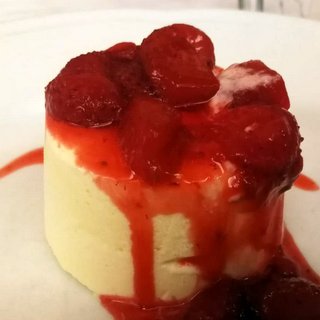 Il Mulino di Mattie is a converted mill located in the Susa Valley on the edge of the Alpi Cozie Natural Park to the west of Turin, in the Italian region of Piedmont. The mountainous landscape around the charming old buildings is covered by chestnut and oak forests and the valley has been a thoroughfare for pilgrims, armies and traders for many centuries. The restaurant in the hotel takes great care to serve the best, fresh local ingredients and the menu changes all the time to reflect the seasons. Our first stay here was in June 2019 and the locals were so excited to have such an international group of guests that the Mayor of Mattie came to meet us all!  Here is what we all enjoyed:
Antipasto:
Filetto di Trota di Mattie in Carpione    Pickled trout fillet from the Mattie's estate
Primo:
Gnocchi fatti in casa al pomodoro fresco e basilico  Hand made potato gnocchi with fresh tomato and basil sauce
Wine Choice: Azienda Agricola l' Garbin "Madlena" 2018
This winery is located in Chiomonte in the Val di Susa and they work only with grapes native to their region.  This white is made with a little-known indigenous grape called Baratuciat, which in very recent years has enjoyed something of a revival.  The winery also produces wonderful mountain honey and saffron.
Secondo:
Cosciotto di Maiale con costine saltate e verdure miste grigliate   Roasted leg of pork with sautéed Swiss chard and mixed grilled vegetables
Wine Choice: Marengo Massimo - Ruchè di Castagnole Monferrato 2016
This winery is based at Castagnole Monferrato, close to Asti to the south east of Turin. The Marengo family arrived in 1835 and have been cultivating wine there ever since. Opinions are split on the origin of this grape variety Ruchè: some think it may have come from Burgundy and others that it is a native of Piedmont, but it has been grown in this small production area since the 18th century.
Dolce:
Semifreddo alla vaniglia con sauté di fragole    Vanilla semifreddo with sautéd strawberries. 
On all our tours we offer a variety of dining experiences, from small characteristic osterias to restaurants of renown and, on occasion, award-winning establishments with big reputations. We work hard to plan menus which celebrate the best local and seasonal ingredients and which showcase the traditions of the regions where we are hiking. We are often quite literally walking through the menu each day as we pass vineyards, orchards, waving wheat fields or fishing ports, and our time spent with cheesemakers or truffle hunters truly helps to bring the menus to life. We also seek to balance the evenings so that dinners with four or more courses are interspersed with lighter meals, and we always take into the account the amount of walking completed on a given day. It goes without saying that all courses are matched with excellent regional wines and we like to share a little of our local culinary knowledge before the start of each meal.