A Mountain in the Sea
This 7-night itinerary explores the intriguing and endlessly fascinating island of Corsica. Turquoise seas, towering green pines and red granite rocks make this a landscape full of contradictions. We start in the colourful port of Bonifacio on the island's southern tip before heading up the west coast to Piana and the beautiful Gulf of Porto. Our final stop is the former capital, Corte, an historic town lying at the geographical heart of the island and encircled by a backdrop of monumental granite mountains. With an age-old determination to keep their island pristine and unspoiled, the Corsicans have maintained an environment which offers a true paradise for hikers.
Surprising as it may seem, the easiest way to join this tour is to fly to Olbia in the north of Sardinia.  Olbia is well served with flights from across Europe and the UK and the airport is just a 15 minute journey from the town itself.  We will meet the group with our vans at the airport and a short ferry crossing brings us to Bonifacio on the southern tip of Corsica. The tour finishes in Bastia, at the airport or the ferry port.
Cost: €3,350 per person
Single supplement: €375
Our tours are genuinely all-inclusive - learn more about what we offer.
What is included?
•    7 nights' accommodation in three wonderful hotels 
•    Two experienced and knowledgeable guides to look after your every need and bring this stunning area to life
•    All meals including excellent wines 
•    Gourmet picnic lunches each day and snacks en route
•    Support vehicle, enabling you to walk as much or as little as you please
•    Transport in air-conditioned minibus
•    All museum entries and cultural visits as per the itinerary
•    Comprehensive pre-trip information
Your Health and Safety
See our new protocols to ensure the safety and wellbeing of both our guests and HH staff.
Tour Highlights
Hike in the pristine scenery of Corsica's granite landscape
Enjoy the island's bounty – goat and sheep cheeses, cured meats, chestnuts and wild boar stews
Follow a section of the famous GR20 long distance route across the island
 
Walking/Terrain
There are 6 days of walking on the trip.  We walk on coastal paths, rocky trails and mountain tracks with significant ascents and descents (up to 800 metres on Day 5 and 600 metres on Day 7). The walking is rugged, so sturdy walking boots, with good ankle support, are essential. Walking poles are highly recommended, especially on steeper sections.  Whilst the climate is generally good at this time of year, we are walking in the mountains so need to be prepared for changes in conditions.
Shortest/Longest Day: 5km/3.1 miles: 16km/9.9 miles
We have graded this hike a Level 4. Some of our tours are more challenging than others, so see how we grade our hikes to make sure you choose the right one for you. If you are interested in this tour, then you might also like to take a look at Slovenia and Friuli, Southern Italy or The Wilds of Abruzzo.
Accommodation
Hotel Santa Teresa: A comfortable hotel in the old part of Bonifacio, with views across to Sardinia.
Hotel Capo Rosso: Situated on the edge of Piana, this hotel has spectacular views across the Gulf of Porto and its rugged coastline. There is an outdoor pool.
Hotel Dominique Colonna: Deep in the Restonica Gorge, this hotel is built on the banks of the river and has an outdoor pool.
 
Tour Dates
4 - 11 September 2024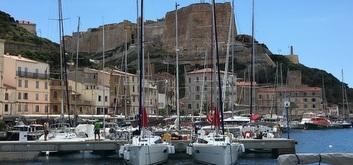 Find out more about Corsica