See all city guides
Many people choose to extend their walking tour in Italy by visiting Bologna. This could be easily done if you have booked Hedonistic Hiking's Northern Tuscany and Ravenna,  Parma, Tuscany and the Ligurian Sea, Lucca, Volterra and Elba or A Tuscan Harvest.
Other Italians refer to Bologna affectionately as "la grassa" meaning "the fat one" because of the city's strong culinary traditions and love affair with food. Cured hams, huge mortadella sausages, stuffed pasta or spaghetti with rich meat sauces and a generous sprinkling of parmesan cheese are ubiquitous. But the city is also home to Italy's oldest university, which today means a young and politically vibrant population, and it has retained its medieval flavour with colourful colonnaded streets which make exploring on foot a real pleasure.
Highlights
Basilica di San Petronio
Not the main cathedral of Bologna but certainly the city's most impressive church, this Basilica is the fifth largest in the world and is dedicated to the city's patron saint. Although the facade was never finished, of particular interest is the beautiful central doorway carved by Jacopo della Quercia in 1425, and Cassini's sun-dial in the east aisle which was inlaid in 1655.
The Quadrilatero
This bustling area of town is the most interesting for market stalls selling a colourful array of fresh produce and tempting delicatessens offering hams, salamis and local cheeses. Look out for Tamburini, particularly if you love the local hams, Paolo Atti the oldest bakery in town and Roccati, an artisan chocolatier. Just to the west of this area you reach two of Bologna's most impressive squares, the Piazza Maggiore and by its side the Piazza del Nettuno, which are the true focal point of the city.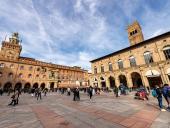 Torre degli Asinelli
Bologna still has over 20 medieval towers but the tallest is this one, standing at 97.6 metres and dating back to the 1100s. If you feel strong you can climb to the top up its 498 steps for a great view over the city. It is open 9.00 am - 5.00 pm. Next to it is the Torre Garisenda at 48 metres, and you will see that both of them lean!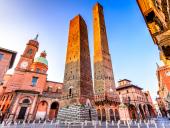 Eataly and FICO Food Park
This is the now famous "supermarket" dedicated to the very best of traditional Italian food and wine. In Bologna you can visit the store at Via degli Orefici 19, close to the historic centre of town. On the outskirts of Bologna is the new FICO food park, which is easily reached by a bus opposite the train station, and celebrates all Slow Food initiatives and traditional methods of cultivation and preparation of Italy's finest food.  The Blog has more details.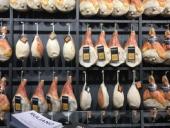 L'Archiginnasio di Bologna
This beautiful porticoed building was commissioned in the middle of the 1500s to house the city lecture halls and was the seat of the University until 1803. In 1838 it became the Municipal library.  Of particular interest is the Anatomical Theatre, with its intricate wood carvings, where students viewed anatomy lessons.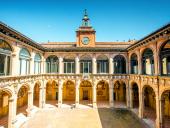 Where to stay
Some of the hotels listed below are known to Hedonistic Hiking and others are recommendations from people who have extended their walking tour in Italy in Bologna.  If you are joining our Northern Tuscany and Ravenna tour the meeting point hotel will be the Star Hotel Excelsior Bologna, which is in front of the Central Train Station.
The group Bologna Arts Hotels has four lovely 3 and 4 star properties which are all well placed in the centre of the city.
Albergo delle Drapperie
In a historic building which has been used as a guest house since 1800 this good value 3 star hotel is centrally positioned for all the major sights.
Where to eat
€€€ I Carracci
The restaurant inside the Grand Hotel Majestic this eatery was recommended by Hedonistic Hikers in August 2015. On the more expensive side but top quality ingredients, cooking and presentation.
Via Manzoni, 2   Tel +39 051 225445
€€ Osteria de' Poeti
This historic eatery is situated in a 14th century palazzo and is full of atmosphere.
Serves hearty local Bolognese dishes. Via de' Poeti 1/b    Tel +39 051 236166
€€ Ristorante Cesarina
For very traditional Bolognese dishes, this restaurant comes highly recommended by HH guests. It is situated in Piazza San Stefano which is an attractive spot in town to stop for lunch or dinner.   Via Santo Stefano, 19/B, Tel +39 051 232037
€ Trattoria Mariposa
Simple home-made food, good value and friendly service.
Via Bertiera 12 Tel +39 051 225656
€ Trattoria del Rosso
Said to be the oldest in the city this popular trattoria offers exceptional fixed-price menus and some good vegetarian options if you've had your fill of meat!   Via Augusto Rigi 30   Tel +39 051 236730
€ Trattoria da Gianni
Tucked away in the Quadrilatero district, this trattoria is well known and good for lunch.  Via Clavature 18    Tel +39 051 229434
Caffe Zanarini In Piazza Galvani, the oldest cafe in the city, and highly recommended for coffee or an aperitif.
What to order
Stuffed pasta known as tortellini are a staple, sometimes served in a delicious "brodo" or thin stock-like soup, or served simply with butter and sage "burro e salvia". Long pasta is preferred with rich meat ragu sauces and of course parmesan cheese is added. Bologna is particularly famous for its mortadella - a soft spicy pork sausage, some of which are flavoured with pistacchio. Another speciality of Emilia Romagna is the balsamic vinegar from Modena.
The Colli Bolognesi are well know for an interesting light white made from the Pignoletto grape which is often semi-sparkling. For red try the chilled sparkling Lambrusco which goes so well with the rich meats, or a Cabernet Sauvignon which grows well in this area.
If you love Italian food would like the chance to try your hand at pasta making, look at A Tuscan Harvest as this tour has a hands-on cookery class.
Transport
Bologna's Guglielmo Marconi airport is 8km to the north of the city and there is a half hourly shuttle bus link between the airport and the main railway station. From the station it is an easy walk into the middle of Bologna, straight along Via dell'Independenza. Bologna is a major hub and has excellent rail links with Florence, Rome, Milan and smaller cities in Emilia-Romagna eg. Parma, Modena and Ferrara.
For all train information visit www.trenitalia.com which has an English version.
Train travel in Italy is inexpensive and comfortable. Major cities are served by non-stop fast trains known as the Eurostar.
If you are making plans for wider Europe then www.raileurope-world.com is a useful site.  Another highly recommended train travel website is Seat 61.
Italo
NTV (Nuovo Trasporto Viaggiatori) is a new private company which started operating it's Italo high-speed trains on the Milan-Florence-Rome-Naples route in April 2012, in competition with State-owned operator Trenitalia.  NTV have added new routes subsequently and are Europe's first private high-speed train operator, with a real emphasis on customer service. Travellers should be aware that the city stations used are not always the same as those used by Trenitalia.
GoOpti is a car transfer service which can been booked in advance and has come recommended by many Hedonistic Hikers. It connects airports and major cities in the north of Italy with fixed destinations in Austria, Croatia, Germany, Hungary, Slovakia and Slovenia. See the website for more details.  Another useful car transfer website which has been recommended by HH guests is mydaytrip which can arrange private cars to and from most European cities.
See all city guides