See all city guides
Many people choose to extend their walking tour in Italy by visiting other parts of Tuscany or Umbria and it would be easy to visit Assisi if you have booked Hedonistic Hiking's A Tuscan Harvest or Lucca, Volterra and Elba or Medieval Umbria.
As the birthplace of St. Francis, Assisi is the true spiritual capital of Umbria.   This hill-top town, with sweeping views over the Vale of Spoleto, has been a pilgrimage site for over 700 years and today receives as many visitors as ever. It survived the traumatic earthquake of 1997 and speedily repaired the damage to its world-famous Basilica, perhaps Italy's greatest monument to both faith and art.
Highlights
Basilica di San Francesco
Maybe the best way to visit the Basilica is an English tour led by a resident Franciscan friar.   There is an information office on Piazza di San Francesco where you can organise this - Tel +39 075 819 0084.     It is a vast complex comprising  the Upper Church, with the sublime fresco cycle attributed to Giotto, and the Lower Church with works by Pietro Lorenzetti and Cimabue.   The crypt of St Francis, underneath the Lower Church, is one of the most moving sights.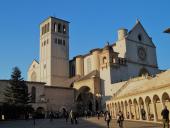 Piazza del Comune
This lovely medieval square in the centre of town is dominated by the Tempio di Minerva,  a perfectly preserved, almost 2000 year old Roman facade with six Corinthian columns.   On this Piazza you will find the main tourist office.
San Damiano
A little walk outside the town through an olive grove will bring you to the simple church of San Damiano - the site of St Francis' first vision, and the instruction to him to "repair God's church".
Where to stay
Some of the hotels listed below are known to Hedonistic Hiking and some are recommendations from people who have extended their walking tour in Italy in Assisi.
Fontebella
Full of old world charm the hotel has a good central location in the town and fabulous views across the valley.    It also has the restaurant Il Frantoio with a pretty terrace.
Hotel Umbra
A delightful small hotel tucked away behind the Piazza del Comune.   Has an attractive internal garden and a good restaurant.    It has been owned and run by the same family for almost a century.
Alla Madonna del Piatto
This lovely agriturismo is located in the hills to the north of Assisi in Pieve San Nicolo.  It has six individually decorated rooms, each with stunning views, and Letizia also gives Umbrian cooking classes to guests who are interested.
Nun Assisi Relais & Spa
If you're feeling particularly flush, this luxury new Spa hotel is a blend of the ancient and the uber-modern.    The former convent of Saint Catherine has been converted to a state-of-the-art hotel with a wellness centre offering a serious range of massages and treatments.
Where to eat
€€ Trattoria Pallotta
Just off the Piazza del Comune, this popular vaulted restaurant serves Umbrian classics.    Vicolo  della Volta Pinta. Closed on Tuesdays.  Tel +39 075 812649.    
€€ Trattoria Da Erminio
In the upper part of the town, this is one of the historic restaurants of Assisi offering traditional local cooking.   Via Montecavallo 19.   Tel +39 075 812506.   Closed Thursdays.
Many of the hotels in town have good restaurants, including the Fontebella and Umbra listed above.
What to order
Game is a speciality of Umbria - wild boar, rabbit, pigeon and pheasant are often listed on menus.    In season black truffle and mushrooms will also feature widely.     The local lentils from Castelluccio are legendary in the region and also popular is spelt - an ancient grain often used in soups and salads, known as farro.
For red wines look for Sagrantino di Montefalco or Torgiano, and a good light Umbrian white is Orvieto.
If you are real mushroom-lover, look at the Parma, Tuscany and Cinque Terre trip which visits the annual porcini mushroom festival in Borgotaro.   And if truffle hunting appeals to you, then take a look at The Jewels of Piedmont.
Transport
Assisi is on the Foligno-Terontola train line and you alight at Santa Maria degli Angeli, from where you take a 4 km ride up to town in the half-hourly shuttle bus.    There are regular bus services to Perugia and Gubbio.
For all train information visit www.trenitalia.com which has an English version.
Train travel in Italy is inexpensive and comfortable.    Major cities are served by non-stop fast trains known as the Eurostar.
If you are making plans for wider Europe then www.raileurope-world.com is a useful site.  Another highly recommended train travel website is Seat 61.
Italo
NTV (Nuovo Trasporto Viaggiatori) is a new private company which started operating it's Italo high-speed trains on the Milan-Florence-Rome-Naples route in April 2012, in competition with State-owned operator Trenitalia.  NTV have added new routes subsequently and are Europe's first private high-speed train operator, with a real emphasis on customer service. Travellers should be aware that the city stations used are not always the same as those used by Trenitalia.
Another useful car transfer website which has been recommended by HH guests is mydaytrip which can arrange private cars to and from most European cities.
 
See all city guides