The Wine Bank
Submitted by HedonisticHiking on 6 Nov 2022
Nestled in the beautiful hills of Piedmont in the tiny village of Pollenzo is Italy's University of Gastronomic Sciences and, within this 19th century complex, is the "Banca del Vino".  Literally translated as The Wine Bank, this unique project came to life to curate a comprehensive library of Italian wine. The concept belongs to Carlo Petrini, founder of the global Slow Food movement, his ambition being to create a reference point for quality Italian wine, to improve its global image and to preserve examples of the best bottles.  Petrini was aware that some winemakers did not have space to store their bottles on-site while the ageing process took place and often sent them to market before they reached optimum maturation.  In the Wine Bank the wines have time to reach their full potential.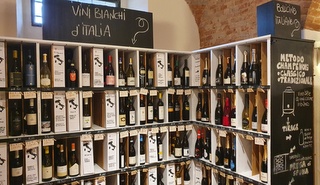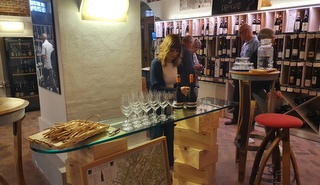 For the first time this year we visited the Wine Bank on our Jewels of Piedmont tour. This part of north-west Italy is well-known for its robust red wines such as Barolo and Barbaresco, but this collection has wines from all over the Italian peninsula.  Emphasis is given to winemakers who use traditional techniques, who respect the environment, and who protect the incredible biodiversity of Italy's different grape varieties. There are more than 100,000 bottles here from around 300 different producers.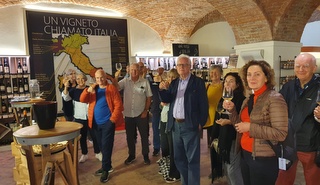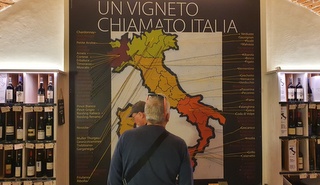 Visitors can participate in workshops featuring guided tastings of specific regions or curated pairings of wine with salami, cheese or chocolate. They can also experience the wines through guided and self-guided tours of the 2,000-square-meter cellars. This is a non-profit making co-operative venture, there is no entry fee but you do pay for anything you might consume. There is a very good shop stocking a range of wines, wine accessories, books and a handful of locally prepared foods, such as olives, pickled vegetables, honey and biscuits.  Members of our group made quite a few purchases in 2022!
We look forward to returning to the Wine Bank next October on our Jewels of Piedmont tour, which will run from 13 - 20 October.  This is a fantastic area for autumn hiking, and we explore the vineyards of the Langhe region on foot and hunt for the legendary white truffle of Alba with a local expert. However, anyone travelling through the region of Piedmont who has an interest in wine would find it well worth investing a little time in a visit to the Wine Bank.