The White Wine of Orvieto
Submitted by HedonisticHiking on 12 Sep 2023
Orvieto is one of Umbria's most striking towns. It sits high on a cliff of dark volcanic tufo rock with impressive vistas across rolling vineyards and olive groves.  It was an important city for the Etruscans, as well as the Popes in medieval times, and its hidden underground network of wells and caves make for an intriguing visit. Orvieto's richly-decorated Duomo is one of the most celebrated Gothic cathedrals in all of Italy.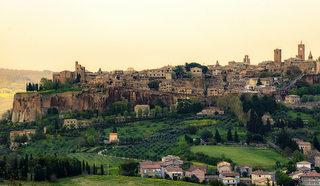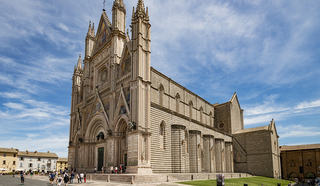 The town is also famous for its eponymous white wine, with vineyards planted on both sides of the Paglia river which flows into the Tiber. The volcanic soils, the climate and the gently-graded hills have all contributed to the successful cultivation of vines since the Etruscan period, and the tufo rock proved well suited to the excavation of wine cellars for long-term storage. The region is also influenced by two large lakes, the volcanic Lake Bolsena and Lake Corbara formed by the damming of the Tiber River. The result of all this water is that vines here are affected by Botrytis cinerea, otherwise known as Noble Rot.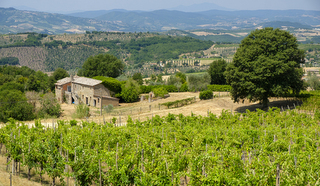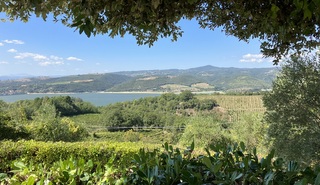 In times gone by Orvieto's wines were known for being sweet and golden. The story goes that artist Luca Signorelli, who was commissioned to fresco the San Brizio chapel in the Duomo, asked for an unlimited supply of Orvieto's wine as part of his remuneration. Over time, tastes have changed and today Orvieto's white wines are generally crisp, light and dry. They have been protected by the Orvieto DOC since 1971.  The regulations state that the wines must be made from a combination of Procanico (Trebbiano Toscano) and Grechetto grapes, which together must account for at least 60 percent of the finished blend. The remaining 40 percent can be made up of any combination of other white varieties, provided they are approved for use. Leading producers to look out for include Barberani, Bigi and Palazzone.  Some producers still make the semi-sweet Orvieto Abboccato style, as well as fully-sweet dessert wines, such as Barberani's delicious Calcaia.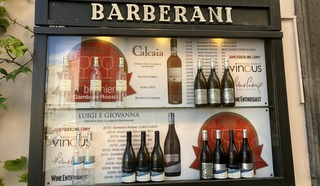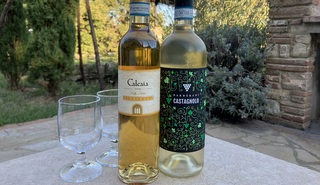 We stay in Orvieto for three nights on our Etruscan Trails in Central Italy hiking holiday and explore much of its history, art and viticulture. The tour runs in May each year and starts and finishes in Rome. Other highlights include a visit to the UNESCO World Heritage listed Etruscan tombs at Cerveteri, the beautiful gardens of La Foce in the Val d'Orcia and a private tasting of the fabled Vino Nobile di Montepulciano.  We have a few spaces available for May 2024, so get in touch now if you'd like to join us!