Choose the right hike for you
Submitted by HedonisticHiking on 14 Mar 2019
If you're toying with the idea of a walking holiday, whether in Italy or elsewhere in Europe, the important thing is to pick a tour that's right for you. With mountains, lakes and a good scattering of national parks, there are plenty of hiking holidays in Italy to choose from, aimed at walkers of varying ability levels and offering many different experiences.
On a Hedonistic Hiking holiday, there's no pressure to clock up the miles: you simply need to enjoy walking – and if you like Italian food and wine as much as the hiking, so much the better! The one thing you can be sure of is that you'll encounter the 'hedonistic' part of our hiking holidays wherever you go! Of course, it's not just a matter of determining how far, and hard, you want to walk. You may well have set your sights on exploring a new region or may be taking your walking holiday with someone who may be better or less able to cope with more challenging hikes.
To get you started, we have a clear grading system to help you decide the best tour for you. Our tours are graded from level 1 to 5, with 5 being the most challenging. Read on to find out more about selecting the right tour but, of course, you can always drop us a line or give us a call to discuss.
Walk through the vineyards in Tuscany
On our grade 1 tours, hikes range from 9 to 16km, with ups and downs but no significant climbs. For example, our classic guided Tuscan Harvest walking holiday offers easy-going hikes along gravel roads and farm trails through the iconic undulating Tuscan hills, leaving plenty of time and energy to drink in some of Italy's most iconic views. The itinerary includes visits to remote castles, gardens and the magnificent city of Siena, whilst also allowing time for wine and olive oil tasting, a pasta-making session in a private country villa and our trademark gastronomic picnics.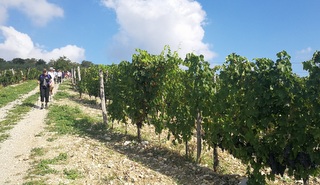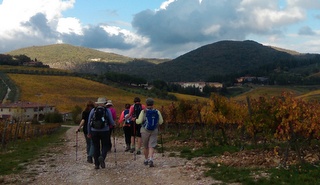 Wine-tasting and truffles in Piedmont
Piedmont is regularly top of the list for anyone interested in Italian food, or keen to experience a culinary tour in Italy. Our tours in the region vary in difficulty but all embrace Piedmont's amazing gastronomy. The gentler (grade 2) Jewels of Piedmont tour leads you on picturesque trails through Barolo and Barbaresco-producing vineyards, past glassy alpine lakes and through woodland that is home to the legendary white truffle of Alba. Hikes range from 6.5 to 10.5km and include one rugged mountain trail.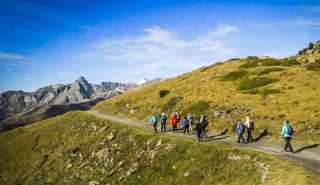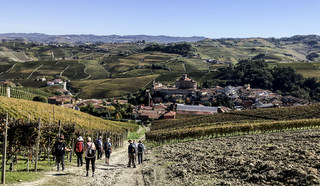 If you're looking for more of a challenge, you can still experience Piedmont's mouth-watering local cuisine on our France and Italy tour (grade 5). Hikes are a similar length, ranging from 6 and 12km, but include rocky alpine trails, with fairly demanding uphill climbs and downhill hikes. Unlike our lower graded tours, there's no lunchtime van access on several days. However, you'll be pleased to know that on those days, the two tour leaders carry the picnic!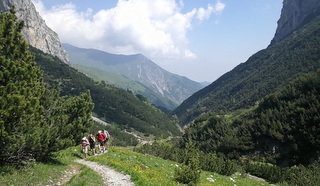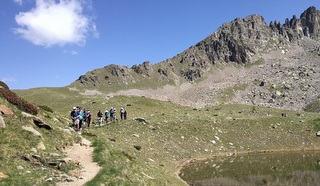 Art and history in Umbria
Our grade 3 tours are ideal for people who are looking to mix up long walks with shorter days, across varied landscapes. Follow pilgrim trails and explore the quieter corners of Tuscany and Umbria on our Medieval Umbria tour, which also allows plenty of time for the region's art, history and culinary highlights. The hikes range from 6 to 18km, along gravel roads, woodland tracks and one rugged mountain trail. If you are concerned about the longer days, there's a support vehicle on hand at lunchtime should you need it.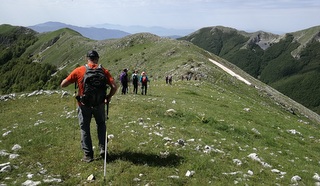 Italy's hidden trails
Hiking holidays in the Italian Alps and Dolomites are the natural choice for keen walkers who are confident of their fitness levels and stamina. However, for anyone looking for a slightly lesser challenge, our grade 4 tours are a happy compromise. There are several heart-pumping ascents – and with them, of course, descents! - but also plenty of time to appreciate the local beauty. The hikes on our Wilds of Abruzzo tour are at altitudes of between 1100m and 1800m (from 10.5 to 17.5km), across three of the region's remote national parks. With its atmospheric mountain villages, flower-strewn slopes and age-old culinary traditions, the Abruzzo provides some of Italy's most memorable hiking.