The best activity holidays for the over 50s
Submitted by HedonisticHiking on 10 Jul 2019
If you're one of the many over-50's recognising that a holiday spent lying on a beach and soaking up the sun no longer holds the appeal of 30 years ago, the chances are you're considering more active pursuits. Whether it's a walking, cookery, wine-tasting or gardening holiday, there's nothing quite like indulging in a favourite hobby for that feel-good factor. If you've toyed with the idea of a walking holiday but aren't quite sure if it's for you, read on to find out why this unique hiking experience is so popular with senior travellers!
Walking with new-found friends
While our walking holidays are great for all ages, they are particularly suited to a more mature market. More than anything, they provide the chance to enjoy spectacular hiking and gourmet meals with like-minded people, whether you're holidaying on your own or with a partner. For some of our guests, our walking holidays can be an opportunity to spend time with a close friend; for others, a chance to meet new friends. Generally our groups are fairly equally split between solo travellers, couples and friends.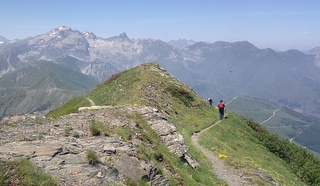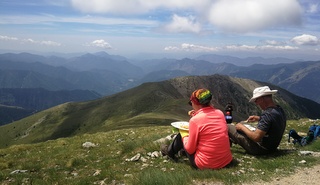 Combining walking with other interests
Cooking and learning about food and wine are popular pastimes for many of our guests. Each of our tours are quite different so you can learn how to cook Italian food on our tours to the Abruzzo or Siena or visit a parmesan cheese producer in Tuscany. Meanwhile, on our new Etruscan Trails tour, there's wine-tasting in Montepulciano and Montalcino, and, for gardeners, a private visit to the famous La Foce gardens.
Is there such thing as a luxury walking holiday?
Clearly, what's luxurious for one person may not be for another! For us, a luxury holiday means exceptional experiences and a certain level of indulgence. So while some of our hotels have a pool or spa, others may have an outstanding restaurant. When it comes to food and wine, we think you'll find that every meal you eat is memorable, whether it's a mouth-watering lakeside picnic, lunch overlooking the vineyards or a Michelin-starred dinner. There are also tastings of some of the world's leading wines and exclusive private tours.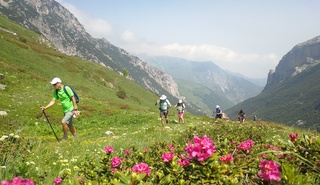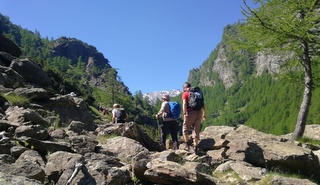 How fit do you need to be?
This varies enormously from one tour to another. If you want to hike in the Alps or Dolomites, you'll need to be used to some fairly rigorous walking in order to tackle the mountain climbs and longer duration hikes. However, there's plenty of choice for anyone who wants to start gently, with easier tours in Tuscany, Piedmont and, new for 2020, central Italy. Our grading system gives detailed information about the different levels and help is also on hand if you want specific personal advice.
Is the holiday fully-guided?
Being escorted at all times, from your airport pick-up to drop-off and on all tours, ensures a totally hassle-free trip. Tours are fully-guided, with an additional support vehicle, so there's no need to worry about route-planning or getting lost. Better still, we've done all the research for you so you can get off the beaten track, eat in the most authentic restaurants, sip superior wines and experience the most interesting cultural attractions without having to do any of the homework!